Sony VAIO P in the house: SlashGear first impressions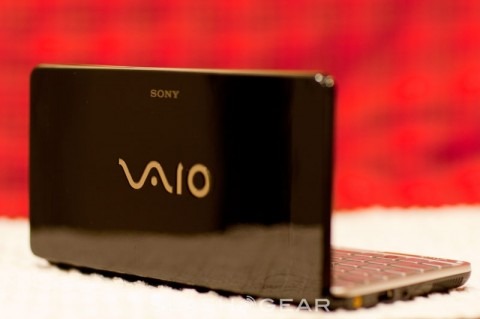 When you can count the top gadgets of CES on the fingers of one hand, Sony's new VAIO P Digital Lifestyle PC certainly figures high on that list. SlashGear was invited to an exclusive Sony event this week and given one of eight pre-production units to test out over the next two weeks; I've been carrying the VAIO P instead of my second-gen Apple MacBook Air (reviewed here) and in advance of our full review have got some first impressions.
The specific model we have here is the mid-range P, with the 64GB SSD; it will retail at $1,199. That gets you a 1600 x 768, LED backlit 8-inch ultra-wide display, Intel 1.33GHz CPU and 2GB of RAM, together with integrated Verizon Wireless 3G EVDO, WiFi and Bluetooth.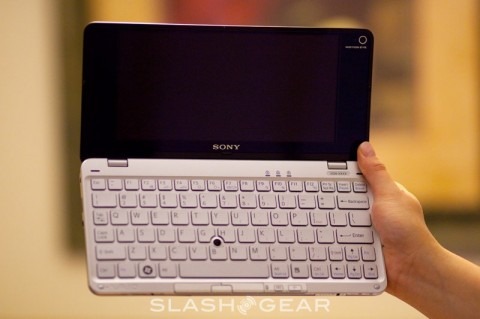 First impressions are, inevitably, good. The P is a must-touch device, with its 0.78-inch thick chassis and – in our case at least – glossy onyx black casing with silver accents. As with so many of Sony's other devices, there's a maturity and luxury feel to the design. The LED back lighting for the display is even and bright, and the high-resolution display in another league compared to what's found on the dozens of netbooks on the market.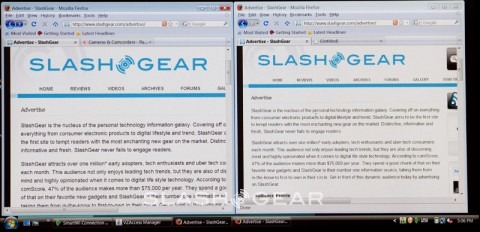 For me, though, it's the display that's causing me the most problems. It's simply too great a resolution for the screen real estate on offer; fonts have to be cranked up, websites zoomed into.  Sony do point out that there's a way to set the resolution to an articificially lower setting.  The keyboard is surprisingly well-spaced, very similar to that of the VAIO TT, which is much to do with 9.65-inch width, but the shorter 4.72-inch depth brings the space bar up a little too far; I found I often hit the mouse keys or even the desk when aiming for space.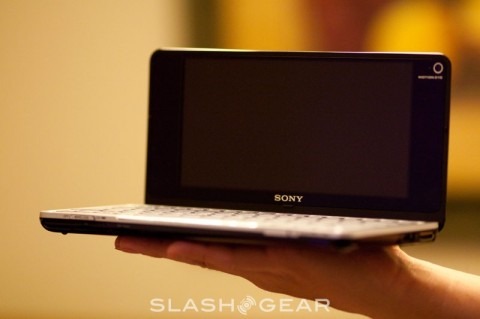 The quick-start xross mode – which is a special Linux build offering access to the internet, email, photos and media – loads quickly, though it can't be accessed if the VAIO is in sleep mode, it must be totally turned off. One issue I've found is a seeming inability to access the integrated EVDO card, with no way to get to the Verizon Wireless app usually used in Vista.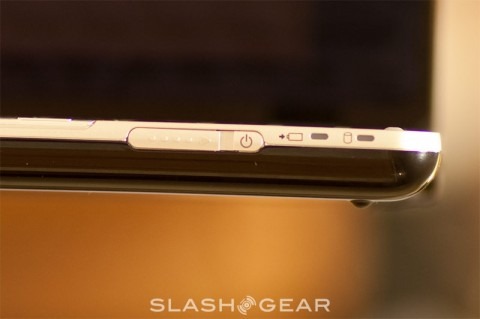 More worrying is the early benchmarking results. We've run Geekbench on the VAIO P, set in highest performance mode, which simulates basic office, image and similar daily tasks. The Sony scored 692 points, coming in significantly under ASUS' Eee PC 1000H which, with its Atom N270 1.6GHz CPU, scored 883 points.  A main culprit here is probably Windows Vista; that's also to blame for the occasionally sluggish start-up and resume speeds, which undermine Sony's "instant-on LED display" boasts.
Of course, this is a late prototype and any errors we come across could still be ironed out before the final release in February. There's much to like about the VAIO – especially the prospect of 8hrs runtime from the extended battery – and for media playback the display is incredible, but for what I require from a mobile device the unnecessarily-superlative resolution and disappointing initial benchmarks count against the ultraportable.
I'll be passing the VAIO P on to the rest of the SlashGear team – who variously use Vista, OS X and Linux systems – to get more feedback before our final review. This is an important product for Sony and, despite the company not positioning it as such, the netbook sector, and it's inevitably going to have to answer the question of whether Atom-based products can justifiably command premium prices. We'll have the next of our VAIO P updates soon, so keep reading SlashGear!