Sony VAIO P refreshed: 3G, accelerometer & more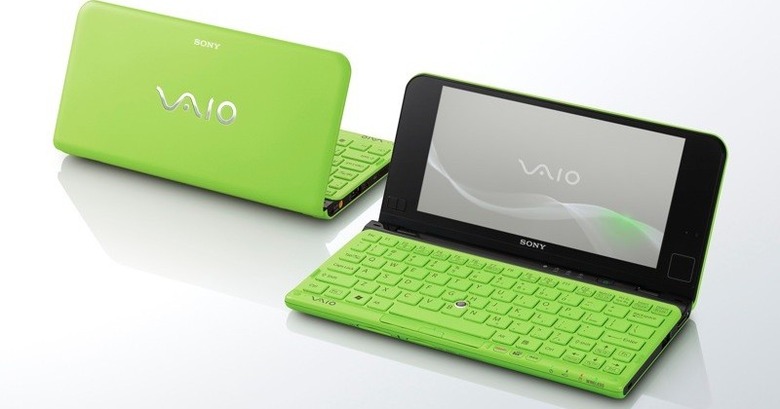 Remember Sony Japan's paperclip-toting teaser campaign a few weeks back?  Turns out, that paperclip is the new Sony VAIO P ultraportable in cross-section; the Japanese company has refreshed its 8-inch slimline notebook, with the new VAIO P getting a choice of Intel Atom Z530, Z540 or Z560 processors, a 64GB SSD, an accelerometer for automatically flipping screen orientation and integrated 3G and GPS.
There's also WiFi b/g/n, Bluetooth 2.1+EDR and a digital compass, along with two USB 2.0 ports, GMA 500 graphics and 2GB of DDR2 RAM.  The 8-inch widescreen display runs at an eye-crunching 1600 x 768 resolution, while the standard battery is apparently good for up to 5hrs (or 10hrs with the optional extended pack).
Navigation is either via the central trackball, a new touchpad integrated into the screen bezel (handy for using the VAIO P while walking) or by physically tilting the notebook to move backward and forward in the browser, flick through photo galleries or PDF files.  Sony have preloaded a GPS app which can show location details together with nearby points of interest and local weather forecasts.
Sadly the new VAIO P is still too early for Intel's latest-generation Atom Z6xx "Moorestown" processors, which would've squeezed out a little extra power and battery life (and answer one of our criticisms of the first-gen model, its sluggishness).  Available in orange, green, pink, black or white, the Sony VAIO P will go on sale from June 2010; no word on pricing as yet.
[via Netbooknews]
Press Release:
Sony delivers a smarter on-the-move computing experience: Ultra-portable, easy to carry new VAIO P Series

· Colourful ultra-portable PC weighs just over 600g

· New design for two-handed operation while standing or walking

· GPS and Digital Compass

· Accelerometer sensor

· Built-in Everywair 3G

· Clear, bright, widescreen VAIO Display Plus

· Easy to use with Quick Web Access

It's smaller than a notebook and smarter than a smartphone: the colourful VAIO P Series from Sony is your perfect partner for on-the-move computing.

Weighing just over 600g and slipping effortlessly into a bag or jacket pocket, new VAIO P Series gives you all the power of a fully-featured Windows® computing experience... and so much more.

Ideal for busy people who can't sit still, it's the first VAIO designed for simple operation if you're standing or walking. The central trackball is complemented by an additional touchpad and mouse buttons. Duplicating the main controls, they're located at either edge of the screen for comfortable operation with both thumbs while you're holding the computer in two hands.

VAIO P Series is the first notebook computer from Sony with built-in GPS and a new Digital Compass. Perfect for telling you where you are and what's happening around you, they can help you find your hotel or a nearby restaurant if you're standing on the street corner in an unfamiliar city1.

A brand-new VAIO Location Search software offers a real-time map view without tying up your web browser. Your map position and orientation are displayed along with nearby Points of Interest and even local weather conditions.

The ultra-light notebook's 'on-the-go' credentials for travellers are boosted with Everywair 3G on-board, giving high-speed connectivity to mobile networks (where available).

New VAIO P is the first notebook from Sony with a built-in accelerometer that responds to physical movements. Just give VAIO a gentle shake to 'flick' through pictures or the pages of a PDF document, or navigate back and forth through your web browsing history.

The sensor also recognises when VAIO P Series is turned on its side, automatically 'flipping' the screen for easy reading of documents or web pages in portrait mode. The notebook's additional mouse buttons are perfectly placed for comfortable page-turning when you're reading in portrait position – just like a paperback book or magazine.

New VAIO P Series is beautifully designed for easy operation, with a comfortable full-pitch keyboard for easy typing, plus a bright, extra-wide VAIO Display Plus that's ideally proportioned for viewing movies or two web pages side-by-side. There's also an ambient light sensor that dims screen illumination for comfortable viewing while saving power.

For extra convenience, dedicated buttons are provided for Quick Web Access and one-touch access to VAIO Care. There's also a handy new Change Resolution button: instantly select a larger font size for easy on-screen reading, or choose maximum detail for HD movie viewing.

Available in five vibrant colours (black, white, pink, green and orange), the new VAIO P Series is complemented by a choice of stylish accessories that includes a distinctively perforated silicone slip case and carry strap.

The new VAIO P Series ultra-portable notebook computer is available from June 2010.