Sony VAIO Duo 13 Review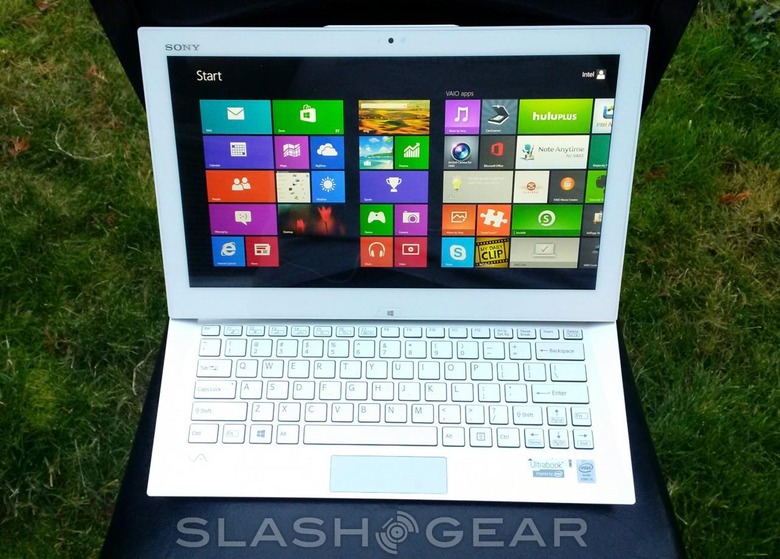 The popularity of tablets have posed a solid threat to the PC industry, and in response many 2-in-1 so-called "hybrid" laptops have popped up in increasing numbers that are able to function as both — as a laptop when some serious work needs to be done, and as a tablet for activities best suited to a hands-on approach: mobile games, artwork, and Web browsing, among others. The Sony VAIO Duo 13 is one such hybrid featuring a collapsible design that toggles the machine between a slate and a laptop without effort, but does it provide the best of both worlds? Read our full SlashGear review to find out.
Hardware
The Sony VAIO Duo 13 is thicker than you'd expect from a tablet, but about right for an ultrabook (.77-inches), and though the particulars of transporting a display-side-up slider hybrid requires more consideration than the transportation of a laptop, the overall design is pleasant and feels comfortable in the hands.
Buyers can choose an Intel Core i5 1.6GHz/2.6GHz processor, or boost it to a Core i7 at either 1.8GHz/3.00GHz or 1.7GHz/3.30GHz configurations. Graphics options are comprised of Intel HD Graphics 4400 and Intel HD Graphics 5000. Storage options range from 128GB to 512GB capacities, all of them SSDs. The display measures in at 13.3-inches with a Full HD resolution, and software is Windows 8.1 64-bit. All of this is rounded out by a couple of webcams — a rear 8MP and a front 2MP — and a battery rated at up to 10 hours, depending on system usage.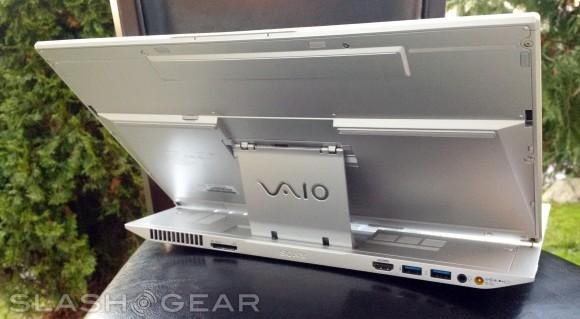 Though the hinge is different, the slider-style design we saw with the Sony VAIO Duo 11 is implemented with the larger model. Opening the display to switch the device from tablet to laptop is simple, requiring a gentle tug on the back of the display just behind the webcam. Once lifted half an inch or so, the hinge and sliding mechanisms take over and the display slides backwards.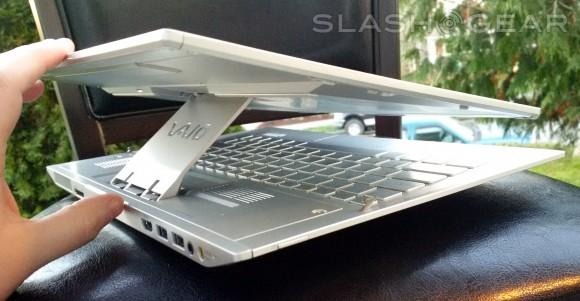 Because of the way the hinge is attached to the back of the display, you can manually alter the display's angle when it is between slate and laptop mode, but when you release it, the panel will either finish folding down into a tablet or popping up into a laptop — meaning, essentially, that there's no escaping the fixed-angle design of the device, which proves as limiting with this model as it does on previous VAIO Duo offerings.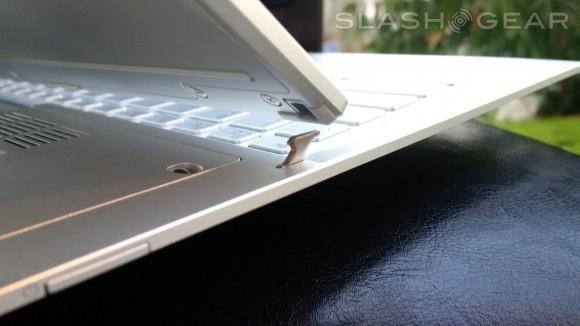 The display is somewhat locked in place by a couple of metal hooks positioned above the keyboard that catch into slots on the bottom corners of the screen. In a perfect world, these hooks would have been either positioned farther back or would have been constructed in a way that is user-adjustable, something that seems entirely possible with the hinge Sony has developed. Alas, they are fixed in place, and as such you'll have to adjust your chair height if the angle doesn't work well for you.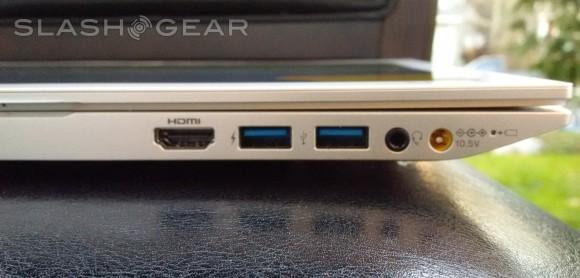 The ports are on the left side of the top edge, which is a nice design choice because it allows one to use the device as a tablet with cables attached without battling to keep them out of the way. The fan is on the right side of the upper edge (check out the gallery below), as well as the SD card slot. The power button is on the left edge and the stylus "inkwell" is on the right, both in convenient placement.
Things get awkward when it comes to the volume and assist buttons, however. Rather than placing rockers on the ample empty space on either side edge of the laptop, Sony elected to position these buttons within the speaker grille along the underside of the bottom edge. They are very shallow keys, too, and as such are nearly impossible to find by touch alone. Even when you do manage to find them, they're so shallow that you might have to stop what you're doing to concentrate on the task of volume adjustment. Overall, it's a strange design choice and placement.
Touchscreen and Stylus
The VAIO Duo 13 features a Full HD 1920 x 1080 IPS display with Sony's TRILUMINOS and X-Reality technology, and it shows. Despite being glossy (and as such prone to fingerprints), the display is surprisingly visible when viewed at full brightness outdoors. You can swipe, tap, draw, and other things using your finger or the included stylus, but regardless the display responds promptly and with very little pressure.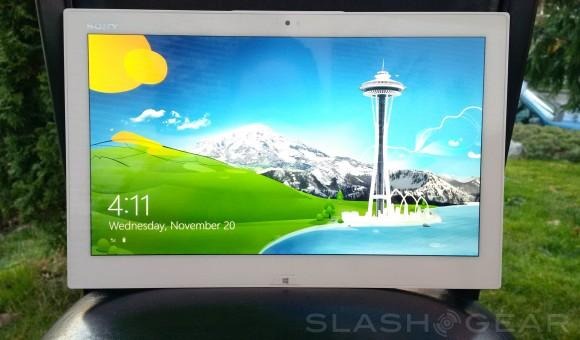 The stylus itself has a solid, slightly textured construction and can be stored on the laptop via a small flip-out slot it has on the right backend corner of the PC — a sort of thin plastic inkwell that is suitable for use only when the laptop is sitting on a flat surface, making it easy to keep track of the stylus when not in use. The stylus runs off a single AAAA battery, which is replaceable by unscrewing the end of the device. The nibs can be replaced, as well, and there's a small clip as you'd find on your average ink pen.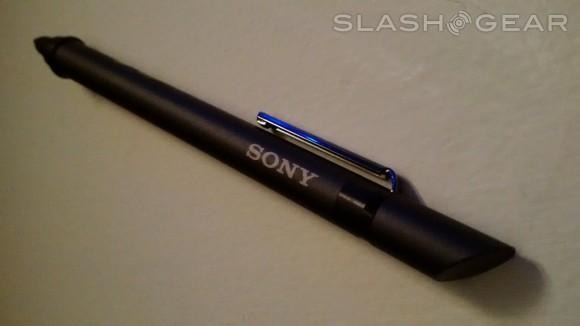 When used together, the touchscreen and stylus make a blessed union, working very well together in a way that feels completely uninhibited. Drawing on the Duo 13 is a pleasant activity, and artists will find that they're able to be very particular about pressure and small details without battling the hardware.
Software
Not surprisingly, the VAIO Duo 13 is shipped with some touchscreen-centric software that utilizes the touchscreen and stylus, perhaps the most notable of which is ArtRage Studio Pro, a drawing application that provides various artistic mediums for drawing and painting. Software runs smoothly on the machine, thanks in no small part to the Intel Core i5 and 4GB of RAM. Windows 8 runs well on the machine and can keep up with your swiping and toggling without complaint.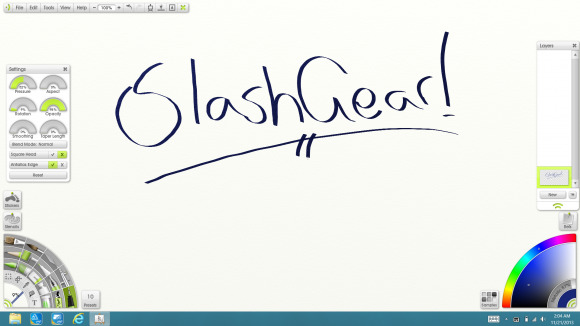 We ran a Geekbench benchmark to get a better idea of how the hardware holds up, which you can compare to the scores other devices in our Laptop Reviews portal to see how it holds up against the competition.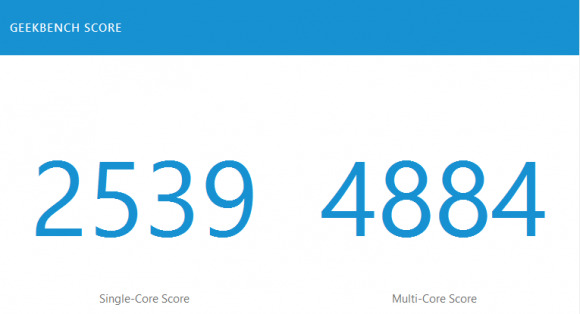 Wrap-up
You're going to have to think carefully about what you're looking for in a portable before deciding on whether the Sony VAIO Duo 13 is for you. The device works well as a tablet, even if the button placement is a bit awkward, and it fits nicely in the hands when in slate mode. As a laptop, however, the Duo 13 suffers considerably, and anyone who is looking for a hybrid that will work as well as a laptop as it does a tablet will be disappointed with this VAIO.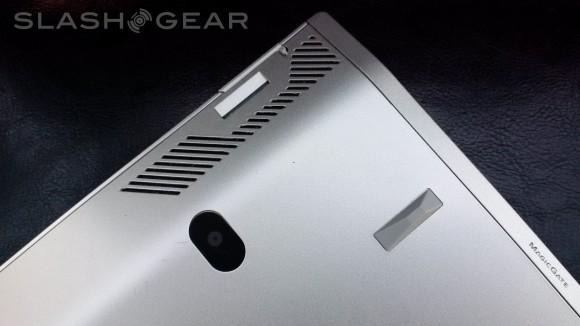 If you're okay with a display that is fixed at a sharp angle, a shallow keyboard, and a very thin trackpad, the Duo 13 will work well for you as a 2-in-1 portable. If, on the flip side, you're in the market for a PC that doubles as a traditional laptop replacement, this hybrid will present quite a few limitations and become tiresome quickly.