Sony to adopt common ePub ebook format; Wireless Reader next? [Updated]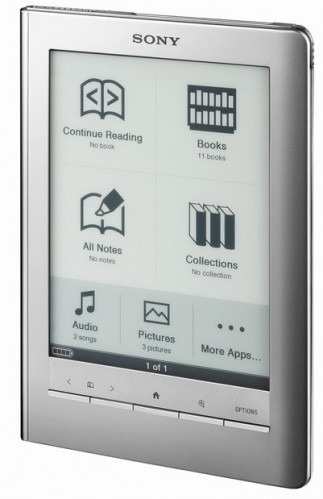 Sony's upcoming Reader team press conference has left us wondering what the company has left in its ebook reader bag to announce, but according to a report in the New York Times there'll be changes in both file format and hardware line-up.  The paper is suggesting that Sony will scrap their proprietary ebook format, BeBB, in favor of the open ePub standard; as well as that, they'll reveal plans for a wirelessly-enabled ebook reader for release later in the year.
Update: Sony have confirmed the switch to ePub; press release after the cut.
Details of the new Reader are scarce, with the NYT only suggesting that it would be able to wirelessly download new content and, as a result, take on Amazon's Kindle.  There's no clarification as to whether the wireless involved would be WiFi, 3G WWAN or a combination of the two.
As for the new ePub adoption, the company are also tipped to be dropping their proprietary DRM encryption system and replacing it with Adobe's version.  The move would open up Sony's ebook store to access from devices not from its own range, and potentially establish it not just as a companion to the Sony Reader devices but a commercial concern in its own right.
Press Release:
SONY CONVERTS eBOOK STORE TO EPUB FORMAT

Open Format Combined with Affordable Pricing Continues Sony's Drive to Bring Digital Reading to Mass Audience

SAN DIEGO, August 13, 2009 ¾ In an effort to take the confusion out of digital book formats, Sony today announced its plan to convert its eBook store to the industry-standard EPUB format by the end of the year. Adopting an industry-standard format and Adobe® Content Server 4 – a popular, cross platform server software solution that copy protects downloadable eBooks – allows Sony to make its eBook store compatible with multiple devices and its Reader devices open to multiple sources for content.

"Our intention is to lead by example," said Steve Haber, president of Sony's Digital Reading Business Division. "Our Readers have long supported industry-standard formats such as EPUB and PDF. Now, what is quickly becoming the de facto standard for eBooks will be available in our store."

Sony's Reader was the first dedicated reading device to support the EPUB format, the International Digital Publishing Forum's (IDPF) XML-based standard format for reflowable digital books and publications. The standard was developed with the participation of more than 60 companies and organizations and was unanimously approved by IDPF members. EPUB has gained acceptance among major trade book publishers with dozens of publishers already producing the majority of their eBooks using the standard.

"A world of proprietary formats and DRMs creates silos and limits overall market growth," Haber continued. "Consumers should not have to worry about which device works with which store. With a common format and common content protection solution (DRM), consumers will be able to shop around for the content they want regardless of where they get it or what device they use."

Current Readers from Sony, models PRS-505 and PRS-700, support EPUB and reflowable PDF documents via Adobe Digital Editions 1.7 software. Recently announced digital readers – the Reader Pocket Edition (priced at about $199) and the Reader Touch Edition (about $299) – will both support the EPUB and PDF formats out of the box when they go on sale later this month. Sony will also provide an update path for owners of the first edition Reader, model PRS-500, so early adopters of the Reader will also be able to enjoy this benefit.

Through the eBook Store from Sony (ebookstore.sony.com), users can access new releases, best sellers and more than one million free public domain books from Google. The Google titles, already in EPUB format, are optimized for the Reader. From Sony's eBook Store, Reader owners with a store account can download and transfer any of these titles to their Reader, while new eBook Store users can access available titles after setting up an account and downloading Sony's free eBook Library software.

Sony is also committed to working with local libraries throughout the country as they make the move to digital books. Sony Readers are compatible with the industry-standard formats that libraries use for their digital collections, so consumers can easily download perennial favorites and new releases from their local libraries and enjoy them for free.
[via Mobile Read]