Sony S1 and S2 Android Tablets Hands-On Photo Collection Expanded [Videos Too!]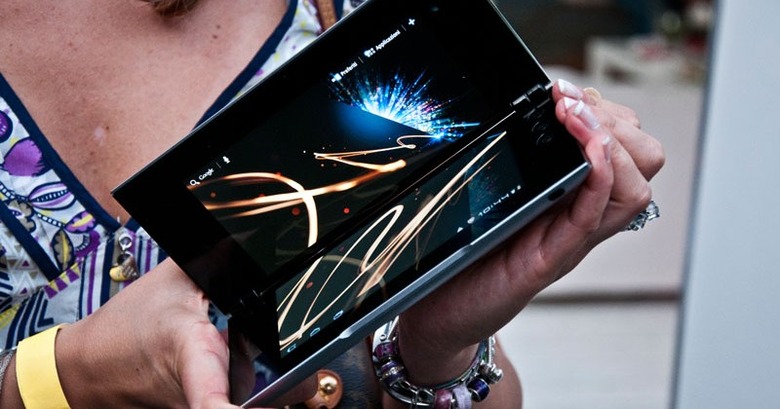 We've had more than one look at these magical mystical tablets, one of them a bit fat 9.4-inch Android tablet, the other being a dual 5.5-inch fold-out tablet, also Android based. Both of these devices will be rolling out with Android 3.x (more than likely Android 3.1) Honeycomb and will be connecting over either 3G, 4G, or both, again more than likely. The first tablet is what may be considered at the moment to be a more traditional look at a tablet being 4:3, one piece and ready to roll out with Honeycomb, while the other is a folder-type tablet whose screen spreads out across two displays in a form factor not yet often seen in top-tier Android devices.
These devices have today been given a whole new selection of hands-on photos, and have previously seen the light of day officially by Sony in a couple of Rube Goldberg videos, both of which show off the tablets in a series of very strange ways. Have a look at both videos here and let us know what you think of their methods of mayhem. These are called "Two Will" and have 3 episodes out currently of what's said to be a 5 episode series.
We had the second episode up earlier today and a few days ago some hands-on time was recorded and released. Have a look at the hands-on time here:
And note that we've been getting looks at this set of tablets for months now, but that hands-on looks like these are stacking up quickly here near what we must assume is going to be a launch window. Have a peek at all of our Sony S1 and S2 Android Tablets coverage and continue below for a look at the newest hands-on photos.
Pay special attention to the image that shows a dock for the single-paned tablet next to what appears to be a very ugly looking remote control. Perhaps only in play to show that a remote will work with the device? We shall see. Meanwhile think about what this will mean for Sony and Sony Ericsson, rolling out strong on Android with a relatively large series of well-recieved devices on several US and Euro carriers. Will Sony continue to dive into Android at this point in what appears to be a very nicely done love-fest? We're thinking yes, yes indeed. Will that folding tablet be a hit, or will it go the way of the Kyocera Echo, falling short? We shall see!
[via Notebook Italia]