Sony PSP with 8/16GB flash & no UMD tipped for E3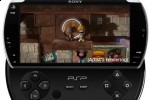 Another next-gen PSP rumor, and this time a new mockup image.  Sony are still remaining quiet on talk of a replacement to their gaming handheld, but 1UP has been talking to "sources directly involved with the new system" who lend further weight to the talk that UMD is to be replaced with flash storage, in this case 8GB or 16GB.
As you can see in the render, the D-pad, analog controller and game buttons are shifted to a slide-down section, with minimal controls present on the outer face of the device.  No talk about whether the display is a touchscreen, as has been separately rumored.
According to the sources, Sony is planning a suffix-based name for the new handheld, rather than calling it the PSP 2 or PSP-4000.  Possible titles include PSP Slide, PSP Flip and PSP Go!, with speculation that the Go! branding may tip an integrated camera.
Launch is suggested as September in Japan, followed by the US in late October or early November, and Gran Turismo Mobile will lead in excess of 100 classic and new games made available to download.  We're told to expect more details at E3 in early June; right now Sony are keeping very quiet.
[via Engadget]