Sony PSP 2 ready for Christmas launch, now "iPhone-like"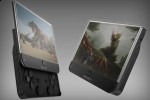 Once again the Sony PSP 2 rumor-mill grinds into action, with the latest claims being that an "insider source" has confirmed that the gaming handheld will be in stores in time for Christmas.  The source, said to be "a developer working on the new hardware" has described the Sony PSP 2 as having a large, sliding touchscreen that pushes up to reveal the usual gaming controls.
In fact, in their own words, the PSP 2 will "be far more similar to the iPhone than the current device".  This isn't the first time we've heard that the PSP 2 will have a sliding touchscreen; last month a "development source" close to Sony claimed that the upcoming handheld console would offer two streams of gaming.  The first, more casual, would rely on the touchscreen and the shoulder-buttons (the only controls visible when the screen is closed), while the latter stream would take advantage of buttons, D-pads and dual analog sticks.
According to this latest round of rumors, more details regarding the new Sony PSP 2 are set to be announced at the E3 gaming expo in June.  As ever, there's no comment or confirmation from Sony themselves.
[via Pocket-lint]