Sony PSP digital game rental service tipped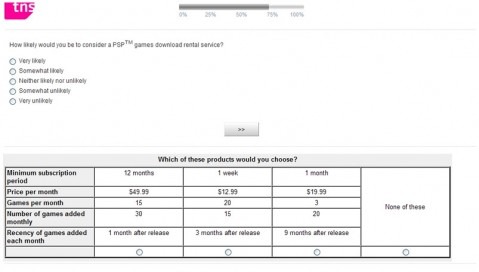 Sony are tipped to be considering a digital game rental service for the PSP, supposedly having been in talks with developers since March.  The company is believed to be running an online survey through TNS Interactive, that suggests various levels of subscription with new titles added potentially as soon as a month after their general release.
According to an unnamed source, Sony had various closed-door meetings with game developers at GDC, in which the company distributed information and documents regarding the PSP rental service.  It's possible that Sony could announce it at E3.
As for the questionnaire, that suggests various levels of subscription fee, number of games available for download per month or week, the frequency of updates to the catalog and the "recency of games added".  It also examines how the rental system might affect in-store and download sales, together with sales of pre-owned titles. 
Earlier this week, Sony were tipped to be considering a music download service using the PSN as a distribution network.  That, and this digital game rental system, would likely be headline features of the rumored PSP refresh, which will focus more on digital delivery and multimedia rather than pure gaming.
[via Gizmodo]