Sony PSP-4000 rumors re-examined after tipster proves mettle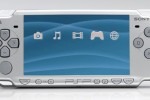 With the veracity of his information seemingly corroborated by accurately tipping the Sony PS3 Slim back in June now that the skinny console has been made official, tipster Super_Secret's next prediction – regarding Sony's portable gaming line – is now under the microscope.  In June the anonymous source suggested that rather than phasing out UMD-based PSP models, Sony were instead preparing to replace the current PSP-3000 with a new PSP-4000.
"Who said the 3000 wasn't being phased out? It will be and sooner than you realise. However, the PSP Go isn't what's replacing it. The 4000 is. And yes, it will have a UMD drive. And similar to the PS3 "slim", it's nothing to actually get excited about." Super_secret
The Sony PSP-4000, then, would have a UMD drive just like its predecessors, and go on sale alongside (rather than be replaced by) the PSP Go. That would certainly fit in with recent comments from Sony Computer Entertainment boss Kazuo "Kaz" Hirai, who us quoted as denying that we're seeing "the death of physical media", and reaffirming that Sony will continue to support UMD and physical game distribution.
This is in no small part, Hirai suggested, because many of the regions where Sony sell gaming hardware lack the network backbone and speed to support digital distribution.  Unfortunately, from Super_secret's information the PSP-4000 will be "nothing to actually get excited about", suggesting that it won't be a huge upgrade over the current model.
[via Acid Mods]