Sony will make a PlayStation 4 announcement at E3 2013 in June, "or even earlier in May," according to the company's vice president of Home Entertainment, potential beating Microsoft to the punch in detailing its next-gen console. The Japanese firm has so-far been coy on its future gaming plans, but Hiroshi Sakamoto confirmed to Emol that the "big secret" news was building to a focus at the annual gaming event, or potentially jumping the gun with details the month before.
Questioned as to whether that news would be a "big announcement" or something else, Sakamoto reconfirmed that it was set to be a significant milestone in Sony's console roadmap. "We expect to deliver great news," the vice president teased, "but we must wait until May at least."
E3 2013 has long been expected to see announcements from both Sony and Microsoft as to their plans for replacing the PlayStation 3 and Xbox 360 respectively, though until now neither firm has been particularly willing to either spoil the surprise or indeed go on the record with such intentions. That hasn't stopped speculation and leaks about potential specifications, however; last we heard, Sony was flirting with a so-called "Orbis" prototype for the PS4, using specially-fettled AMD A10 APUs.
One feature Sakamoto hints at likely to be included is NFC, which Sony has used extensively in its CES 2013 line-up for easier device interaction. The Sony One-touch mirroring system, for instance, uses NFC chips in the company's new handsets, such as the Xperia Z, and the remote controls of 2013-year Smart TVs to instantly pair together, and begin streaming media from phone to screen.
Microsoft is believed to be waiting for E3 to spill the beans on the new Xbox – unofficially dubbed the Xbox 720 – though there have been suggestions that the IllumiRoom projected virtual reality demo it gave as part of Samsung's CES keynote last week is a hint at the immersive gaming the company has in mind for the upcoming console.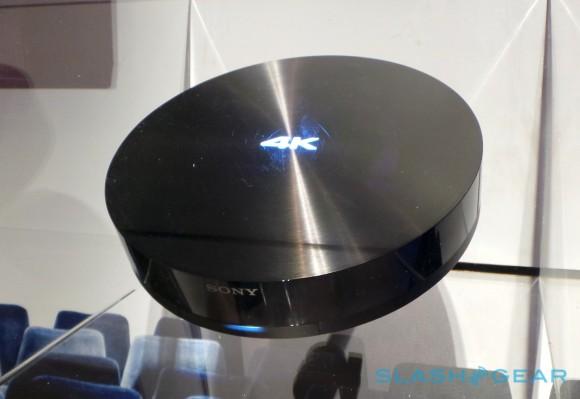 As for PlayStation 4 specifications, Sony CEO Kaz Hirai insisted back in 2010 that the new console would still support optical media – no great surprise, given the company's emphasis on Blu-ray entertainment – but it's possible it could step up from Full HD support to Ultra HD. Sony certainly didn't stint on 4k hype at CES, for instance, including showing off a prototype Ultra HD player (shown above) and sets capable of the high-resolution standard.
[via Geek; PS4 concept art by Joseph Dumary]