Sony PS3 Slim $299.99 preorders being taken by Kmart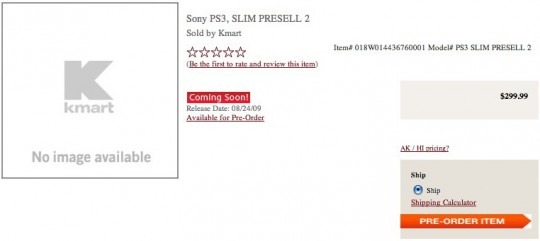 Since Kmart jumped the gun this morning and updated their site to tease the upcoming Sony PS3 Slim, we've been eagerly hitting their link in the hope that the preorder page might show up.  Sure enough, the PS3 Slim has made an appearance – although in a very spartan listing with no image as yet – priced at $299.99.
Among the confirmed specifications are Blu-ray and a 120GB hard-drive, together with a DualShock 3 controller and an HDMI port which supports 1080p High Definition.  They're also suggesting a release date of August 24th, which would make it a far earlier release than the initial rumors tipped.
Sony are expected to take to the stage at the Gamescon Expo in Germany later on today to announce the PS3 Slim officially.  That's now looking like a certainty rather than a prediction.