Sony PS3 Price-Cuts At FYE Ahead Of PS3 Slim Launch Later Today?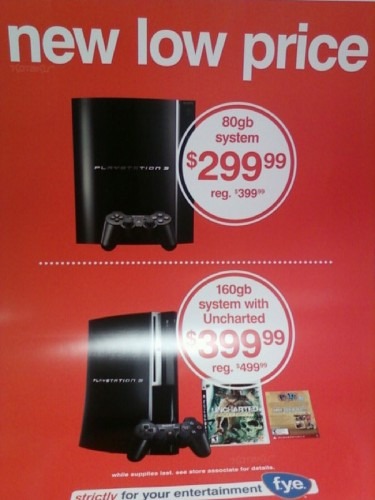 Rumors of the imminent PS3 Slim continue, with the latest fuel for the speculative fire being new promotional material talking up price cuts for the existing console at FYE.  A store employee sent images of the posters in to Kotaku, with the cuts billed as a "new low price" rather than a "sale".  The 80GB PlayStation 3 is down $100 to $299.99, while the 160GB drops to $399.99.
They're also tipped as valid "while supplies last" in the small print at the bottom of the poster, rather than "for a limited time only" as you might expect from a temporary price reduction.  The obvious explanation is that FYE are looking to dispose of leftover stock before the new console is launched.
As for that launch, Sony is expected to hold at press conference at the Cologne Gamescon Expo that will begin at midday ET.  Previous leaks have tipped the PS3 Slim announcement for that press conference, with the console itself hitting shelves in time for the upcoming holidays in both the US and the UK.