Sony PS3 firmware v2.70 released: chatrooms, video backup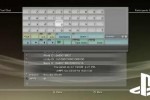 Sony have released the PS3 v2.70 firmware update, presumably the "significant global announcement" they had previously promised.  Sony PS3 firmware v2.70 adds Text Chat functionality, a Friends List on the XMB, video backup to an external hard-drive and synchronization of PSP video over to the PS3 for big-screen viewing.More details, plus video overview after the cut
The Text Chat feature allows for conversations with up to 15 other people at any one time.  It works with an on-screen keyboard, the Wireless Keypad or a third-party keyboard peripheral, and can be accessed as a standalone feature or while playing games.  Users can take part in up to three chatrooms at once.
As for the Friends List, this is newly added to the XrossMediaBar, and allows for sorting by online status.  Sony have also increased the attachment file limit for messages, from 1MB to 3MB.  Video backup allows content bought for the PS3 to be saved onto an external hard-drive (though not, it seems, watched from there) to save PS3 space.
The Sony PS3 v2.70 firmware is available now; you can wait for your console to prompt an upgrade, or trigger it yourself through the settings menu.