Sony NWZ-X1000-series OLED Walkman specs released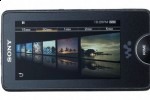 Full specifications of Sony's OLED-display NWZ-X1000-series Walkmans have emerged, courtesy of the Hong Kong SonyStyle store.  The listing confirms the 3-inch WQVGA 432 x 240 OLED display together with the supported file types and maximum resolutions of the media the Walkman will play.
In audio, the Sony PMP will handle MP3, WMA, AAC-LC and WAV files, while in video it will play AVC (H.264/AVC), MPEG-4 and WMV files.  Unfortunately maximum QVGA 320 x 240 video resolution is supported, rather than the display's own maximum.  Still, it'll cope with up to 30fps with bit-rates up to 5,000kbps in WMV files, 2,500kbps in MPEG-4 and 768kbps in AVC.
Other confirmed functionality includes the various equalizer settings – customs and presets – together with the FM tuner, WiFi b/g and YouTube support.  Runtime is estimated at up to 33hrs when playing music or 9hrs video playback.  Unfortunately there's no availability information for the US, but the 16GB Sony Walkman NWZ-X1051 is priced at £214 ($310) while the 32GB version, the Sony Walkman NWZ-X1061, is priced at £283 ($410) in the UK.
[Thanks Toby!]