Sony NEX-5 and NEX-3 ultra-compact DSLRs debut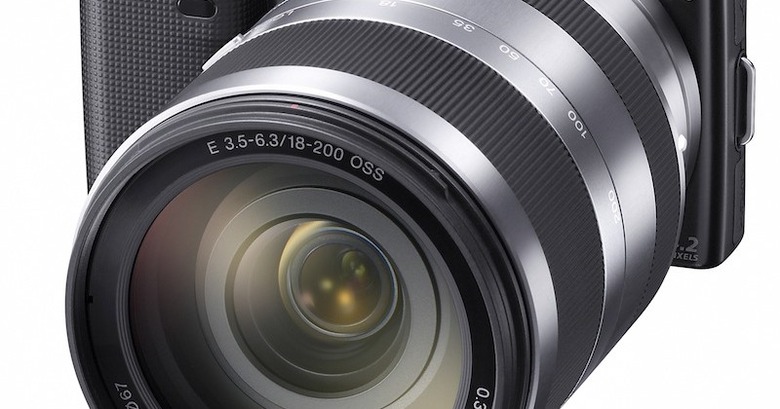 Sony have delivered on their promise of a new Micro Four Thirds style camera with not just one but two new models.  The Sony α NEX-5 and NEX-3 unsurprisingly bear a striking resemblance to the "interchangeable lens concept" shown earlier this year, and each have a new 14.2-megapixel Exmor APS HD CMOS sensor; as well as stills, that's good for up to 1080i HD video recording on the NEX-5 and 720p on the NEX-3.
Of course, the headline feature is the ability to switch lenses according to shooting environment, and while Sony are offering a number of examples specifically for the new NEX-5 and NEX-3, there's also a LA-EA1 Mount Adaptor which will allow owners to hook up one of the roughly 30 α-series lenses.  Other features include Sweep Panorama – which allows you to hold the shutter down and swing the cameras about, automatically creating a 23-megapixel panorama of stitched together shots – and, as of a firmware update this coming summer, a 3D panorama option.
There's a 3-inch auto-brightness LCD which can tilt for a better viewing angle (or an optional optical viewfinder, the FDA-SV1), straightforward menu system in which Sony reckon you'll never get lost, up to 7fps rapid burst still photography and support for both Memory Stick and SDXC cards.  The two cameras will be available from summer 2010.
Press Release:
DSLR picture quality that won't weigh you down. Sony's compact, easy to use NEX-5 and NEX-3 with interchangeable lenses and HD video

• New α digital cameras with DSLR picture quality and responsive shooting

• World's smallest and lightest1 interchangeable lens digital camera (NEX-5)

• 14.2 effective megapixels Exmor™ APS HD CMOS sensor

• 1080i HD movie recording (NEX-5) with stereo sound, fast and silent autofocus

• Intuitive new interface with Help Guide and Shooting Tips

• E-mount lens system compatible with α DSLR lenses (with optional Mount Adaptor)

• Sweep Panorama with 3D capability2

Now photographers can enjoy the superlative picture quality and shooting responses prized by DSLR users in two beautifully compact new cameras that are brilliantly easy to use.

Joining the α family, the NEX-5 and NEX-3 team DSLR-quality imaging with the convenience of interchangeable lenses in a sleek new design that slips easily into a jacket pocket or bag. In contrast with conventional DSLR models, the 'mirrorless' construction shrinks the thickness of both cameras to just 24.2mm (NEX-5 excluding grip and mount) and 25.4mm (NEX-3, excluding grip and mount) at their slimmest point. As a luxurious extra refinement, the NEX-5 features a tough yet light-weight magnesium body, making it the world's smallest and lightest interchangeable lens digital camera.1

At the heart of both cameras is a newly-developed Exmor™ APS HD CMOS sensor with a resolution of 14.2 effective megapixels. Far larger than the sensor inside conventional compact cameras, its key to the extremely low image noise and creative defocus effects that are familiar to DSLR users.

Still and video image quality is further refined by the powerful BIONZ processor that ensures speedy DSLR-style shooting reflexes with quick, precise autofocus and minimal shutter lag. Both cameras can also capture fast-moving action with a high-speed burst of full-resolution images at up to 7fps (AF/AE fixed from first frame).

An elegant, uncluttered user interface – featuring a new 'never get lost' menu – makes the powerful creative possibilities of the NEX-5 and NEX-3 accessible to enthusiasts and step-up users alike. Shooting parameters are easily accessed via an intuitive control wheel and two soft keys. Turning the control dial, for example, allows depth of focus changes to be previewed 'live' on the LCD3, giving effortless control over beautiful, pro-style portraits. Further help for novice users is provided by on-screen shooting tips and a friendly help guide.

Images and camera settings are displayed on the big, bright 7.5cm (3"), Xtra Fine LCD with TruBlack technology that tilts up or down for comfortable viewing in any shooting position. The screen features an auto-brightness function for excellent visibility, even when you're outdoors. TruBlack screen technology enables an even more vivid, high-contrast view of images and camera settings.

Compatibility with a wide range of interchangeable lenses dramatically expands the artistic possibilities of the E-mount camera system.

Ideal for everyday shooting, the low-profile E 16mm F/2.8 (SEL16F28) 'pancake' lens minimises bulk when the camera is being carried in a coat pocket. Its field of view can be boosted even further by the VCL-ECU1 Ultra Wide Converter and VCL-ECF1 Fisheye Converter that deliver high-definition optical performance in a sleek, co-ordinated design.

Featuring in-lens Optical SteadyShot image stabilisation for clearer handheld images, the E 18-55mm F/3.5-5.6 zoom (SEL1855) is a perfect travel partner. The NEX-5 and NEX-3 are available in kit form with either lens, or as a double-lens kit that provides even greater shooting versatility. The NEX-5 can also be specified as a kit with the optional E 18-200 F/3.5-6.3 zoom (SEL18200) that offers a powerful 11x magnification range plus Optical SteadyShot image stabilisation with Active Mode at wide angle for steadier movie shooting.

An optional LA-EA1 Mount Adaptor extends compatibility to the α family of 30 lenses, plus a huge range of other legacy A-mount lenses (Manual Focus only).

The NEX-5 and NEX-3 are also the first α cameras to offer the extra convenience of HD video recording. At the touch of a dedicated Movie REC button, both NEX-5 and the NEX-3 shoots HD video with stereo sound as compact MPEG4 files that are ideal for PC storage and web sharing. Full HD (1920 x 1080i) video captured by the NEX-5 as high-quality AVCHD files can be enjoyed on a connected HD television. As an option, the smart accessory terminal on both cameras accepts the compact ECM-SST1 Stereo Microphone (optional) that captures a high-quality soundtrack for your HD videos.

The NEX-5 and NEX-3 are the first α cameras featuring Sweep Panorama. Just press the shutter button and swing the camera side-to-side or up and down. A high-speed burst of frames is stitched together automatically to create detail-packed 23 megapixel panoramas with a 226 degree effective angle of view4. Panoramic files can also be enjoyed in stunning 3D on compatible BRAVIA™ 3D televisions.5

As previously introduced on the DSLR-A550, Auto HDR has been further refined. The NEX-5 and NEX-3 can now shoot a high-speed burst of three images at different exposure values that are electronically combined in the camera. This produces a single High Dynamic Range image with extended highlight and shadow detail.

Both cameras come supplied with a super-compact clip-on flash that attaches via the smart accessory terminal when needed for low-light shooting. Other optional accessories include the FDA-SV1 Optical Viewfinder plus colour coordinated cases and shoulder straps.

The NEX-5 and NEX-3 system cameras from Sony are available from summer 2010.

Notes to editors

NOTES:

*1 As of May 11, Sony research. Among the interchangeable-lens digital camera bodies.

*2 Via firmware update available summer 2010.

*3 Effective only when an E-mount lens is attached.

*4 At maximum with E 16mm F/2.8 lens in wide mode setting.

*5 3D is only available via firmware update available summer 2010 at users' option.