Sony Music Video Recorder first-impressions [samples]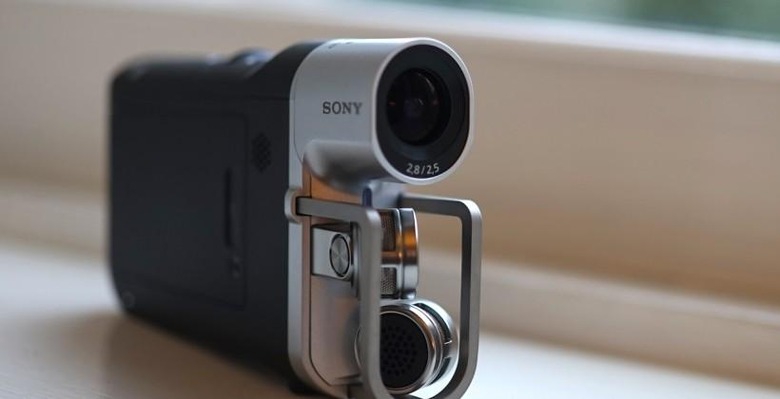 Sony's Music Video Recorder may well be the camera sleeper hit of the holidays. Think of it as the ill-fated Flip Video – or, indeed, Sony's own Bloggie alternative – given a pro-audio upgrade, ostensibly targeted at bands and recording artists looking to make music videos and recordings simultaneously but, as we discovered when we spent some hands-on time with the shooter, certainly capable of more. Read on for our first-impressions.
At its core, the Music Video Recorder uses the same optics as Sony's Action Cam: a 1.23-inch back-illuminated Exmor R CMOS with an f/2.8 Carl Zeiss Tessar Lens. On the side, there's a 2.7-inch LCD display, though it's not a touchscreen; instead, you navigate using a simple D-pad with center-select, while a playback button above toggles it between recording and review modes. On the top of the 116.5 x 70.5 x 27.0 mm casing there's a power button and a record button.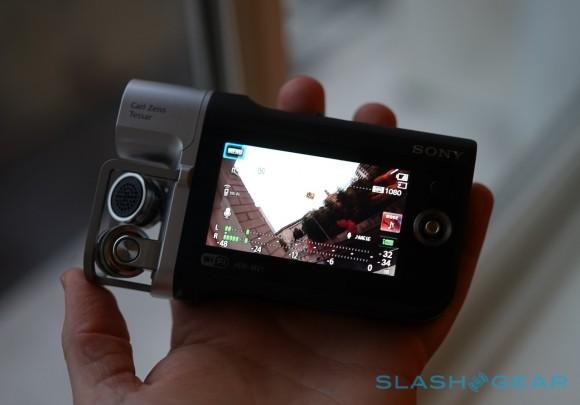 Storage is courtesy of a microSD card slotted behind a flap underneath the camera, next to a tripod mount. A panel on the back, meanwhile, has a headphone socket for live monitoring of audio levels, a microUSB port, micro HDMI output, and a line-in port for hooking up external microphones.
It's the microphones – and the audio support in general – that make the Sony Music Video Recorder so special, of course. Up front are X/Y mics for recording stereo audio with better quality and separation than the usual faired-in microphones most cameras make do with.
Off-road video sample:
Coupled with that, the camcorder can record in both stereo MPEG-4 AAC-LC format intended for web use, or higher-quality stereo MPEG-4 Linear PCM (48kHz/16-bit) audio, something you'll struggle to find on most cameras. In fact, you can grab CD-quality sound direct from the Music Video Recorder.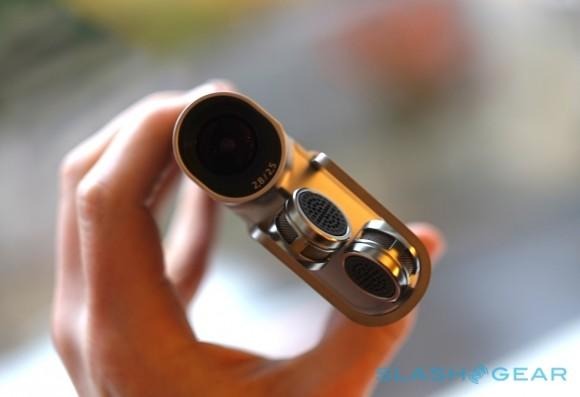 The results are a step up from most pocket-friendly cameras, and Sony has matched the broad soundstage of the microphones with a 120-degree lens for the 1920/30p video. As you record, you get on-screen level monitoring, with the HDR-MV1 offering 31-levels of adjustment that can either be set manually or left to the camcorder to manage. Again, like the Action Cam there's WiFi and NFC pairing for easily transferring footage from the camera as well as controlling it remotely through the PlayMemories app.
Ben Folds live "Effington" video sample:
Despite the musician billing, though, there are plenty of other places the Music Video Recorder could come in useful, such as video podcasts, interviews, and product reviews. The convenience of decent sound recording as well as great video in a palm-sized package, not to mention the $300 price tag, makes it something of a bargain.
The Music Video Recorder will go on sale on December 6th. Sony hosted us with travel and accommodation.