Sony Action Cam Hands-On [Sample]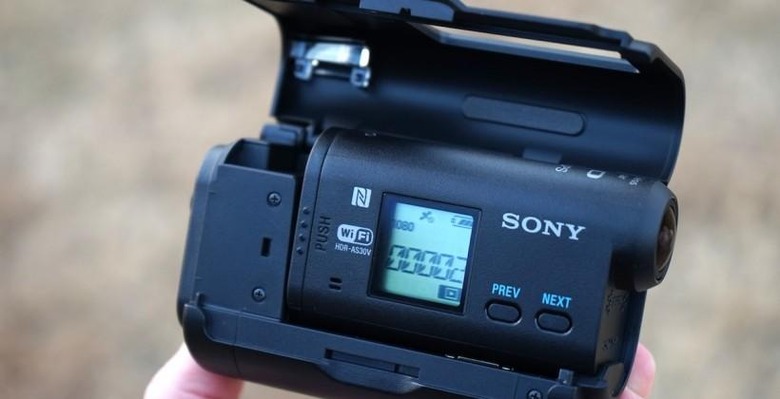 There've never been so many ways to keep track of your extreme sports lifestyle, but Sony is hoping its latest Action Cam will lure away potential GoPro users thanks to a mixture of WiFi, GPS, Full HD quality, and a broad range of accessories. Offering a choice of 1080p or slow-motion 720p recording, the Action Cam has SteadyShot image stabilization along with a Carl Zeiss Vario-Tessar 170-degree lens and Exmor R sensor. We took to the skies with the Action Cam to see how it performed.
Sony has been adding wireless connectivity to several of its camera models lately, and the Action Cam is no different, now packing WiFi to hook up to a smartphone or the optional display-toting wristband remote, and NFC to easily pair things up.
The waterproof housing has also had an upgrade, now fitted with holes for the stereo microphones on the front of the Action Cam, that allow it to keep recording sound without letting in liquid. It's not just for underwater use, however; there are various wrist, headband, handlebar, suction-cup, and other mounting options Sony offers.
Controls on the Action Cam are reasonably straightforward, as you'd hope for something intended to be operated out in the field. Hit the big "record" button on the back and it starts recording, unsurprisingly; hit it again to stop. If the camera is turned off at the time, pressing record will not only power it up – which takes a second or two – but start recording too. There's also a slightly fiddly hold switch underneath, while on the side two buttons cycle through settings like resolution on the compact LCD display.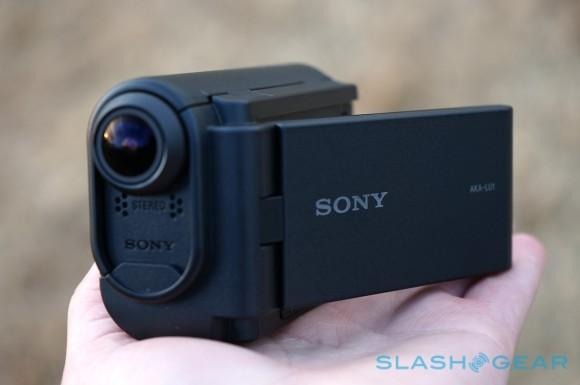 Drop the Action Cam into the Camcorder Cradle ($89.99), meanwhile, and you get a flip-out 2.7-inch LCD display to actually review your footage. There's still access to the camera's own controls, but three buttons are added to handle playback. It's a useful accessory, effectively turning the Action Cam into a pocketable little camcorder.
As for quality, results are very much dependent on where you're shooting, particularly when it comes to audio. In our sample hand-gliding footage below, for instance, audio quality is fine when background noise is low, but quickly gets drowned out by wind noise once airborne. Picture quality looks a little washed out, with colors somewhat subdued; the vivid green of the fields and the bright blue of the sky comes through toned down.
Sony Action Cam sample:
However, picture shake is much reduced, despite the Action Cam having been mounted on a wrist strap ($29.99). The wide angle lens also strikes a good balance between encompassing enough of the scene without distorting it into a fisheye effect.
The Sony Action Cam is on sale now, priced at $299.99.
Check out our first-impressions of the Sony A7/A7R and Sony RX10 cameras. Sony hosted us with travel and accommodation.