Sony GIGA Juke NAS-SC500PK and NAS-E300HD media streamers announced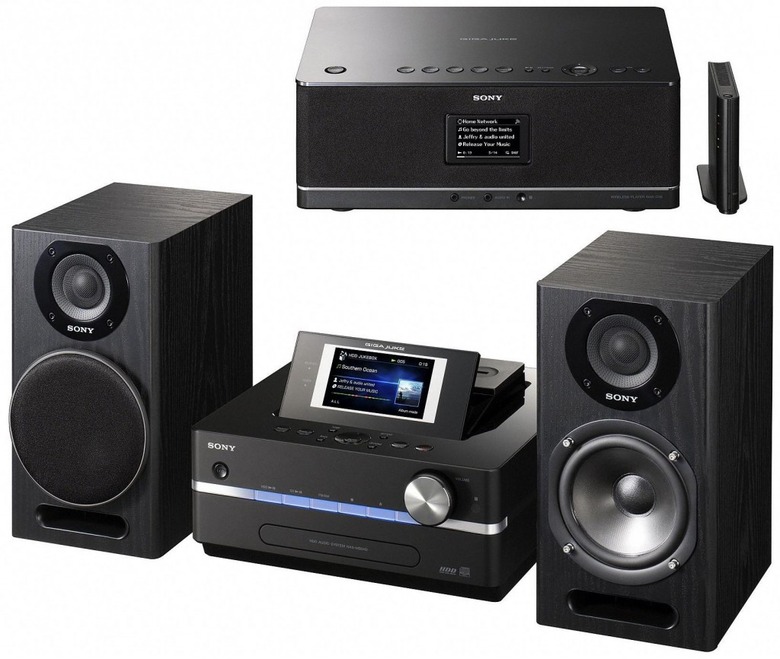 Sony have announced two new products in its GIGA Juke range of streaming home audio equipment, which also add docks for the company's Walkman range such as the OLED-touchscreen Walkman-X we reviewed.  The NAS-SC500PK (shown here) gets increased amplification – up to 100W – and a chunkier 160GB hard-drive, while the NAS-E300HD (shown after the cut) sticks with 60W and half the storage.
The GIGA Juke NAS-SC500PK has a full color display and can feed music to up to five satellite systems; each can play separate tracks, or – by pressing the PARTY button – be synchronized to play the same thing.  It comes with a new speaker design and can connect directly to your WiFi router to update its media database.  There's also the same SenseMe autoplaylist feature as on the new Sony PSP Go!
As for the Sony GIGA Juke NAS-E300HD, that has a monochrome display and 80GB of storage, together with 60W of amplification.  It, too, can connect to the internet to update its database.  Both it, and the NAS-SC500PK, will land in Europe midway through June 2009, prices to be confirmed.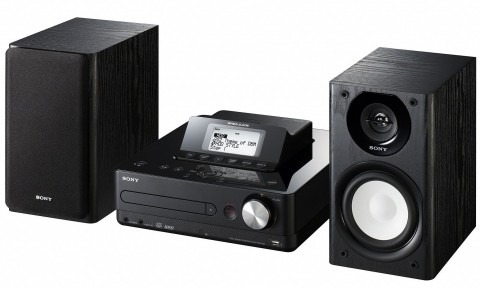 Press Release:
Rediscover Your Music Collection with the New GIGA JUKE HDD Hi-Fi System

• Load all your favourite tracks onto the hard disk drive and make it your own jukebox

• Music server feature allows easy access to your album collection from a wireless player in a different room (NAS-SC500PK)

• Release your music in superior sound quality

• Recording made simple

If you listen to your music wherever you are and wherever you go, chances are, your music is scattered in different hardware, in different formats and in different places. Why not store your tunes that are on your PC, MP3 player, mobile phone, USB sticks, CD and even your vinyl record collections all onto Sony's new GIGA JUKE NAS-SC500PK or NAS-E300HD. It's a hard disk drive home audio system – like a jukebox, but a special one that will be loaded with your music library.

GIGA JUKE NAS-SC500PK

The 160GB hard disk drive on the NAS-SC500PK gives you ample space, since it can store up to 1,300 hours at a high bit rate of 256 kbps or 40,000 tracks of MP3 music.

This GIGA JUKE is a special jukebox that has a multi-room feature. It's a complete package of a music server with a wireless player. You can add client players, and the system will deliver music wirelessly to up to five of them. Wherever you are in your home, you can access the main server from the wireless players, and even listen to different songs in each of the five zones. When you're having a party, just press the "PARTY" button, and every room with a wireless player will play the same music at the same time.

Transferring music files from your PC is straight forward with the supplied "Music Transfer" software. File import to the NAS-SC500PK can be done via a LAN cable that directly connects your PC and the system. Or if you prefer, you can also do it wirelessly through your broadband router and the system's router. Updating your latest music collection is quick too, since the system recognises and adds only new titles.

The GIGA JUKE NAS-SC500PK has the flexibility of a wide range of supported formats: MP3, AAC, Linear PCM, WMA and ATRAC. This compatibility means the system can store music from various sources, whether it's from a CD, radio, home PC or even vinyl. The built-in database of approximately 350,000 albums allows automatic title labelling. And further data can be pulled in by connecting the system directly to the Internet. Other easy features include alphabet search of your favourite artists and access to Internet radio from the wireless player.

Once the GIGA JUKE is loaded with all your music, it's time to rediscover your collection with the great sound quality and features of the system. Compared to previous models, the main unit speakers have been upgraded in several areas, which include a redesigned woofer featuring twin magnet technology. The improvements deliver superior sound clarity and bass frequency response. It also incorporates Sony's technology, DSEE (Digital Sound Enhancement Engine). High frequencies are often lost during file compression, but DSEE recreates them to restore the original sound quality. In addition, the main system has 100W of award winning S‑MASTER digital amplification.

With the "SensMe™ channels" feature, the NAS-SC500PK analyses and categorises your music library into 27 different channels so that you can play the music that suits the mood. From waking up in the morning to chilling out in the evening, the system intelligently compiles tracks of similar types for you to simply select the channel accordingly to what you feel like listening to at the moment.

For added convenience, the new GIGA JUKE has a WM-PORT, a built-in Walkman® port. Dock your Walkman®, and you can playback, import and transfer music, plus charge its battery. This feature works perfectly of course with the Walkman® X-series, Sony's latest video MP3 player with OLED touch screen. And with many portable music devices available, there's always a solution. You can connect your MP3 player via the USB port or add a DMPORT adaptor for iPod®.

GIGA JUKE NAS-E300HD

Compatible with MP3, AAC and WMA formats, the NAS-E300HD has an 80GB hard disk drive with 60W of amplification. It also has the built-in WM-PORT, the same large database for automatic title labelling and the artist search function. And recording music to the system directly from a CD couldn't be easier. Once you insert the CD, it's done in one step with just one button to press.

So make the GIGA JUKE your own jukebox and music centre by storing your entire music library and releasing your favourite tunes from past and present. The GIGA JUKE NAS-SC500PK and NAS-E300HD will be available in stores across Europe in mid June.