Sony Walkman X Review - is an OLED touchscreen the future?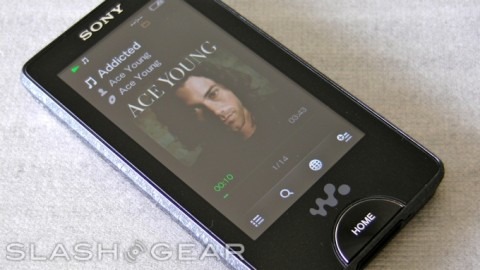 Trying out Sony's new OLED Walkman was a no-brainer, even if the only review unit they could provide was a Japanese model.  I've spent a week with the NW-X1050, trying to decide whether OLED is enough to wrench the PMP crown from Apple and the iPod touch; this isn't a review as such, as some of the functionality – notably YouTube and the Access browser – wouldn't work, but think of it as a preview for the US model.
Controls are large and easy to press, with play/pause and skip buttons up top, together with the 3.5mm headphone jack, and reset, volume and noise-cancellation controls on the right-hand side.  A large Home button is on the front, taking you back to the start screen no matter how lost in menus you may be.  On the back, near the top, is a large semi-circular Hold slider, which is pretty easy to slide despite a lack of texturing, while on the bottom is a proprietary connector.  I'm never impressed with Apple for resisting any of the smaller USB connections, and Sony won't be escaping that wrath either; figure on carrying yet another non-standard cable with you.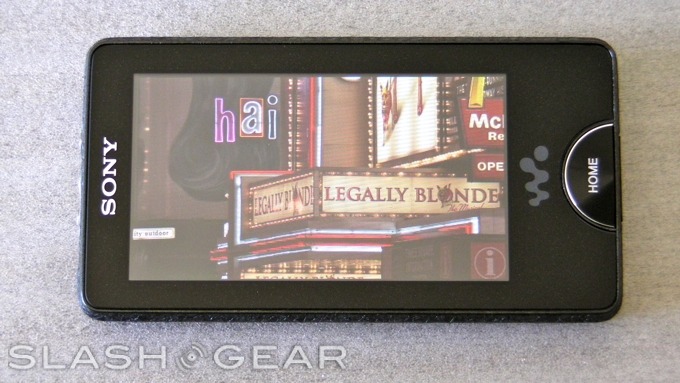 Build quality is, as SlashGear have said about other Walkman models in the recent past, very high.  The granite-finish casing will likely be an acquired taste, but happily it's less "kitchen work-surface" in real life than it looks online.  I found it being slightly textured helped when pulling it out of a tight pocket, and it's certainly distinctive.
The crowning glory of the OLED Walkman is, unsurprisingly, its display, a 3-inch 432 x 240 OLED which supports capacitive touch, though not multitouch.  It's rare for me to say it, but I wish Sony had given their GUI more visual flourish: the straightforward iconography and screen transitions are speedy and simple – although the fact that much of it is in Japanese has been tricky – but they don't really do the panel's capabilities justice.  Colors are incredibly rich and saturated, and it makes viewing video, photos and album art a real joy.  I imagine YouTube and web pages will be equally impressive, but since neither feature proved functional on this Japanese review unit, we'll have to save that joy for the US release.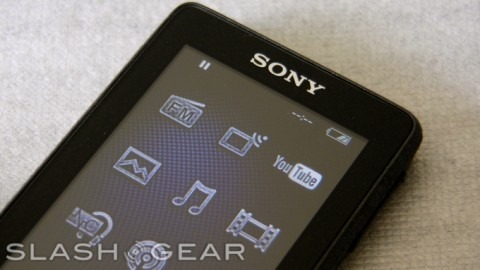 Of course, it's not perfect.  The absence of multitouch support is a frustration if you've come from the iPhone or iPod touch, as is the lack of auto-rotation between portrait and landscape orientations.  The fact that Sony limit video playback to 320 x 240 resolution seems bizarre, given the screen they have to play with, and the photo gallery is easy to navigate but not to zoom.  Given its prominence, the noise cancellation switch seemed to have surprisingly little effect whichever way it was flicked; it's possible that I was missing some related setting buried in one of the Japanese menus, mind.  Considering this is likely to be an expensive PMP, some will point to the fact that Sony don't have an App Store equivalent, a feature which keeps the iPod touch ahead at least when it comes to customization.
Where the OLED Walkman strikes back is in audio quality.  Whether with the standard headphones, basic aftermarket sets or high-end customs, sound quality is unbelievably good.  There's no lossless format support, but loaded up with high-bitrate files the Sony eats the iPod touch for breakfast.  You'll be able to enjoy it for roughly the same amount of time, too – Sony say 33hrs continuous audio playback, versus the Apple PMP's 36hrs, though video runtime is 50-percent longer at 9hrs for the Walkman – and getting files onto the 16GB or 32GB of storage is a simple matter of dragging and dropping on either PC or Mac.  The OLED Walkman shows up as a mass storage device, which eases the sting of the proprietary cable a little.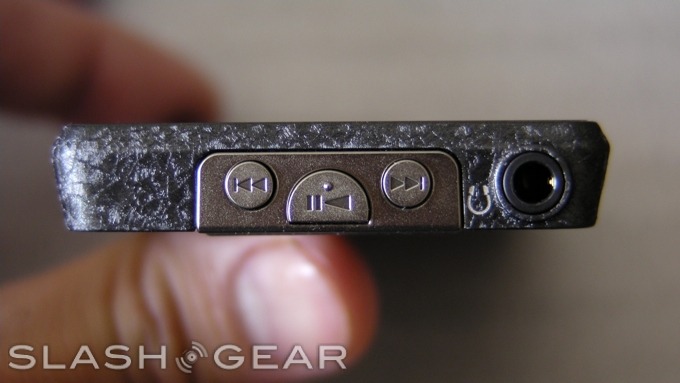 Is OLED the future for PMPs?  There seems to be a strong argument for it, based on the visual clarity, brightness and – going by the video playback runtimes – battery life benefits.  Of course, the iPod touch has shown that being a great PMP isn't just about media playback: judged solely on audio and video performance, Sony's OLED Walkman probable edges ahead, but in terms of the whole package Apple will still take some beating.  I'll save my final conclusion for when I've spent some time with the US-spec model and tested out the WiFi, Access browser and YouTube functionality, a prospect that, from this early hands-on, I'm now eagerly looking forward to.
[vms 455b3fa09a282e0d496f]