Sony Ericsson XPERIA Play Review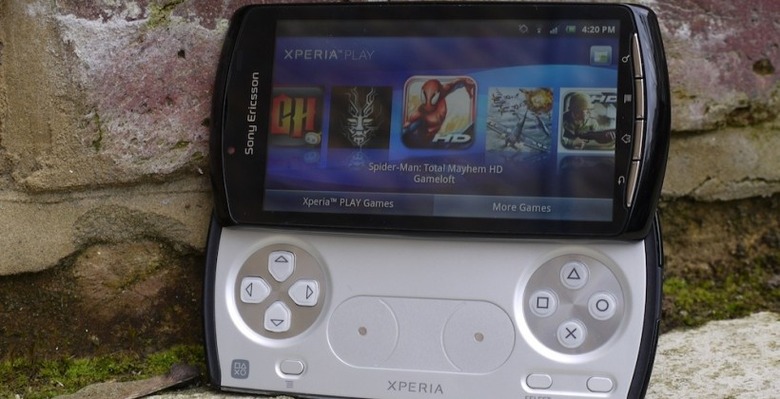 Frankly, it's a surprise it's taken them this long. The idea of a PlayStation phone hasn't been so much a persistent rumor as it has a cellular cloud hanging over both Sony and Sony Ericsson. It overshadowed the launch of the PSP Go and has been responsible for untold speculation about terse relations between the divisions. Throw in more pre-announce leaks than average, and the Sony Ericsson XPERIA Play has quite the reputation to live up to. Can the first gaming-centric Android smartphone deliver both the polished day-to-day experience we now expect, and live up to the PlayStation branding? Check out the full SlashGear review after the cut.
Hardware
The family similarity between the PSP Go and the XPERIA Play is obvious. Both have a slide-out gaming keypad and a chubby little body: 119 x 62 x 16 mm for the Sony Ericsson, 128 x 69 x 16.5 mm for the Sony. Even so, Sony Ericsson manages to fit in a larger display, a 4-inch panel running at 854 x 480 resolution. Colors and viewing angles are fine, but brightness falls well short, being mediocre indoors and oftentimes unusable outside. That's with the backlight set to maximum, too; there's no auto-brightness option, though we can see that the XPERIA Play is indeed adjusting in relation to ambient light (cover the top section of the phone and the screen dims automatically).
Above the display is a front-facing VGA resolution camera and proximity sensor, while underneath are four frustratingly spongy buttons for back, home, menu and search. The power/lock button is on the top edge, while the 3.5mm headphones socket and microUSB port are on the left side, set into a slice of chrome-finish plastic. On the right side are the left and right gaming shoulder keys – more on which in a moment – and, centrally, a volume rocker; we consistently had trouble pressing the latter, thanks to their slightly recessed position and the tendency of the slide mechanism to open slightly with any pressure. On the back is a 5-megapixel camera with autofocus and an LED flash.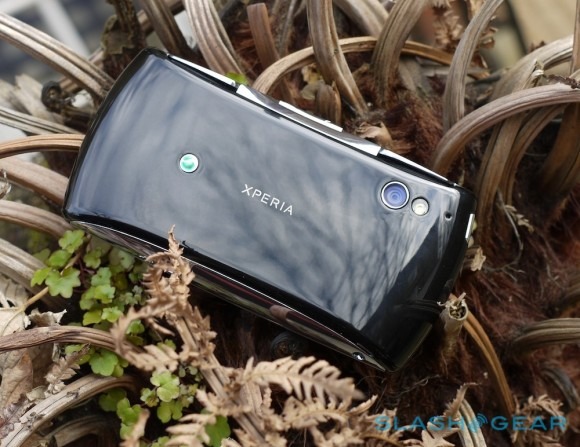 Of course, it's the gaming controls that have prompted the most interest. Slide up the spring-loaded display – something that's easy to do one-handed – and you find a D-pad, PlayStation-style face buttons (triangle, square, circle and cross), and two touch-sensitive analog controls that attempt to mimic the physical analog pads on a DualShock. On the bottom left is a second menu button (useful, since it means you needn't reach up to tap the fascia key) while on the bottom right are select and start buttons.
The physical keys are good, nicely sprung and responsive, just as you'd hope. Sony Ericsson's analog pads take a little more getting used to, however. The center dimple makes finding them without looking straightforward, but without a physical limit to how far we could move our thumb – as you'd get with a real stick – we sometimes found ourselves overshooting and slipping off the control altogether. As for the shoulder buttons, they're bizarrely wobbly and flappy, though broad enough so that our fingers found them easily.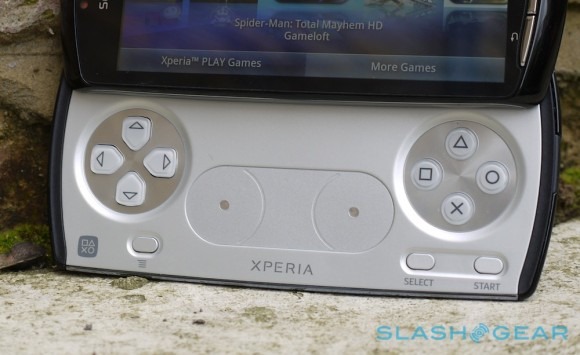 Build quality and hand-feel is a mixed bag. The slide is sold, and generally the XPERIA Play feels reassuringly weighty, but Sony Ericsson's choice of plastics smacks of cost-cutting. The matte silver of the gamepad is sturdy and tactile, but the glossy black battery cover and screen surround feel cheap. While the tubby little chassis makes for a noticeable bulge in the pocket, it makes holding the XPERIA Play in landscape orientation for gaming more comfortable.
Under the hood it's a pretty standard Android phone, with a single-core 1GHz Qualcomm Snapdragon MSM8255 processor, Adreno 205 graphics, 512MB of RAM, 400MB of internal storage and a bundled 8GB microSD card. Pop off the battery cover and there's a 1,500 mAh pack along with the memory card slot and SIM slot; the latter two can be accessed without removing the battery, and the microSD is automatically unmounted when you remove the cover. Although you can pull the SIM without powering down the phone first, we did find we had to power-cycle anyway if we wanted the XPERIA Play to reconnect to the mobile network once we'd slotted it back in.
Connectivity includes quadband GSM/EDGE and then various configurations of UMTS/WCMDA depending on location; there'll also be a CDMA version for Verizon. WiFi, Bluetooth, GPS and of course microUSB 2.0 round out the main specs, along with some surprisingly effective stereo speakers.
Software and Performance
Sony Ericsson's big push for 2011 is keeping its Android installations up to date, and hopefully avoiding the same software debacle as affected the XPERIA X10. The XPERIA Play runs Android 2.3.2 Gingerbread, on top of which is Sony Ericsson's custom UI; however, the company tells us that they've been careful this time around not to cement the two elements together. That, so the promise goes, should allow them to update the underlying OS more readily, or indeed tweak the custom software without demanding a whole new Android ROM be pushed out.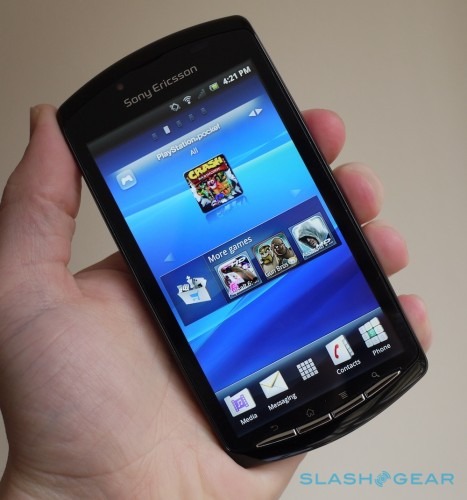 Obviously there's no way to know exactly how well that will translate into the real-world, at least until the first Android platform update is available. Sony Ericsson obviously has a vested interest in making it as streamlined as possible, considering the fall-out over its first generation devices, but we imagine there'll still be some delay between Google releasing new versions of Android and them arriving on the XPERIA Play.
What you do get is Timescape, Sony Ericsson's social networking app, which pulls together Facebook and Twitter updates into a single stream. As before, there are flickable cards on a homescreen widget – each with profile pictures – and the XPERIA Play will link up your contacts with recent Twitter updates. Sony Ericsson has also added some widgets of their own, including a PlayStation game carousel, data traffic monitor and various media controls, all with a rather elegant UI skin that replaces Gingerbread's black and lime green with blues and plenty of transparent effects. Happily it doesn't slow the system down noticeably, either, though Timescape can suffer a little lag as it updates.
We ran Quadrant, the Android benchmarking tool, and the XPERIA Play scored 1403. That puts it in-between the Desire S, which managed just 1147, and the Incredible S, which hit 1559, both of which use the same MSM8255 chipset but have 50-percent more RAM. Meanwhile, in SunSpider browser benchmarking, the Sony Ericsson scored 5582.9ms (lower is better). In general use the browser was satisfactory, though we did see some stuttering when zooming on heavier pages.
Games
Open the controller slide and the handset automatically shifts into gaming mode, with a two-tab XPERIA Play UI showing a side-scrolling list of titles you already have on the smartphone and what else is available to download. Tapping any of the latter takes you into the regular Android Market; alternatively a smaller Market logo automatically searches for anything labeled "XPERIA PLAY optimized." As of testing there are 40 titles to be had, with prices ranging from free to around £5/$7.99. Sony Ericsson preloads Bruce Lee, FIFA 10, Star Battalion HD and The Sims 3.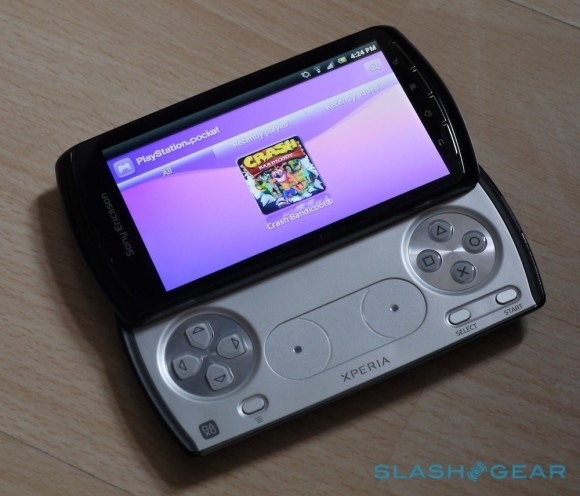 Of course, Sony has a catalog of PS One titles to mine, and so there's also the "PlayStation pocket" app. This shows your recently played titles, the pre-loaded Crash Bandicoot and, if you hit the tiny search button, gives you five more options: Cool Boarders 2, Destruction Derby, Jumping Flash, MediEvil and Syphon Filter. Tapping any of those takes you into the Android Market again, though oddly Sony's own PS One titles don't show up in the XPERIA Play app and there's no apparent way to combine the two sets of games.
It's all more than a bit confusing, and we can only assume that Sony was loathe to allow its titles to get mixed up – and potentially eclipsed – by third-party games. The end result, though, is more menu jumping than we'd prefer to see, which gets in the way of simply gaming. Sony Ericsson's idea to have a game-theme UI auto-load when you slide open the controls is sensible, but it needs to be more consistent and self-explanatory.
Sony Ericsson XPERIA Play hands-on:
[vms 40ac4f1c22da82aa0bc7]
Games themselves are a mixed bag. Those from the Android Market are scaled to fit the WVGA display, but PS One games are 4:3 aspect and so end up with black bars on either side. Alternatively you can zoom or stretch the game to fit, but neither looks especially impressive. Only certain titles make use of the analog pads, and you'll likely spend some time digging through the settings to make sure the controls are mapped out as you'd expect them to be; it will probably take a while before developers begin coding specifically for the XPERIA Play's gamepad. Get a call while you're playing, meanwhile, and it's title-dependent as to whether you can resume afterwards from where you left off, or if the game shuts down completely and you have to hope there was a recent save-point.
Camera
Sony Ericsson has stuck with the regular Gingerbread camera interface, which is short on settings but at least relatively straightforward. It's easy to flick between the front VGA camera and the rear 5-megapixel camera, as well as toggle into camcorder mode. Considering the emphasis on imaging quality Sony Ericsson has placed on its 2011 range of handsets, though, the absence of 720p HD video recording is baffling. Instead, you get WVGA resolution clips at 30fps, which are blurry and uninspiring.
XPERIA Play video sample:
Stills are crisp and clear however, and we prefer the XPERIA Play's shots to what the Desire S produced. Colors are nicely balanced, and while there's no dedicated macro mode, close-ups are kept nicely in focus. The LED flash is, like most of its ilk, woefully underpowered in truly dark situations, but does a reasonable job in moderate low-light environments. Pinch-zooming of photos is smooth and responsive.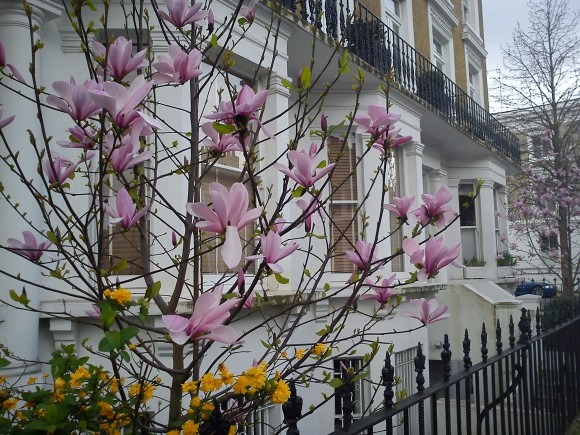 Phone and Battery
No great surprises when it comes to phone performance from the XPERIA Play, with par for the course in-call quality. The speakerphone is a little louder than most, thanks to the boosted speakers. There's obviously Bluetooth headset (and stereo A2DP) support.
Sony Ericsson suggest users will see up to 6 hours 25 minutes of 3G talktime (8 hours 25 minutes of GSM) or up to 413 hours of 3G standby (425 hours GSM). Alternative they predict up to 5 hours 30 minutes of solid gaming. In practice, with a mixture of browsing, push Gmail turned on, a few photos and some gameplay, we coaxed a day's use out of the XPERIA Play before it required a recharge, again pretty standard for a current Android device. Nonetheless, heavier gaming will see runtimes take a tumble, and of course that means you're not only without your games platform but your phone (and camera, and PMP) as well.
Wrap-Up
As we said before, the rumors about Sony Ericsson making a PlayStation phone with plenty of Sony gaming input aren't new. Neither are the mutterings that Sony execs refused to allow the cellular partnership to use the PlayStation brand, over fears that a sub-par product might dilute its appeal among the gaming community. So, where does that leave the XPERIA Play, a device which gets to wear half the branding from each company?
Frankly, you can see why Sony might be cautious, and the XPERIA Play doesn't quite deliver the knockout punch that will instantly dispel their concerns. The gamepad works, and the premise of playing PS One titles while mobile is brilliant, but there's still a disconnect between Sony Ericsson's hardware and the games on offer. Part of that is the simple number of titles to choose from – six from the PS One and a bigger handful of Android games – but there's also the more concerning fact that even what's available already isn't the polished experience we'd hoped for.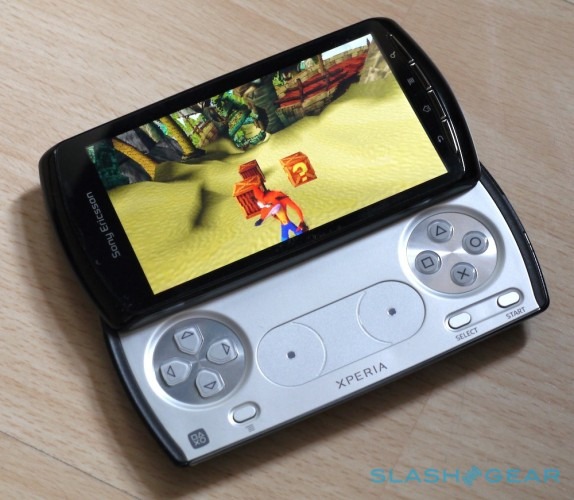 That will likely improve in time, though there are hardware concerns – such as the dim display and some of the cheap plastics – that won't. Sony has ambitious plans to get Android gamers involved in beefing up the number of titles that will run on its own NGP handheld, and that should deliver a significant boost to the software ecosystem; problem is, the NGP isn't expected until sometime in Q3 2011, meaning it might be six months or more before that boost actually happens.
Can a single-core Android handset maintain its allure until that point, even with the USP of a physical gaming keypad, given the current pace of the smartphone market? Sony Ericsson's target market occupies the space between casual gamers content with normal touchscreen control and hardcore gamers for whom only a dedicated console will do. The scope of that market will depend on how quickly it can draw in games developers: the XPERIA Play is a solid device that will live or die by its software.