Sony Ericsson XPERIA Play Only $99 On Amazon

Amazon is really busting out the deals lately. Last week they posted a deal for the DROID Charge and just yesterday they had a crazy $0.99 deal for an entire Lady Gaga album. Today, they're slashing the price for the much anticipated PlayStation phone, the Sony Ericsson Xperia Play.
Pre-orders for the Sony Ericsson Xperia Play was recently launched at Verizon. But the pricing there had the handset at $199.99 with a new 2-year agreement. Amazon's listing today, has the handset at $99.99 with a new 2-year agreement. But if you're an existing customer, you can upgrade your plan and get the phone for $149.99.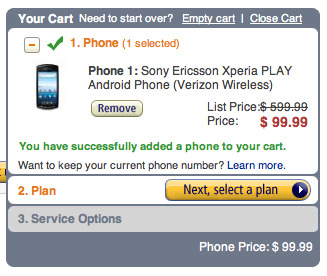 However, the phone is currently listed as backordered on Amazon, meaning you may have to wait 8 or 9 more days before it ships, even though the phone is set to launch May 26th. Make sure to check out our review of the Xperia Play, which will be getting an update next week that adds deep Facebook integration.
[via Android Community]