Sony Ericsson XPERIA Play caught in wild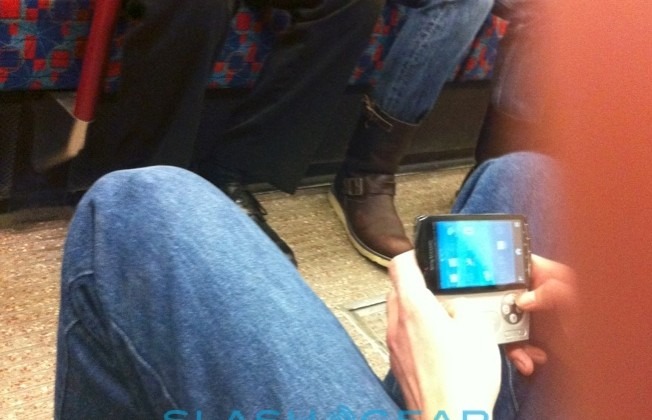 It's obviously the day for unannounced smartphones to get caught in the wild. After a duo of HTC devices were spotted, it's the turn of Sony Ericsson's well-leaked XPERIA Play – aka the PlayStation Phone – which is currently considered a lock-in for MWC 2011 next month. A SlashGear tipster sent in this shot of Sony Ericsson's gaming handheld being thumbed on the Tube.
According to the tipster, the XPERIA Play was being publicly manhandled in London; they were too coy to interrupt and ask for some playtime of their own, but they did snap a sneaky photo of the sliding smartphone. The handset has a 4-inch 854 x 480 resolution touchscreen, 5-megapixel camera and runs Android 2.3 Gingerbread; we've also heard separately that it will launch on Orange UK, though we don't know if it will be a carrier exclusive or not.
After today's Sony NGP launch, meanwhile, we also know that the XPERIA Play – while seemingly not getting PlayStation branding – will get access to the PlayStation Suite, Sony's new gaming platform and PS Store for titles that run on Android phones. That's expected to be populated with PSOne classics initially, though Sony is also inviting Android game developers to have their titles certified and included in the on-device download store.