Sony Ericsson Idou Video Demo Shows Browser Flash Support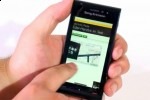 Another Sony Ericsson Idou prototype has fallen into blogger hands, and this time it's CNET Germany who are showing off the upcoming 3.5-inch wunderphone on video.  It may be in Germany but the footage does show one thing: Flash support in the browser.
Video demo after the cut
From the video, the browser looks slick and speedy with no lag as the page is dragged around.  Interestingly, the Idou prototype uses microSD memory cards, rather than some variant of Sony's Memory Stick; we can only hope it stays that way until launch.
The Idou has WiFi, 3G HSUPA/HSDPA and a 12.1-megapixel autofocus camera with Xenon flash, together with Bluetooth.  For more on the Idou, check out our hands-on photos and video here.
CNET demo:
SlashGear demo from MWC:
[via Unofficial Sony Ericsson Blog]