Sony 2010 3D HDTVs coming June with PS3 3D upgrade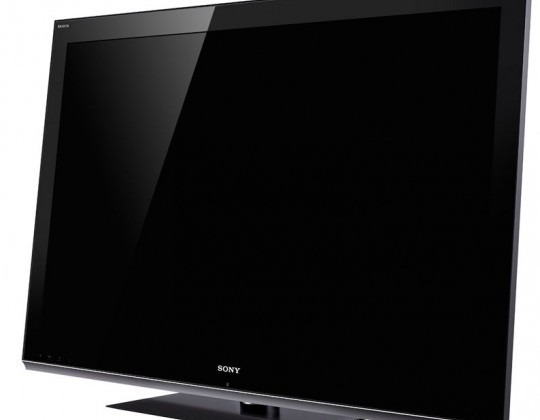 Sony UK have announced their 2010 3D HDTV range, which is set to go on sale from June.  Interestingly, rather than outing a flagship first and then gradually pushing out cheaper sets, Sony reckon their 3D debut – the BRAVIA HX800/HX803 – will be "affordable", though exact prices aren't yet revealed and you'll need to shell out a little extra for the necessary 3D glasses and IR emitter unit.  Meanwhile the PS3's 3D firmware upgrade will arrive in sync with the 3D HDTVs, complete with some free 3D games for those who buy a new set.
The HX800/HX803 will be followed by the HX900/903/905 and the LX900/903/905, with the x03 sets having integrated Freeview digital terrestrial TV tuners and the x05 sets getting satellite support.  The LX has integrated 3D support and WiFi, while you'll need to pick up your 3D kit separately for the HX.
Meanwhile there are also two new 3D-capable Blu ray players, the BDP-S470 and BDP-S570, on their way, complete with two bundled 3D titles: Cloudy with a Chance of Meatballs and Deep Sea. The S570 has integrated WiFi for streaming, and both models can be remotely controlled using a free iPod touch/iPhone app.
Press Release:
Sony 3D TVs Available for the First 3D World Cup
LONDON–(Marketwire – April 15, 2010) -

Four Compelling Reasons to Join the 3D Revolution and Make Your First 3D Experience a Sony One:

– Affordable Sony 3D TV "BRAVIA" HX800 launch model

– Free 3D stereoscopic game titles for PlayStation®3 (PS3™) with all Sony 3D TVs

– Exclusive Blu-ray 3D™ movies bundled with selected Sony 3D TVs and Blu-ray players

– The most comprehensive range of 3D Blu-ray Players and Home Cinema Systems available.

Sony today reconfirmed its pre-eminent position at the forefront of 3D with the announcement of a unique high-value 3D offering that draws on the strengths of Sony's unique '3D World' expertise in consumer electronics, movie making and gaming.

Confirming that Sony 3D TVs and Blu-ray players would be available in stores in June, in time for the first FIFA World Cup to be filmed in 3D by Sony and FIFA, the company announced a package of products, services and free content, comprising four compelling reasons for consumers to make their first 3D TV experience a Sony one.

Best Value Sony 3D TVs – BRAVIA® HX800 launch model and 3D accessories

Reinforcing their intention to make the excitement of 3D accessible to all consumers, Sony announced the introduction of the HX800 series 3D TV that will offer 3D cinematic capability with outstanding consumer value and will undoubtedly set the benchmark for stylish, technically advanced yet affordable 3D compatible TVs. The HX800 launch model will be followed within weeks by additional models in Sony's 3D TV line-up.

Sony's very latest 3D technology will naturally be included in all new BRAVIA 3D TVs. Built upon Sony's very latest 200Hz high frame rate technology that allows viewers to see 3D in full High Definition 1080p(1) fidelity, the High Definition 3D image is further enhanced with the inclusion of 'High Speed Precision(2)', 'LED Boost(3)' and '3D up-conversion(4)', three technologies unique to Sony and designed to make the 3D image even clearer and brighter and the 3D experience even more exciting.

Free 3D stereoscopic game titles for PS3 available with all Sony 3D TVs

With the launch of Sony 3D TVs, PlayStation®3 (PS3™) users are in for a treat as 3D stereoscopic gaming really comes of age. Timed to complement the launch of the HX800, Sony Computer Entertainment Europe will release four 3D stereoscopic PS 3 game experiences(5) through the PlayStation Network, available as a free collection to purchasers of BRAVIA 3D TVs. The promotional 3D stereoscopic game experiences include something for all the family, from the visceral excitement of Wipeout ®HD and Motorstorm Pacific Rift to the wry humour of PAIN, through to the family friendly fun of Super Stardust™ HD.

Exclusive 3D Blu-ray disc movies bundled with selected Sony 3D products

Cloudy With a Chance of Meatballs and Deep Sea Blu-ray 3D™ discs will be bundled with select Sony 3D products. Additionally, Sony Pictures Home Entertainment's Cloudy With a Chance of Meatballs Blu-ray 3D™ will be sold separately at participating retailers.

Affordable 3D glasses and Transmitter accessories

Sony's 3D glasses, using active shutter technology to deliver full High Definition 3D are designed for both comfort and stamina, with flexible and adjustable side arms and nosepad and a choice of colours to allow a stylish and comfortable fit for everyone. Smaller pink and blue glasses are available for people with smaller face such as smaller children, and with a battery life of approximately 100 hours(7), and an auto shut off function, Sony's 3D glasses will allow you to enjoy the 3D action for longer.

3D Blu-ray Players and Home Cinema Systems complete the 3D Home Entertainment picture

Designed to complement the new Sony 3D TV models, Sony can lay claim to the most comprehensive range of 3D Blu-ray Players and Home Cinema Systems available.

Already in-store is the highly affordable S470 "3D ready" Blu-ray Player. Bringing full HD 3D Blu-ray disc playback, a 3D firmware update will be released in time for the launch of Sony's 3D TVs in early June. The S570 model, coming hot on its heels in early June, will be the first with 3D playback out of the box.

Spearheaded by the BDV-E370, Sony's complete range of Blu-ray Home Cinema Systems this year is also "3D Ready".

Sony's 3D Credentials and the World Cup

In another demonstration of Sony's long standing experience and expertise in the creation of professional 3D technology and content, Sony and FIFA recently confirmed that they would be filming 25 matches in the FIFA World Cup™ in 3D.

Complementing the 3D live broadcasts and a series of public viewing opportunities around the world, the general public will also be able to enjoy the 3D promotional trailers for each of the 25 games, shown on Sony 3D TVs in around 1,300 Sony-affiliated retail stores and flagship stores throughout Europe. Furthermore, Sony Pictures Home Entertainment has unveiled plans to release the official 3D FIFA World Cup film on Blu-ray 3D™ during 2010.

Notes to Editors:

1. 1080p resolution available from 3D Blu-ray and other devices and services with sufficient bandwidth .

2. High Speed Precision is the technology solution Sony has developed to minimize crosstalk (the mixing of 3D images assigned to left and right eyes). Based on the high frame rate technology of Sony's Motionflow 200Hz TVs, High Speed Precision delivers a beautiful, clear 3D picture.

3. 'LED Boost' increases the picture brightness by selectively boosting the LED backlight to give you the best and brightest 3D picture. This has no effect on overall power consumption of the TV.

4. '3D up-conversion' (Simulated 3D) converts 2D content to simulated 3D and is intended as an additional entertainment feature and not a replacement for 'real' 3D. Quality may vary depending upon the quality of the original 2D source content.

5. PS3 free game experiences (available to download from PlayStation®Store via a voucher code provided to purchasers of Sony 3D BRAVIA sets):

Wipeout HD: full 3D game (not including Wipeout HD Fury)

PAIN: 3 x 3D episodes + 1 x 2D tutorial

Super Stardust HD: full 3D game (not including DLC)

MotorStorm Pacific Rift: single level 3D demo

PS3 free game experiences will be exclusively available to purchasers of Sony 3D TVs for a limited period.

6. PS3 owners will be able to upgrade their PS3s to be 3D game compatible with a firmware upgrade ( in countries where PSN is available) prior to the Sony 3D TVs becoming available. A further firmware upgrade to make PS3s 3D BD movie compatible will be made available within 2010.

7. Battery life may vary according to the viewing environment.

Specifications for Sony 3D TVs and Blu-ray Players

BRAVIA® 2010 RANGE

SIGNATURE RANGE

LX900

Next-generation home entertainment TV

Integrated Full High Definition 3D experience with built in 3D Sync Transmitter and 2 pairs of glasses

Wi-Fi access to online services & content

Built-in MPEG-4 AVC HD TV tuner

Available sizes: 40" (102cm), 52" (132cm), 60" (152cm)

LX903 (UK only)

Next-generation home entertainment TV

Integrated Full High Definition 3D experience with built in 3D Sync Transmitter and 2 pairs of glasses

Wi-Fi access to online services & content

Built-in tuner for easy access to Freeview HD

Available sizes: 40" (102cm), 60" (152cm)

LX905 (Satellite countries only)

Next-generation home entertainment TV

Integrated Full High Definition 3D experience with built in 3D Sync Transmitter and 2 pairs of glasses

Wi-Fi access to online services & content

Built-in HD Triple Tuner

Available sizes: 40" (102cm), 52" (132cm), 60" (152cm)

CINEMATIC RANGE

HX900

Optimised for the ultimate home cinema picture

Vivid images with amazing high contrast & colour

Ready for a Full High Definition 3D experience with optional 3D Sync Transmitter and 3D glasses

Built-in MPEG-4 AVC HD TV tuner

Available sizes: 46" (117cm), 52" (132cm)

HX903 (UK only)

Optimised for the ultimate home cinema picture

Vivid images with amazing high contrast & colour

Ready for a Full High Definition 3D experience with optional 3D Sync Transmitter and 3D glasses

Built-in tuner for easy access to Freeview HD

Available sizes: 46" (117cm), 52" (132cm)

HX905 (satellite countries only)

Optimised for the ultimate home cinema picture

Vivid images with amazing high contrast & colour

Ready for a Full High Definition 3D experience with optional 3D Sync Transmitter and 3D glasses

Built-in HD Triple Tuner

Available sizes: 46" (117cm), 52" (132cm)

HX800

Innovative "Dynamic Edge LED" technology for high contrast pictures and a slim TV design

Smooth fast-action and pin-sharp detail with advanced Motionflow 200Hz Pro

Amazing Full HD 3D viewing with optional 3D Sync Transmitter and 3D glasses

Built-in MPEG-4 AVC HD TV tuner

Available sizes: 40" (102cm), 46" (117cm)

HX803 (UK only)

Innovative "Dynamic Edge LED" technology for high contrast pictures and a slim TV design

Smooth fast-action and pin-sharp detail with advanced Motionflow 200Hz Pro

Amazing Full HD 3D viewing with optional 3D Sync Transmitter and 3D glasses

Built-in tuner for easy access to Freeview HD

Available sizes: 40" (102cm), 46" (117cm)

HX805 (satellite countries only)

Innovative "Dynamic Edge LED" technology for high contrast pictures and a slim TV design

Smooth fast-action and pin-sharp detail with advanced Motionflow 200Hz Pro

Amazing Full HD 3D viewing with optional 3D Sync Transmitter and 3D glasses

Built-in HD Triple Tuner

Available sizes: 40" (102cm), 46" (117cm)

Blu-ray Players

BDP-S470

Next-generation 3D action on a compatible 3D TV (via firmware update)

Monolithic Design concept to add a unique style to your living room

Enjoy catch-up TV services and Internet Videos with BRAVIA Internet Video

Supports DivX HD and MKV formats

Use your iPhone or iPod touch as a BD Remote Control for your Blu-ray Disc Player

BDP-S570

Next-generation 3D action on a compatible 3D TV

Monolithic Design concept to add a unique style to your living room

Enjoy catch-up TV services and Internet videos with BRAVIA Internet Video

Built-in Wi-Fi for easy access to online content without the hassle of connecting wires

Use your iPhone or iPod touch as a BD Remote Control for your Blu-ray Disc Player