Sonos PLAY:5 reborn as $500 smart speaker: Hands-on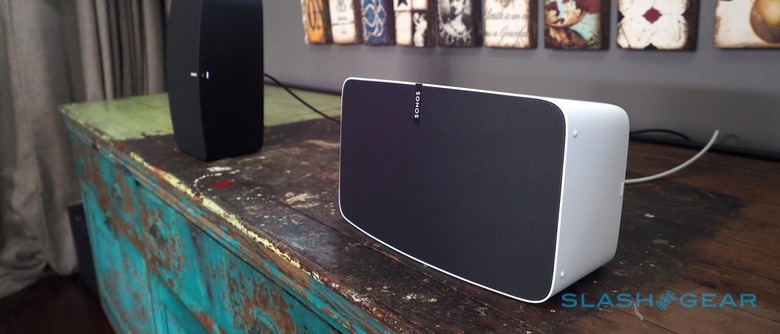 It's been six years since Sonos launched the original PLAY:5, the first all-in-one speaker for its streaming music platform, and now it's time for the second-generation. In the intervening period products like the PLAYBAR – which attempts to create surround sound from a single speaker – and the PLAY:1 – with its tiny footprint – have given the company plenty of opportunity to refine its processes.
For the new PLAY:5, then, lessons have been learned from everything that came before it. The longer throw of the PLAY:1's woofer, which gives it its surprisingly deep bass, has been borrowed, while similar processes to how PLAYBAR's phased array drivers steer sound with software are carried over to the smaller box.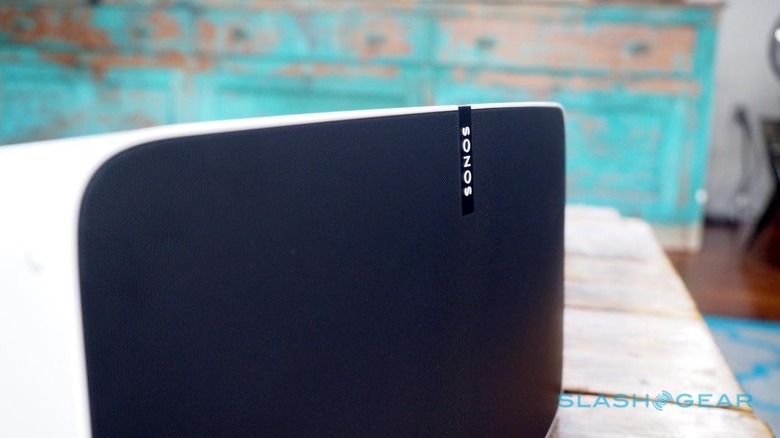 In total there are six drivers, one more than the original PLAY:5. Three mid-woofers handle the mids and bass, with 3x the surface area of the old model, while three tweeters tackle the highs. Two of those tweeters fire sideways, spreading the soundstage.
It comes at a cost, mind. 2015's PLAY:5 is $499, $100 more than the speaker it replaces.
A closer attention to detail goes some way to justifying that extra Benjamin. The shell is a single component, finished in a matte black or matte white that looks and feels a little like ceramic. Almost 60,000 holes have been individually drilled into the grille, including even tinier perforations in the front-placed logo – which the designers insisted on – so that it's acoustically transparent – which the audio engineers demanded.
The buttons are now touch-sensitive. Play/pause is in the middle, flanked by volume keys. Swiping across them skips tracks, meanwhile – left to right to move forward through the playlist; right to left to step back.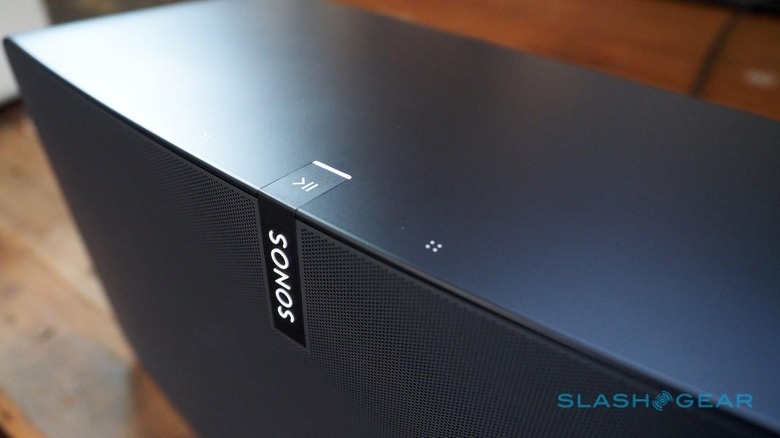 Even the power cord has been redesigned, now clad in TPE which is not only more environmentally friendly but feels better to the touch. Not bad for something you'll probably only touch a few times in the speaker's life.
Three orientations are supported, with the PLAY:5 happy either placed horizontally or stood up on its right or left sides. Six antennas inside promise the same wireless performance regardless of position, and the software adjusts driver use after automatically recognizing how they're placed.
That makes a difference when you pair two together. If they're vertical, Sonos says, the stereo image has a more focused sweet-spot in the center: targeted at the chair you really want to be sitting in. Place them both horizontally, however, and the stereo image is wider, better filling the room.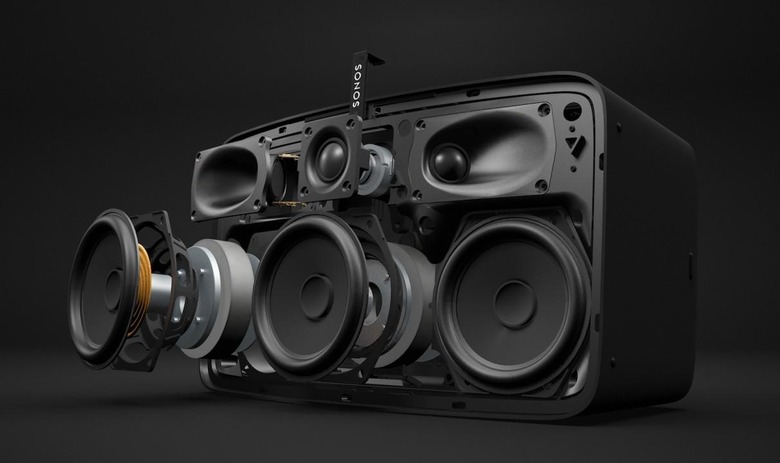 The proof of that pudding is in the listening. I spent some time with all three configurations – a lone PLAY:5, a pair in vertical orientation, and a pair in horizontal orientation – in a demo area Sonos had set up. It wasn't some acoustically-tuned space, either, but instead a more typical apartment layout to better represent the average home setup.
It's definitely powerful. Even with a single unit, the bass cranks up to surprisingly high levels, while the mids and top-end are no less capable. Unfortunately Sonos hadn't brought along an old PLAY:5 to compare and contrast with.
The different sweet spots in both orientations of paired mode were noticeable, too. Placed vertically, there was a definite sweet spot in the center; move outside of that in either direction, and the music lost some of its sparkle.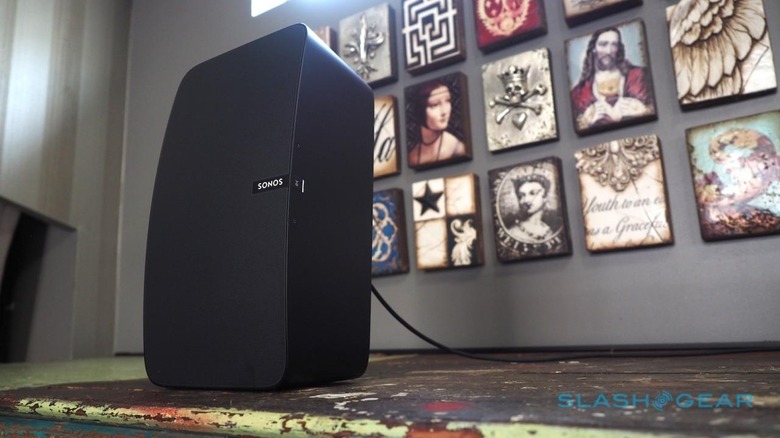 Flipped horizontally, the experience in the sweet spot wasn't quite so rich, but playback sounded much more consistent even as I moved around the room. Considering you can change the speakers' orientation and have the software tuning adjust automatically and in real-time – without even having to pause the music – it's not unfeasible to imagine quickly switching between the two setups depending on if you're listening alone or have company.
Meanwhile, unlike the first PLAY:5 these new speakers can be combined with a PLAYBAR as a rear stereo pair for home cinema installations. Along with support for Sonos' own networking standard and regular WiFi, there's an ethernet port and 3.5mm aux-in on the back, along with the dedicated sync button.
Sonos' goal was to design a speaker for at least the next 5-6 years, just like the first PLAY:5, and that includes some features currently dormant. Inside there are two microphones, for instance, which the sound engineers envisage playing some role down the line in adaptive tuning.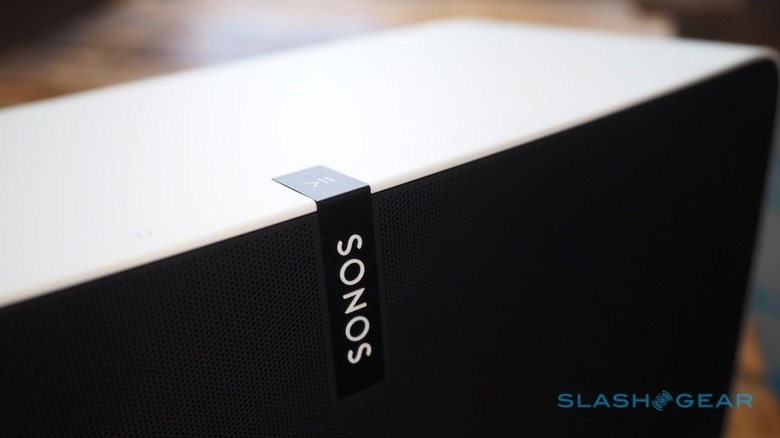 Exactly what that role might be isn't clear right now – the microphones aren't active, and Sonos tells me it's not entirely sure what it will ever do with them, though it has promised to make their use optional and warn owners before they're activated – but it's part of an attempt to make the PLAY:5 properly smart for tomorrow's user not just at the point of launch.
There's no shortage of wireless speaker options out there, both whole-home platforms like what Sonos is offering and more portable Bluetooth speakers generally intended for single-user playback. As Sonos sees it, the only thing that hasn't changed is the value people place on the music itself, and it's counting on the PLAY:5 becoming an aspirational product for new users as well as a must-have upgrade for existing ones.
We'll see how well that strategy works when the Sonos PLAY:5 goes on sale later this year.
[gallerybanner p=406592]