Sonos Play:3 S3 All-In-One Gets Premature $299 Amazon Reveal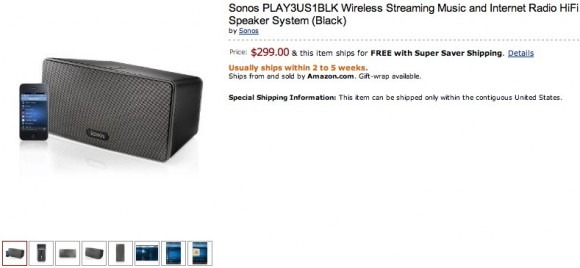 Details of the Sonos S3 aka the Play:3 wireless nightstand speaker last seen crossing through the FCC have leaked, courtesy of a prematurely posted Amazon product page. Since yanked – but still available in Google's cache - the page detailed the Sonos Play:3 and described it as a "smaller, sexier, tuck in a corner and blow out the roof, all-in-one player."
Smaller than the existing Sonos S5, the S3/Play:3 is a three driver speaker system, according to Amazon, consisting of three digital amps, a tweeter, two mid-range drivers and a bass radiator. Functionally it'll be more of what we've already seen from Sonos: easy streaming from your own music, whether stored on a computer or a NAS, along with internet radio access, all controlled either from the company's dedicated remotes or – probably more appealing to the S3 customer – the free apps for Android and iOS devices.
"The smaller, sexier, tuck in a corner and blow out the roof, all-in-one player. Wirelessly stream your entire itunes library, favorite music services, and thousands of radio stations from around the world. Versatile enough to put anywhere and still fill the room with sound. Set up simply, and expand until every room in your home is packed with music. All playing a different song in every room or the same song in perfect synchronization. Control it all from your Android iPhone or iPad using the free Sonos CONTROL app" Amazon product description
Pricing for the Sonos Play:3 is $299, while availability was listed as 2-5 weeks when the page was still active. That would suggest an official announcement sooner rather than later. It's still more expensive than Logitech's Squeezebox Radio, which is now down to $179, but the legendary Sonos usability may prove the big temptation.
[via Engadget]