Sonos Beam is new $399 smart speakerbar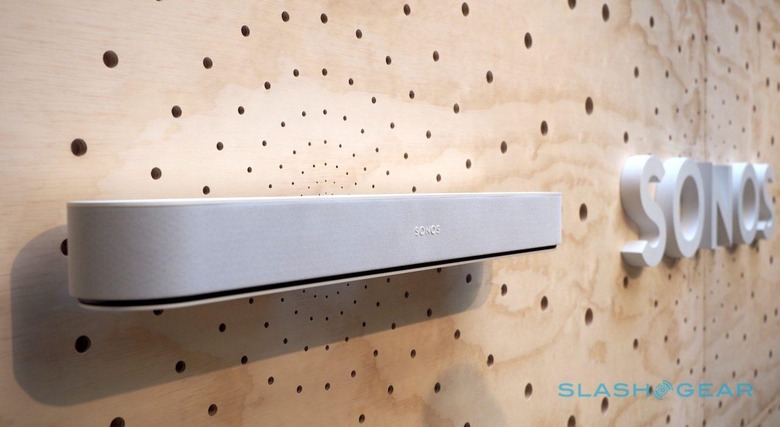 Sonos has revealed its latest speaker, the Sonos Beam, a smaller soundbar that wants to be both your music and your home entertaining speaker. Unveiled in San Francisco, CA today, it also includes the same Alexa support – with more smart assistants in the pipeline – as the Sonos One.
The new speaker slots in-between Sonos' existing speakers. On the one hand, Chris Kallai, VP hardware product management explains, you have the Play:1, Play:3, Play:5, and Sonos One, which excel at music. On the other, you have the significantly larger Playbar and Playbase, which focus on home entertainment.
Sonos is also promising "radical simplicity," something not often found in the TV room. Rather than a coffee table full of remote controls, Sonos Beam will typically be controlled by voice, the company expects. You'll be able to say "Alexa, turn on the TV," for example.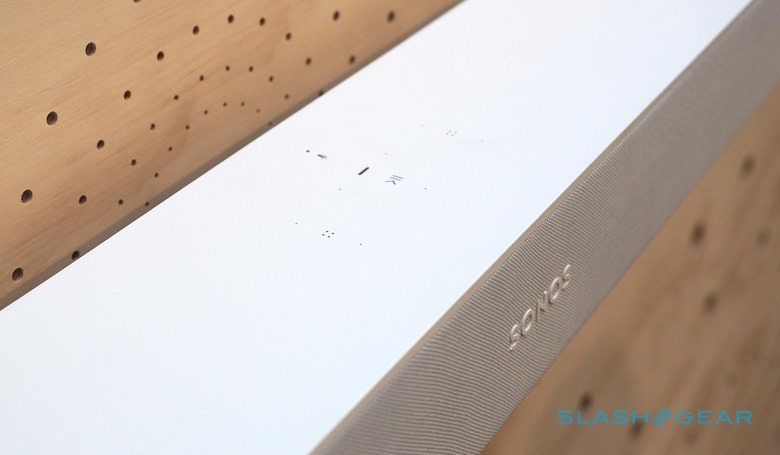 As for the speaker itself, that has a center tweeter flanked by two full-range woofers. There are more angled woofers on either end of the speaker; they can steer sound around the room. The upshot, Kallai says, is a more immersive experience for video, along with a broader stereo soundstage for music.
Finally, there are three passive radiators, "to intensify and deepen the bass" Kallai says. All of the conducers are custom-designed, as are the rectangular passive radiators. It even had to design its own square subwoofers. Since it might be put into smaller spaces, it's designed to support reducing the louder noises while emphasizing the quiet ones, so that you can still hear voices but don't get overwhelmed by explosions.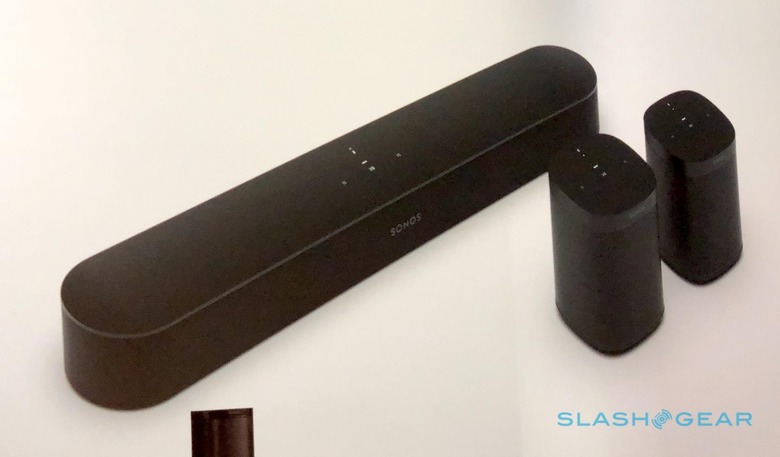 Compared to the Playbar, it's shorter and generally more compact. It can be mounted on the wall below a TV, or on a side cabinet. On the back, there are three ports: power, ethernet, and HDMI ARC. That's also where you'll find the pairing button, to join the Sonos Beam to your existing speaker ecosystem.
The HDMI ARC port means some key TV commands will be controllable by voice. That includes "Alexa, turn on the TV" and "Alexa, turn up the volume." If you have an Amazon Fire TV, you can ask for specific movies and TV shows by voice, too.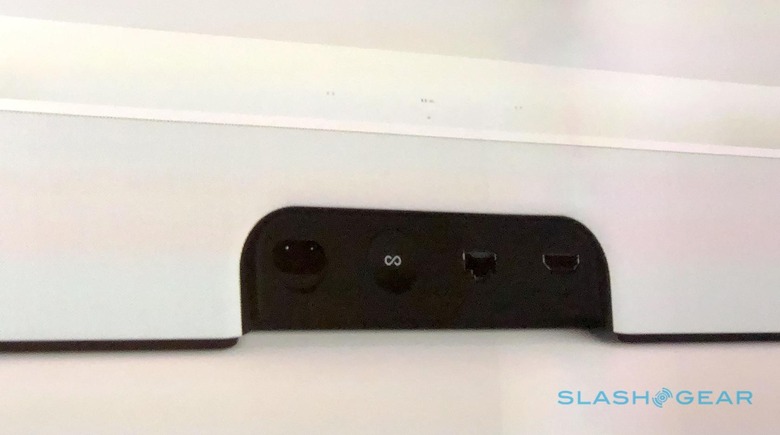 Out of the box, there's Amazon Alexa support. Like the other Sonos speakers, it'll add AirPlay 2 support this July, when Sonos pushes out its new software update. In the pipeline – though without a public timescale, sadly – is Google Assistant integration. They work with a five-microphone array, which Sonos promises will be able to hear you over even the loudest movie.
Certainly there's no shortage of smart speakers, but Sonos insists that it's still got a niche in what it calls the "Sonic Internet" – the growth of connected speakers that take an audio-first approach to that connectivity. However, it's also fairly critical of its competition, which it argues is more about collecting user data and tying people into closed ecosystems. "We're not in the business of selling user-data, and we never will be," Patrick Spence, Sonos CEO, insists.
That doesn't mean Sonos is going it alone. "Sonos is a sound platform for the home," Allen Mask, VP of product marketing, says of the platform. "We strongly believe that in the long term building with, and alongside, our partners is the best way to bring the Sonic Internet to life."
Sonos says the Beam will go on sale on July 17th. It'll be priced at $399, and available in both black and white finishes. Preorders start today.