Solar Impulse plane lands in New York, completing US leg of global flight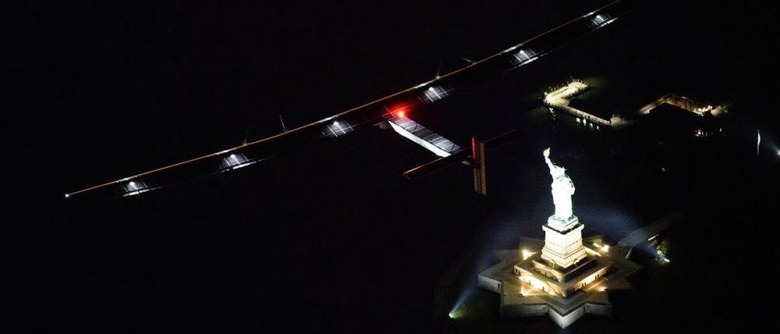 Solar Impulse 2, which we've written about several times before, is a small, single pilot, solar-powered aircraft making a slow-but-steady flight around the world in order to prove the potential of renewable energy. The plane arrived in New York City in the early hours of Saturday morning, seeing the project complete the US leg of its journey, and celebrating with an iconic flyby of the Statue of Liberty.
As the 14th flight in Solar Impulse's trip, the aircraft flew from Pennsylvania to New York in a little under five hours. Running only on solar power stored in batteries, the project sees one of two pilots behind the wheel, alternating on each flight. "We received very positive and heartwarming responses during our journey through the United States, because it's a country of pioneers and explorers," said pilot Bertrand Piccard.
The plane arrived in the US in late February following a non-stop 62-hour flight over the Pacific Ocean from Hawaii. This came after a 9-month grounding in the islands, following the record-setting near-5-day flight from Japan that caused significant damage to the craft's batteries. Prior to that Solar Impulse has made stops in Oman, India, Myanmar, and China.
The project is now on target to finish its journey with an arrival in Abu Dhabi, where it first departed from in March 2015. The next leg will see the plane fly across the Atlantic Ocean to land in either Europe or Northern Africa.
SOURCE Solar Impulse blog