Socialmatic retro smart camera promises pre-orders, remains mum on release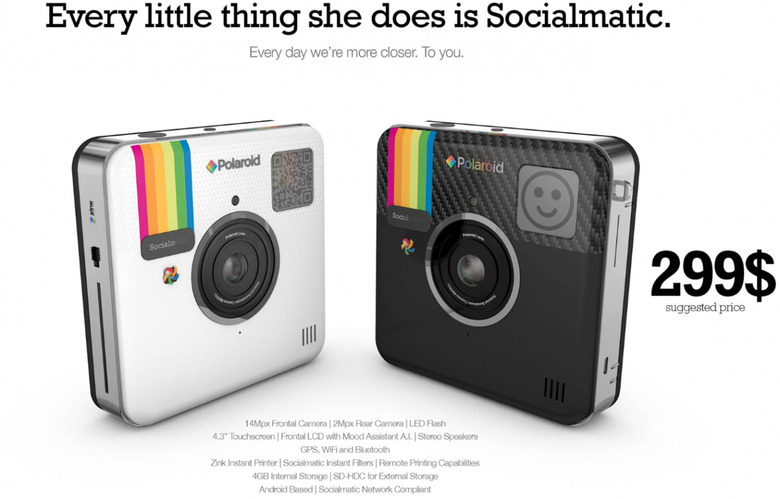 While concept behind the Instagram-themed smart camera Socialmatic is one so outlandish you'd expect it to stay conceptual forever, it's become apparent this week that the creators of this machine are aiming for a real release relatively soon. Confirmed this week are two factoids not known before – one of them a confirmation of the operating system under the hood of this rather squared-off shooter: Android. Whether or not Google will approve is not yet known.
Though past iterations of this machine appearing in social networking pop-ups and conceptual board collections pointed toward a release time "in the future", the team known as Socialmatic LLC has confirmed that "Pre-order available soon!" is the new most accurate answer for when it'll be headed to reality. The fact that their newest one-sheet comes with a $299 price-tag is encouraging – an added note "suggested price" reminds us that we've not yet actually seen the physical product in any real-world photographs as yet.
The closest anyone's gotten is a set of two rather realistic renders from ADR Studio Marketing and Communication which show the machine's size with some rather fine 3D rendering and photoshop magic. The newest Facebook-bound communication from the Socialmatic LLC team shows the newest visions of the device in black and white.
This device is teased with promises of a 14-megapixel front-facing camera, and 2-megapixel camera at the devices, back, and a single (rather tiny) LED flash above the device's main shooter. This device works with a front-facing LCD display with what the company calls "Mood Assistant A.I.", reminding users – we must assume – to smile or frown, depending on the wishes of the photographer. It does not appear at the moment that this screen can be used as a second viewfinder for the camera – a much, much more user-friendly use-case.

Have a peek at the Samsung DV150F for the best implementation of a front-facing display on a camera we've seen yet.
The Socialmatic will be coming with a Zink instant printer for Polaroid instant-result physical photos, you'll get 4GB of internal storage, and you've got a full-sized SD-HDC slot for external storage. And of course you've got full "compliance" with the Socialmatic Network as well. Gotta have that!
UPDATE: Additional press renders have surfaced via Socialmatic itself – have a peek at some additional possibilities in the development of this wild device!