Samsung DV150F point-and-shoot with front-facing display hands-on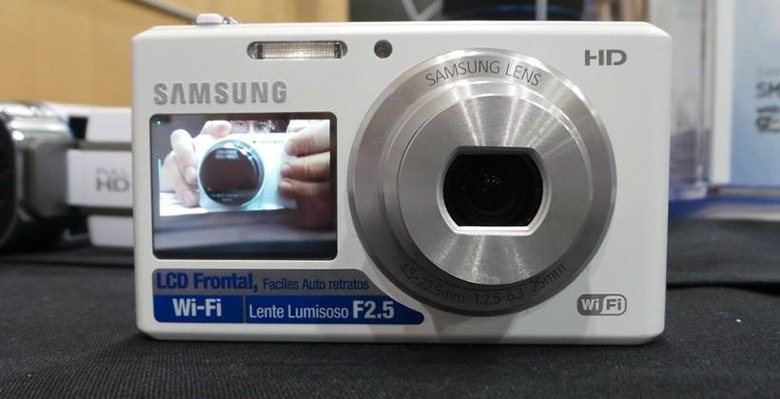 The Samsung DV150F is one of several cameras revealed this week carrying the ability to work with the company's SMART CAMERA 2.0 software. Here we're finding that even more enticing than the promise of next-generation sharing abilities is the display sitting on the front of the machine, giving us the ability to take full-on self-shots without the need of a mirror or a rather sizable flip screen. This machine was available for our perusal this week at the Digital Experience show put on by the folks at Pepcom during CES 2013 – have a peek!
The Samsung DV150F is a rather tiny device, certainly small enough to fit in your front pocket on any average ol' day. It's got a 16.2 megapixel CCD image sensor with the ability to capture 720p HD video, and it brings on wi-fi connectivity like the rest of the new wave of Samsung SMART CAMERA devices. The button on the back quick-toggles your connection to a local wireless network and you're able to share like a maniac at will.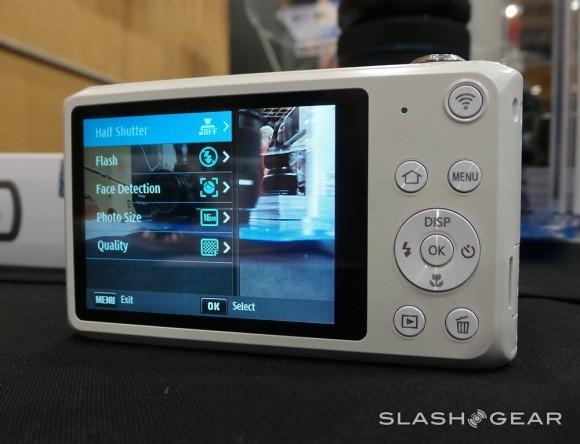 The term Live View is used here to brand the ability to see yourself while you're taking a photo of your own face with the front-facing camera. This camera's shots are certainly going to be fine and high quality enough for you to upload and use on your favorite social networks and even print should you feel the need to capture a series of photos at a party that you don't just want to post to Facebook. You've also got a microSD/SDHC/SDXC card slot and several color casings to choose from.
This is but one of several Samsung SMART CAMERA machines we've seen this week – have a peek at our Samsung tag portal to see the full set and jump on in to the next generation of Samsung's glorious connection to the share-friendly web. Also make sure you're glued to our giant CES Hub for more CES 2013 than your eyeballs can possibly need!