SNES Classic pre-order sell out has people preparing for the worst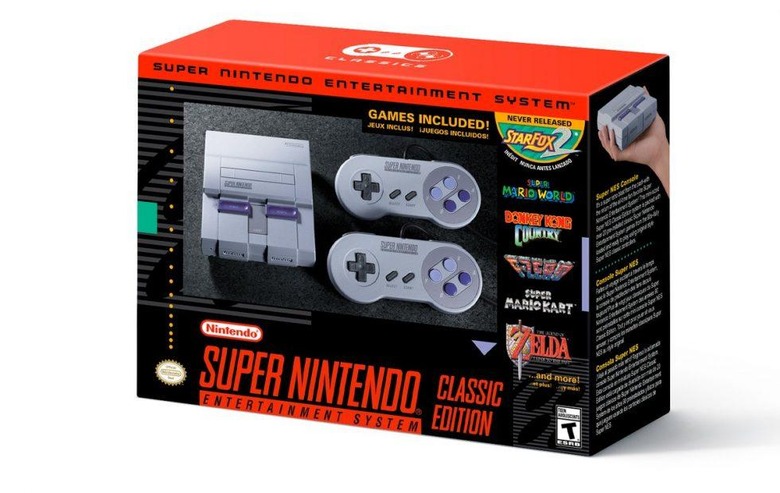 Here we go again: pre-orders for the highly anticipated SNES Classic Edition went live today, and about as quickly as they were available, they all sold out. By now, this is an all too familiar sight for Nintendo fans. The NES Classic Edition was a notoriously difficult device to find, and if this quick pre-order sell out is any indication, the SNES Classic will be as well.
Earlier today, pre-orders went live at a variety of different retailers. GameStop, Amazon, Best Buy, Walmart, and Target were all included in this initial round of pre-orders and here, just a few hours later, all of that alloted stock is gone. Even though Nintendo indicated that it would try to produce enough SNES Classics to meet demand – remembering very clearly the outrage at the NES Classic fiasco – the fact that these pre-orders sold out so quickly suggests that Nintendo still won't be capable of keeping up.
To put this in better perspective, let's revisit the launch of the Nintendo Switch. After Switch pre-orders opened up, it took about a day for them to sell out across the US. If you didn't jump on it that day, you were out of luck, but even though pre-orders opened in the early afternoon, I was still able to head to GameStop that evening and pre-order a neon Switch along with a copy of The Legend of Zelda: Breath of the Wild.
SNES Classic Edition pre-orders didn't last nearly that long, which does not bode well. Remember, the Switch is still a difficult console to find to this day, and the window to snag a pre-order for a Switch was a significantly larger than the one we had to pre-order an SNES Classic Edition. Nintendo may have good intentions with the SNES Classic launch, but it's hard to believe that it's going to be able to satisfy demand with all that in mind.
Instead, we can likely look forward to more of the same. Like the NES Classic Edition, scalpers on eBay will charge many times the retail price. Places like GameStop and ThinkGeek will offer available stock through expensive bundles filled with crap no one wants. Other retailers like Amazon, Best Buy, and Target will periodically announce small quantities of new stock that will sell out seconds after they become available.
Hopefully I'm wrong and the fact that these pre-orders sold out so quickly isn't indicative of larger stock problems throughout the retail run of the SNES Classic Edition. Hopefully Nintendo is planning to offer the SNES Classic until stock stabilizes, giving everyone a chance to pick one up, even if it takes months (or years) to satisfy demand. Hopefully this isn't a repeat of the NES Classic.
So far, though, all signs are pointing in the opposite direction. If you're looking to buy an SNES Classic Edition, good luck, because considering how poorly this pre-order period went, you're probably going to need either a lot of time or a lot of money to get one.