SNES Classic Edition pre-orders: Why to skip the scalpers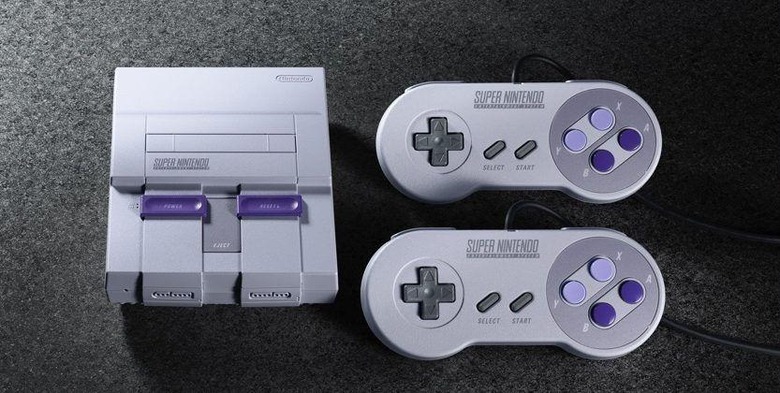 Given how insanely popular the NES Classic Edition was, it shouldn't be any surprise to see that people want to actually pre-order an SNES Classic Edition this time around. Nintendo hasn't made any official announcement on whether or not pre-orders will be offered – in fact, the retailers that will be carrying the mini console haven't even been revealed yet. Still, there are plenty of scalpers already cropping up, ready to take your money now in exchange for the promise of an SNES Classic Edition later.
Obviously, it's a bad idea to pay the premium prices these scalpers are listing. Over on eBay's UK site, there are already five listings that are offering an SNES Classic Edition for between £145 and £180. In US dollars, that translates to roughly $190 to $230 – quite a hefty mark up considering the SNES Classic Edition's $80 price tag here in the States.
When we zoom out and look at a more international snapshot, we see even more of these listing charging severe premiums. With the NES Classic Edition, scalpers were able to get away with charging three, four, or even five times the standard retail price because it was so hard to find throughout its entire retail run. These scalpers are clearly betting on the same kind of stock shortage with the SNES Classic Edition.
Are they justified in expecting similar stock issues for the SNES Classic Edition? Perhaps not. Nintendo has gone on record saying that it will have more SNES Classic Editions available than it did NES Classic Editions. They may not necessarily in stock all the time, but it certainly sounds like Nintendo wants to make the SNES Classic Edition easier to find this time around.
Moreover, even beyond the promises Nintendo is making before launch, it knows it needs to do better with the SNES Classic Edition. Nintendo got a lot of heat for the constant NES Classic stock shortages, and that anger was only compounded when it announced that it would halt production on the mini console. If Nintendo isn't determined to change things with the NES Classic's successor, it knows that it's better off not offering an SNES Classic Edition at all.
So, don't jump on these early listings expecting a repeat of the SNES Classic Edition. Wait to see what Nintendo does with SNES Classic stock before you make the decision to pay more from someone online, or at least wait to see if retailers will be offering pre-orders. Whatever you do, keep your cash safe from these scalpers.