SNES Classic Edition goes wireless with 8bitdo's SN30 controller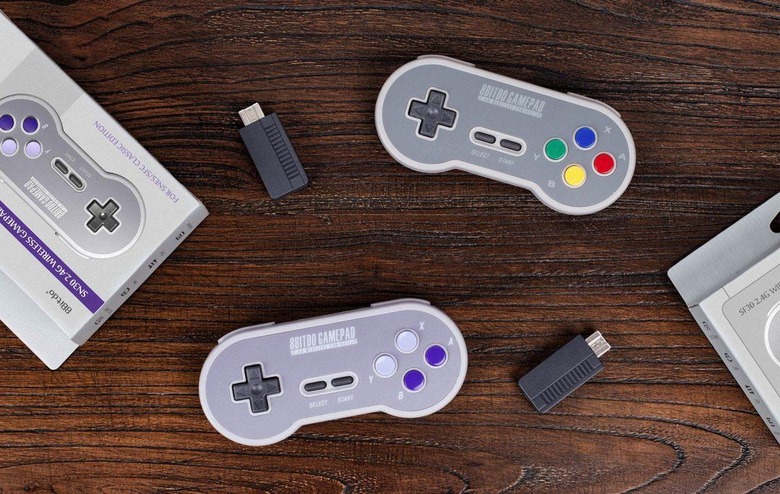 We may receive a commission on purchases made from links.
By and large, the SNES Classic Edition is a great little retro console, but there are three major problems with it: it has a limited library considering all the great games were released for the SNES, there's no convenient way to get back to the home menu, and the controller cables are still too short. 8bitdo is looking to solve two of those problems with the introduction of its new SN30 controller.
Like all 8bitdo's retro controllers, the SN30 is a wireless controller that communicates with a receiver through Bluetooth. This, of course, solves the issue of short controller cables, and it means you won't have to sit on the floor as you play or resort to extension cables.
8bitdo made a similar controller for the NES Classic, and the SN30 emulates the added functionality of the NES30 as well. Instead of getting up from your comfy spot on the couch to hit the reset button and go back to the home menu, you can simply press down on the d-pad and select at the same time. This lets you change through games with ease and makes the SNES Classic user experience all the better.
The SN30 is available in two different styles – one modeled after the Super Nintendo controller and another made with a Super Famicom design. The 2.4Ghz receiver will work with both, and other than the difference in design, these controllers are functionally the same. Both are available for pre-order on Amazon now.
Here's where the bad news comes in, though: neither will be shipping out until December 10. Still, if you can handle the wait, the SN30 and SF30 should make your SNES Classic Edition play sessions a lot more enjoyable. Both controllers cost $24.99, which is a fair bit less expensive than some other 8bitdo controllers we've seen. What do you think? Are these worth the purchase price? Head down to the comments section and let us know what you think!