Snapdragon 810 benchmarked: 5 things you need to know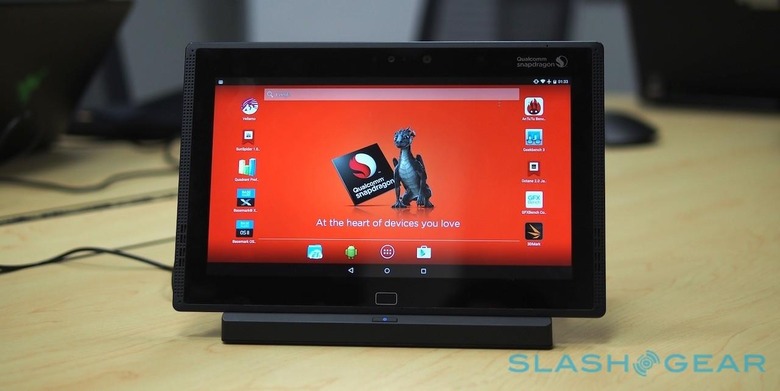 The pace of mobile chip development is relentless, something Qualcomm knows better than most with its new Snapdragon 810. Announced nearly a year ago, yet only set to show up in commercial phones and tablets in the coming months, the new Snapdragon arrives at a challenging time in mobile: raw performance simply isn't enough to win customers any more. So, it was with expectations broader than for just another fast chip that I sat down in Qualcomm's San Diego offices, the new Mobile Developer Platform (MDP) tablet and phone in front of me. After the cut, yes, there are benchmarks, but pure potency isn't all that you should care about.
It benchmarks fast
Let's get the basics out the way. Beating not only your old chipset, but what's on offer from rivals, is table-stakes for a modern processor, and there the Snapdragon 810 is no different. It's actually the first implementation of ARM v8-a/64-bit and the combined Cortex-A57 and Cortex-A53 cores, paired with a Adreno 430 graphics core that, Qualcomm tells me, is "definitely the best GPU we've ever made."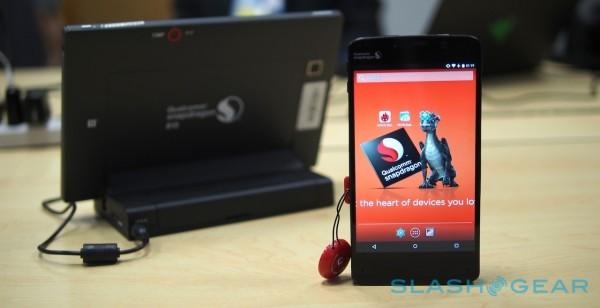 As you'd hope, then, the raw power translates to some impressive benchmarking results. With no one, single test providing an entirely conclusive view of what an Android phone or tablet can actually do, I ran an array of them instead.
A few caveats. Qualcomm's MDP is designed to be developer hardware, and more than that they're still not finalized; there's likely to be some wriggling in the results by the time final devices show up in-stores. The MDP tablet has a 4K display and 4GB of memory, whereas the MPD phone has a 2K display and 3GB of memory.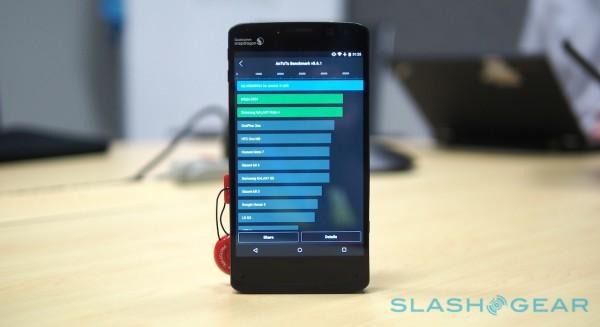 Even with the non-final software in mind, the Snapdragon 810 (MSM8994) does a good job at pulling ahead of rivals. In Qualcomm's own Vellamo, it comfortably out-performs the OnePlus One, scoring 2,286 versus the phone's 1,622. SunSpider finished its test of browser Javascript performance in 344.5ms, while Quadrant starts to show its age with a ridiculous score of 30,211.
In BaseMark, the MDP finished at 18,311 in the High Quality gaming performance test, while AnTuTu on the tablet came in with a score of 52,102 (the phone version, with its 2K display, did better at 61,692). Geekbench delivered 4,254 in multi-core testing, and 1,318 in single-core.
Octane 2.0 came up with a score of 7,907, while 3DMark's tough Ice Storm Unlimited completed with a score of 24,372. It's worth noting that we were unable to update to the very latest version of the test, which introduced instabilities on the Android 5.0 tablet.
Benchmarks, though useful for side-by-side comparisons, nonetheless aren't the be-all and end-all of a modern chipset. In fact, all too often the applications that users expect to run aren't taking full advantage of the potency on offer. Happily, Snapdragon 810 has a few more tricks up its sleeve.
It unlocks global LTE
It's fair to say the Snapdragon 810 is bristling with wireless options. For the first time there's Cat 9 LTE, with 3x20 MHz carrier aggregation (CA) support, LTE broadcast, and compatibility with both FDD and TDD networks (with CA on both). Whereas so-called "global" modems of the past have in fact made smartphone manufacturers choose between nine or ten LTE bands, this time around Qualcomm is pushing the boat out.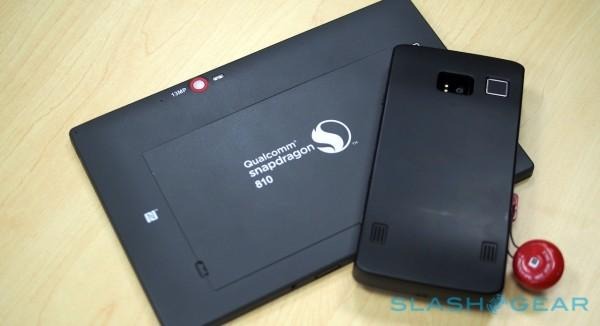 In fact, a single Snapdragon 810 SKU can handle the world's wireless networks, with the right antennas and such. It'll even cope with China, currently the only place where all seven cellular standards are deployed. It's the first SoC with Cat 9 support, for up to 3x the download speeds of the Snapdragon 800, and up to 2x the uploads, and though peaks have been improved, average rates are up across the board, too.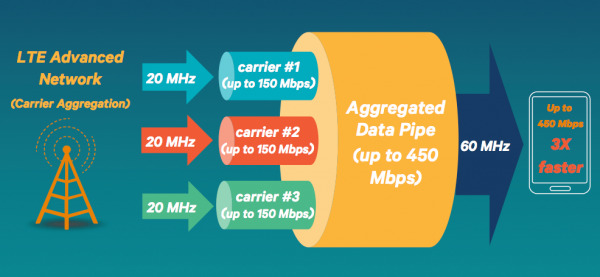 Of course, you need a compatible network in order to actually take advantage of Cat 9, but the first of those should be rolling out this year.
"Traditionally the device has been the pacing issue in bringing technology to market – we've taken a more proactive approach," Qualcomm's Peter Carson told me. "We get asked "why are you bringing these technologies so early?", well, we don't want the device to be the limiting factor"."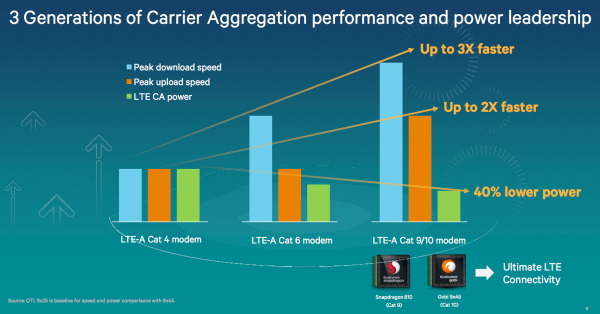 The good thing about the standard is that, even if older devices are still stuck with Cat 6 or earlier, they still get a side-benefit from the new breed of Cat 9 phones which will move their traffic through up to three carrier data pipes more quickly, freeing up the bandwidth in the process.
It runs longer, and cooler
There's more to mobile power consumption than just how long your phone lasts, and while Qualcomm promises the 810 does more than the 800 before it, only using less power per task, there's also comfort to be considered, too.
That means heat, or more importantly how much heat your hand, or the side of your face, feels while you're using your phone. The harder it's working, the hotter it gets.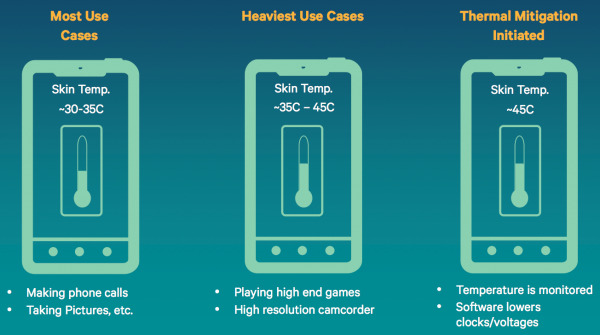 Most of the time, during tasks like calls, taking photos, and light browsing, temperatures somewhere in the region of 30-35C are expected. That rises to 35-45C for more intensive tasks, like using the camcorder or playing games. It's when you hit 45C+ that thermal mitigation kicks in, throttling back the clocks and voltages to reduce the heat output.
Compared to the 800, the 810 stays in those sweet spots for far longer. Playing a game at 30fps, for instance, the Snapdragon 800 could start registering higher temperatures after 15-20 minutes, with throttling starting. In comparison, the 810 should stay well within the upper comfort bracket – around 40C, so Qualcomm measured it – after more than thirty minutes.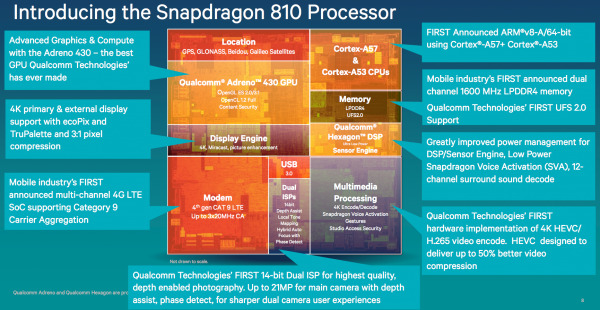 It holds true for other tasks, too. 4K video recording is notoriously system-intensive – we've even seen some smartphones end up crashing because of the strain it places – and so it was another area of Qualcomm's focus. Where a Snapdragon 800 device hit around 43.5C after approximately five minutes of 4K capture, the 810 only reached around 35C.
I didn't have a chance to put those claims to the test, though I did run some pretty system-intensive benchmarks on both the phone and tablet form-factors, and neither got uncomfortable to hold.
Feeling cooler in your hand is only the start of it, mind. There's also better power management for the DSP and sensor engine, as well as dedicated low-power voice activation support for hands-free speech control.
It has some serious GPU skills
The Snapdragon 810 MDP tablet has a 4K display, but the chipset itself is actually capable of simultaneously powering another, external 4K screen. The new Adreno 430 has a few more tricks up its sleeves, however.
For instance, there's 4K HEVC/H.265 video encode support, for up to 50-percent better compression compared to H.264. With a pair of identically-sized, same resolution videos in H.264 and H.265 encoding side-by-side, the crisp edges of the latter were clearly differentiated against the blurriness and blockiness of the older format, particularly when a big-screen TV was plugged in.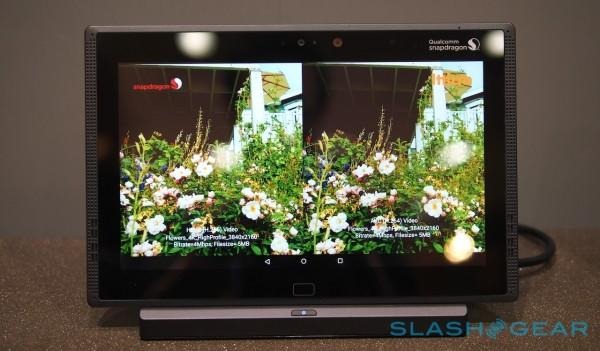 Consuming video is only part of what we ask of today's smartphones: just as important is capturing it. New to the Snapdragon 810 is a 14-bit Dual ISP, for dedicated image processing. The chipset can handle up to a 21-megapixel main camera with depth assist, and hybrid phase/contrast detect focus.
Give it the right sensor, and you can do some interesting things. Qualcomm showed me an MDP tablet that had been fitted with a CorePhotonics dual-CMOS sensor, capable of delivering the visual quality of an optical zoom with no moving parts. The twin camera array has one sensor fixed to maximum zoom and another to minimum zoom, and by combining the feeds from each, can figure out a crisper final frame.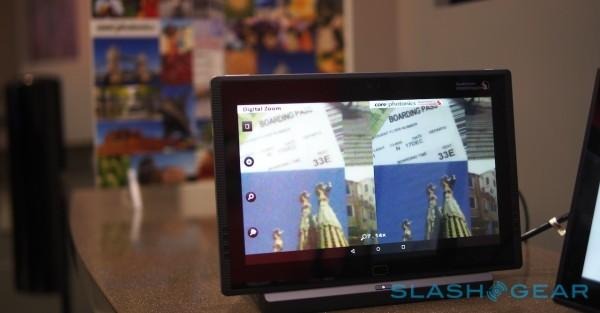 It's processor-intensive, mind, which is where the Snapdragon 810 steps in. Its DSP can do the graphics crunching entirely separately from the CPU itself, meaning the processor in the main can be getting on with other tasks while the computational photography is worked out.
Even with a single camera there'll be support for things like real-time HDR capture, while games will be able to take advantage of real-time hardware dynamic tessellation for more realistic surfaces and textures. Qualcomm has even built its own virtual skin rendering engine, which models how light interacts with not only the surface textures but the underlying blood structure: that way, you can see how the blood vessels light up when a torch is shone through them.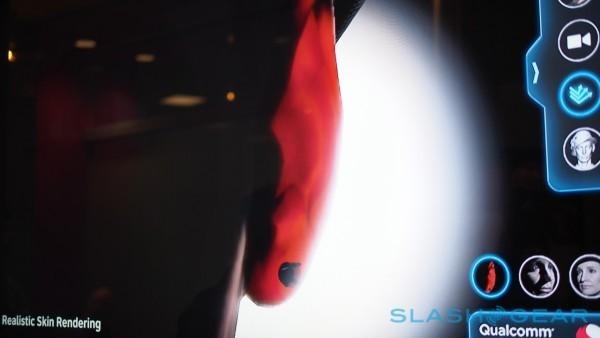 Again, it's all done by something other than the CPU, in this case the GPU shaders. Along with translucent ears, Qualcomm's "Digital Crystal" face has near-anatomically-perfect eyes, which include reflections of the surrounding environment. Frankly, it's edging into Uncanny Valley territory, but it certainly opens doors to newly realistic mobile games.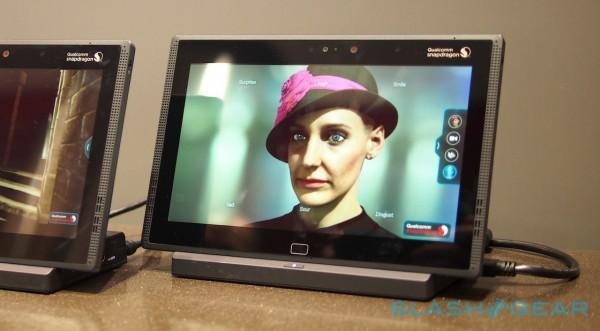 It has wireless charging support baked in
Like the switch from 3G to 4G, wireless charging is one of those technologies that, after you've lived with it for a while, you can't quite imagine going without it. The Snapdragon 810 has wireless charging support baked into the chipset itself: basically, all manufacturers need to add is the antenna array, either internal or some sort of adapter plug or case.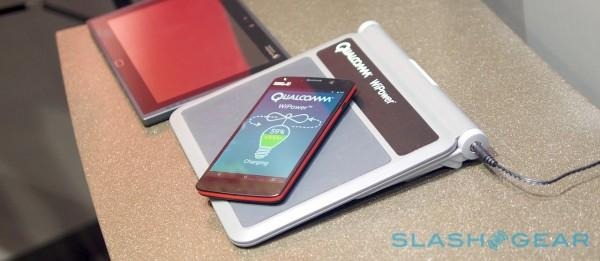 It uses the Rezence wireless power standard, which although not as common as other standards like Qi, nonetheless has some advantages. Biggest is probably the underlying flexibility: not only can you put your phone or tablet anywhere on the charging plate, rather than having to line it up first, you can even hold the device a half-inch or so above the surface and still have it charging.
Floating phones aren't likely to show up any time soon, but it makes retrofitting a desk or nightstand for wireless charging a straightforward matter. Simply strap one of the charging plates underneath with double-sided tape, and you can recharge multiple devices with a single pad, simultaneously.
Initially, the standard supports both low-power gadgets like phones and tablets, but also up to 50W devices. The future vision is the same wireless charging system being used for everything from keeping Bluetooth headsets topped up, all the way up to recharging laptops and other peripherals.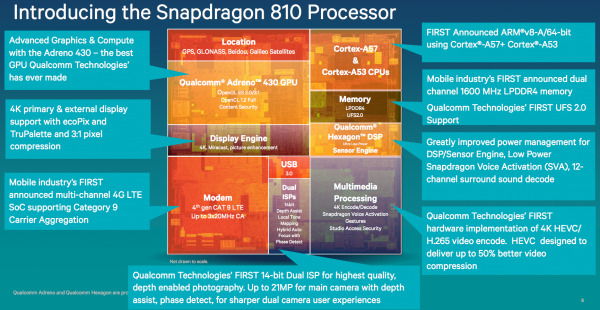 Frankly, there's a whole lot more to the Snapdragon 810 than these five things: Dolby Atmos 5.1.2 surround sound, for instance, or support for Multi User MIMO WiFi (MU-MIMO) that promises to make wireless connections even faster. How many of the features actually make it to devices remains the purview of the manufacturers themselves, however, and we'll know how ambitious they are in the coming months as the first 810-powered phones and tablets show up on store shelves.