Qualcomm Snapdragon 810 and 808 64-bit CPUs detailed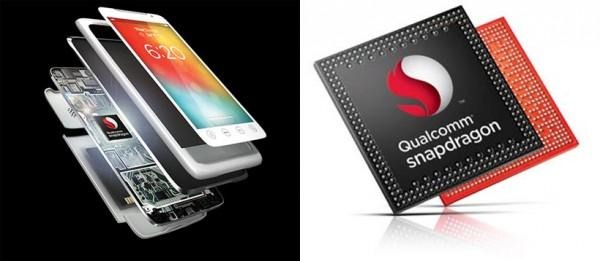 Qualcomm has announced its two latest CPUs for mobile devices including the Snapdragon 810 and 808. Both of the processors are 64-bit enabled and have integrated support for CAT 6 LTE Advanced/Carrier Aggregation up to 60 MHz. That tech means that the chips both support connectivity at up to 300 Mbps. Qualcomm says that these CPUs are the first to offer Cat 6 LTE, advanced multimedia features, and 64-bit capability in a single design.
The Snapdragon 810 and 808 are both designed with a 20nm technology node. The 810 supports native 4K Ultra HD interface for video and an upgraded camera suite with gyro-stabilization and 3D noise reduction. That tech allows the camera to record 4K video at 30 fps and 1080p video at 120 fps. The 810 supports 14-bit dual Image Signal Processors that support up to 1.2GP/s throughput and image sensors up to 55MP resolution.
Snapdragon 810 has a combined 64-bit quad core ARM Cortex-A57 CPU and a Cortex-A53 CPU. It also uses an Adreno 430 GPU with 30% faster performance and power consumption reduced by 20% compared to previous generations. This processor also supports LPDDR4 memory and VIVE 2-stream 802.11ac MIMO networking and Bluetooth 4.1.
The Snapdragon 808 has the same LTE-Advanced and WiFi connectivity as the 810, but only has 2k display support. Qualcomm's Snapdragon 808 supports resolution up to 2560 x 1600 and uses an Adreno 481 GPU. The chip uses two ARM Cortex-A57 cores along with a quad Cortex-A53 CPU. The 808 also supports 12-bit dual Image Signal Processors, LPDDR3 memory, and more. Both these processors will sample in the second half of 2014 with availability inside devices coming in the first half of 2015.
SOURCE: Qualcomm