Snapchat Spectacles 2.0 VS 1.0, new vs old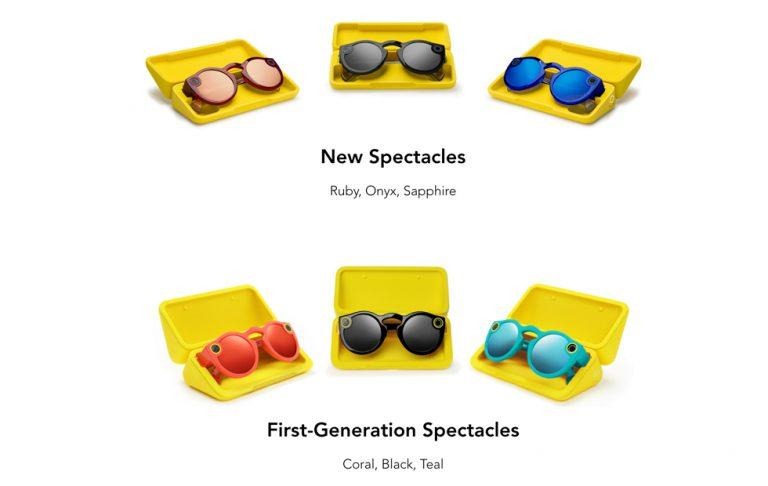 Snapchat Spectacles v2 are out – that's Snapchat Spectacles 2.0, according to Snap. Today we're having a look at the differences between the new Snapchat photo and video-recording glasses and their predecessor. At first glance, you might not be able to tell the difference – but once you're behind the lenses, you'll be running with heat.
The first reviews of these glasses suggest that they either look super lovely and fashionable – or they're a disaster. The same thing was said about the first version of these specs. It's really up to the wearer and those that aim for judgement – but you're the one with the pocketbook. To begin, note the simple differences.
VS: Spectacles 1.0 vs Spectacles 2.0
• Price: $130 / $150
• Colors: Coral, Black, Teal / Ruby, Onyx, Sapphire
• Water Resistant: Nah / Yes, somewhat
• Battery: Built-in with case as charger
• Dimensions: 7.2 x 3.8 x 3.8 in / 5.51 x 1.89 x 0.98 in
• Weight: 14.4 ounces / 1.6 ounces*
SEE TOO: Snapchat Spectacles V2: Essential Details before you buy
* This is a bit of an oddity from Snap – they've released two different weight calculations in their Spectacles listings. The weight for 1.0 is shipping weight, while the 2.0 weight is for the product alone. We're waiting on an update to those numbers from Snap, so stay tuned if that's a big deciding factor for your final purchase.
You'll notice these glasses – and their case – are a bit smaller than their predecessor. These numbers are far more likely right on the money. Just like any good mobile product, it'll get smaller and smaller until it's too small, then Snap will make it bigger once more.
Both the old version and the new have the same requirements for hardware/software on a mobile device – mostly to run Snapchat, the app. For iOS, that's an iPhone 5 or later, running iOS 10 or above. For Android, that means a device running Android 4.4 or above, with Bluetooth Low Energy (BLE) and Wi-Fi Direct.
Abilities of the first version stuck in the video realm, while this new pair snaps photos, too. Controls are all in the temple of the glasses – there's a button there. Press the button to record one 10-second video, press again to keep recording for up to 30 seconds, and press and hold to take a photo.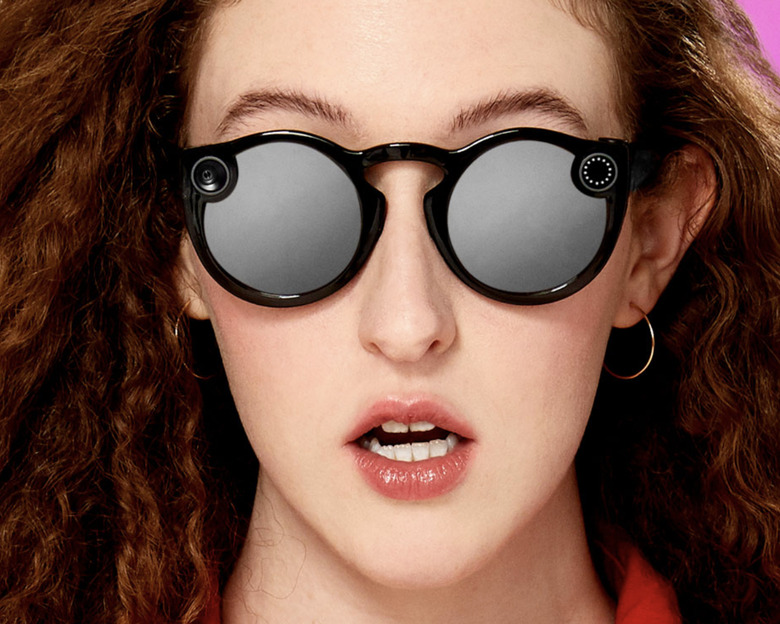 Water resistance in the V2 is meant for rainy days and "shallow water." As such, I wouldn't recommend diving with them – but jumping in the pool is probably fine. The button works there too – but I'd be cautious not to press the button whilst underwater too many times – that's just asking for ingress.
These devices are made for Snapchat users, and don't really do much outside that realm. You COULD get creative and transfer photos and video out from Snapchat to other platforms – but good luck! That's not recommended by Snapchat.
Stick around as we learn more about these devices and stick a pair on our respective pets to see what happens in the dark of the night. Let us know if you've got anything to say about these glasses – or can't wait for the photo glasses trend to take off into outer space!