SmartThings Interview: Talking Samsung's IoT starlet with CEO Alex Hawkinson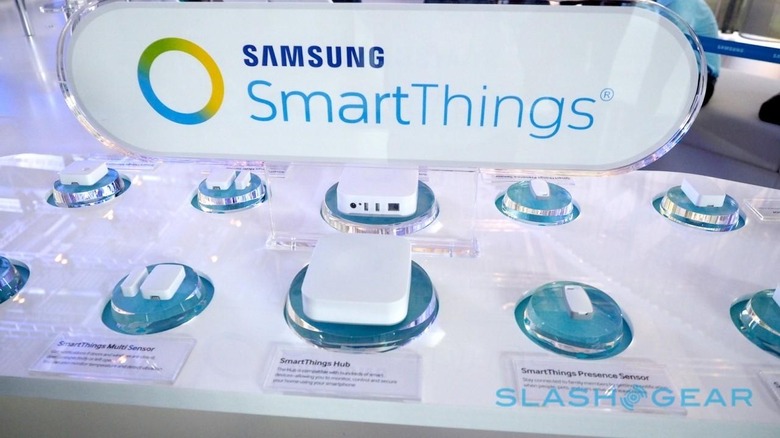 SmartThings CEO Alex Hawkinson is having a busy year. His company acquired by Samsung, and its second generation smart home platform now shipping, not only is Hawkinson now responsible for one of the leading automation systems, but arguably at the center of Samsung's entire Internet of Things ambitions. I caught up with him at IFA 2015 last week to talk openness, the value of a corporate parent with deep pockets, and his HomeKit frustrations.
SmartThings trajectory has been impressive. Launched in 2012, the start-up raised $1.2m on Kickstarter and – unlike many crowdfunded projects – actually delivered to its backers.
What those early buyers got was a hub and a selection of basic home sensors – door, motion, water, and such – but, more importantly, the promise of interoperability with third-party hardware. That ranged from Philips hue bulbs through to wireless security cameras, all with no monthly fees and control from a smartphone.
It was enough to snare the attention – and eventually the purse – of Samsung, which acquired SmartThings in August 2014.
Since then, the list of supported kit has steadily grown, but Hawkinson kept his team in stealth mode until IFA last week.
"It's been a heads-down year since we joined with Samsung, we're just happy to get it out the door," he explained to me. Despite concerns that its new owner would insist on Samsung-only compatibility, Hawkinson says there's still plenty of autonomy – not to mention the ability to put the needs of customers and developers first.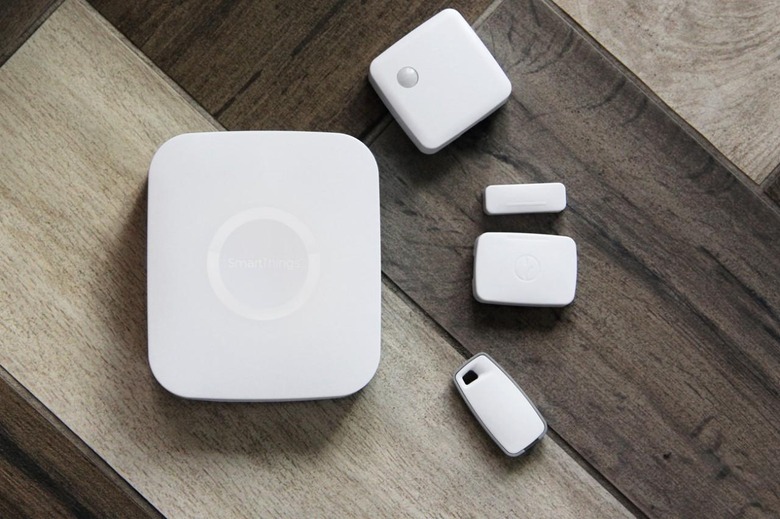 "Since the very early days it's always been the most open platform, but it wasn't always been the most easy." Hawkinson conceded. "So we got a lot of feedback from enthusiasts in our backer-base, like the existence of rooms in our interface. It's a really obvious thing now, but that was really based on quite direct consumer feedback."
Just as the front-facing aspect of SmartThings got more straightforward, however, the back-end became more flexible.
"At the other end of the spectrum we opened it up to Github," Hawkinson explained. "Developers now don't just have the ability now to impact their own submissions, they can actually open source and contribute directly to the core of the platform. So at each front we're trying to evolve to make it simpler for consumers and even more open for developers."
You could imagine it might be easy to get lost in among Samsung's dozens of businesses and thousands of projects, SmartThings becoming just another bubble in a larger IoT roadmap. Not so, Hawkinson insists.
"I think in the consumer space we're really the heart and engine that connects all these things together," he counters. "So, that's an incredibly exciting position to be in because it's magical: you get to see these unexpected uses that come out of the combination of all these things."
SmartThings users are vocal with their suggestions, not to mention voracious with their appetite for new hardware compatible with the platform. The second-generation hub now supports battery-backup and standalone use – meaning even if your power or your internet connection go out, your smart home won't be rendered dumb – but the main pace remains in just what hooks up to it.
"We're able to dig deep into the frontiers that shape the direction of future devices as well through the partnership with Samsung as well," Hawkinson told me. "Like they announced the SLEEPsense sensor, for example, the contactless ability to monitor your health, it's super cool."
"That's integrated with SmartThings so your house can know when you fall asleep – for real, now! When you're waking up in the night – for real! Those aren't possible without being at the R&D level which comes with something like Samsung."
Not everyone wants to play, or makes it easy to do so, however. While the v2 hub is designed to be upgraded with future protocols – both hardware and software – there are some platforms, most notably Apple's HomeKit, that won't play ball.
"There is, I didn't touch on this but the hub is upgradable," Hawkinson says. "Features, support, [are] built in for a lot of different protocols, HomeKit it doesn't have the explicit... what we don't like about HomeKit is the proprietary chip. We love Apple. We're getting a lot of blow-back from device makers about [proprietary chips] too."
"So we'll watch it carefully – we've got these little USB ports on the back of the hub – and so we obviously have a lot of commitment to Apple products. We love iOS. We have an Apple Watch app, and so on."
That doesn't mean the door is closed to HomeKit, Hawkinson insists, only that it might take some careful planning to integrate it. You could imagine a HomeKit-compliant dongle for one of the USB ports, perhaps.
All the same, SmartThings might actually be able to do with it anyway, relying on the somewhat fragmented nature of home automation to provide it with a workaround.
"[The] few devices that have come out that are HomeKit compliant now, also work with SmartThings already anyway," Hawkinson observes. "Like [the] ecobee thermostat, they complainingly [sic] put the HomeKit chip in, but it doesn't matter in terms of the SmartThings integration. So we're just watching it closely, hoping."
The second-generation SmartThings hub is shipping in the US now, complete with a new range of sensors.
[gallerybanner p=402229]