Smarter's WiFi Coffee Maker adds caffeine to IoT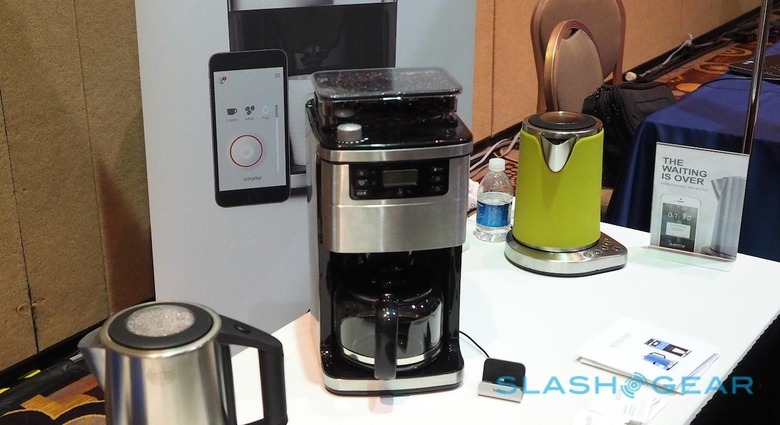 A coffee machine with built-in WiFi and its own app may not be the weirdest connected gadget CES 2015 has for us, but it could be one of the most useful. Smarter's simply titled WiFi Coffee Machine does exactly what it says on the box, a grind-on-demand drip brewer that can not only be instructed to start the process on a regular timer, but at the touch of a button in the companion iOS and Android app, or even using geofencing. Walking through the front door to a fresh pot of Joe is the future, Smarter explained to me when I checked out the kitchen gadget at the show.
On the face of it, it's a pretty regular coffee maker. Beans in at the top, along with water, and then hot coffee splashes out at the bottom. By throwing in WiFi, however, it can communicate with the app and let you know when the brew is ready.
That communication is in both directions, though: you can remotely check the levels of water left in the tank, tell the WiFi Coffee Maker how many cups you want to drink, and then start it all going, all when you're nowhere near your kitchen.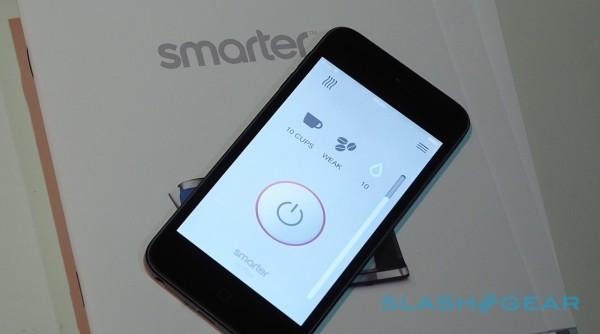 It needn't even require hitting a button, either. Geofencing – triggered when you get within a certain distance – means you can have the process begin when you're almost home from work.
The coffee geek in me is particularly keen to see a grinder involved. I drink a lot of coffee – most of the words you see of mine on this site are fueled by them, in fact – and I'm a smart home addict, and so you'd think I'd be the idea market for something like Belkin's WeMo tie-in with Mr. Coffee.
Problem is, while I like the idea of coffee auto-brewing in the morning, I'm less keen on leaving ground coffee sitting overnight in the filter. Smarter addresses that by grinding on-demand, and while you're unlikely to get a top-spec burr grinder inside, brew coffee is a lot more forgiving of that than, say, espresso would be.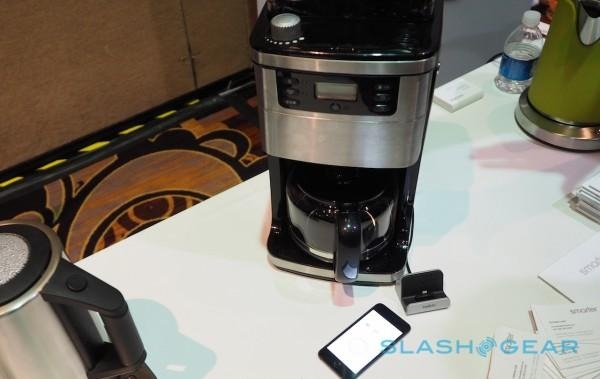 Less impressive is the glass carafe and hotplate. True, you can set the duration the hotplate runs from the app, and thus turn it off so that it doesn't bake your coffee, while the same software lets you brew a single cup at a time, though you'll of course need to clean it out in-between.
Even so, I'd prefer a thermal carafe (which would be more energy efficient, too), and I know a lot of coffee fans would feel the same. That's something the company will be considering, Smarter's CEO told me.
Also on the roadmap is more integration with third-party services. Reading data from sleep trackers is one feature, throwing more beans in for a stronger cup if you're likely to be tired after a poor night's rest or an early start.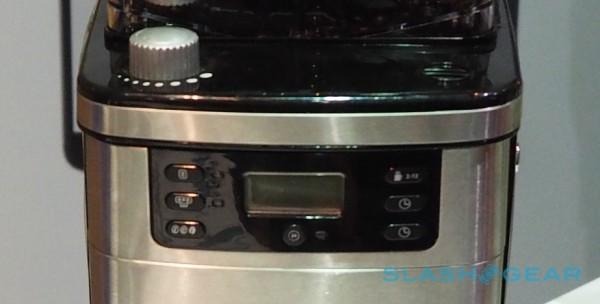 It'll be IFTTT support that really makes a difference, though, at which point the brewer will be able to talk with a huge number of home automation and online services.
Is it kitchen salvation or just another gadget that will end up gathering dust at the back of a cupboard? There's a lot to be said for convenience, but then again hitting a physical "brew" button isn't a great challenge, either, and you'll obviously have to do the ongoing cleaning and care yourself.
Smarter's WiFi Coffee Maker is already on sale in Europe, but the company expects the 110V US-spec version of the machine to land in late March. It'll be priced at around $150.