Smarter's new WiFi-enabled coffee machine debuts at CES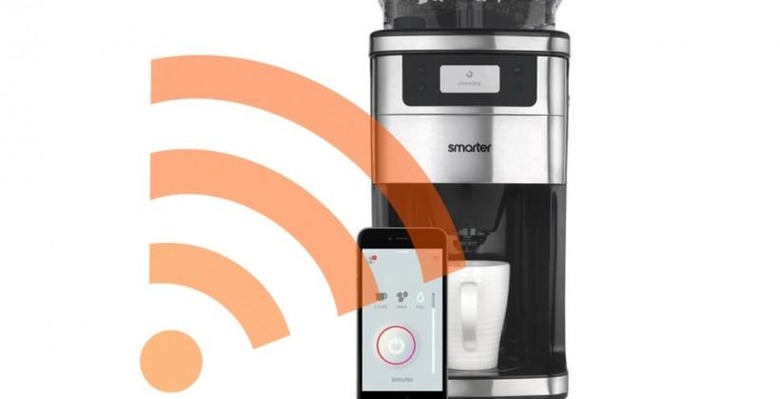 The connected coffee machine is nothing new, and the folks who brought you the iKettle are cannonballing into the mix. Smarter is today announcing a WiFi-enabled coffee machine, controlled via an app. More than making a simple cup of coffee, Smarter's offering can also grind your beans with its built-in grinder, and send you notifications to alert you when your caffeination is ready. For about $150, this new coffee machine isn't the cheapest you can get, but it might be the most convenient.
The app, which will be available for both Android and iOS, let's you start your coffee from bed or anywhere else, and can even tell you when it's just done brewing. A notification system will even offer to start brewing coffee when you walk in the front door at home.
Smarter's smart coffee machine will also tell you when it needs to be topped off with beans or water.
Direct competition comes via Mr. Coffee, who collaborated with Belkin to produce a similar standalone machine. The main difference between the two is quantity: Smarter brews a single cup, while Mr. Coffee makes a whole carafe.
Smarter is also not friendly with other connected home systems — something we'd like to see changed. Brewing coffee automatically when my morning heating regiment begins via Nest? How very handy!
Smarter's WiFi coffee maker is set to hit stores in March, but will be available for viewing (and hopefully making coffee) at CES this year. We'll be in Las Vegas checking out all the techy goodness, so please do check back here next week for all your CES-related info!
Via: CNET