SlingPlayer Mobile 1.1 for iPhone makes it to App Store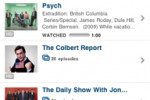 Sling Media's new version of SlingPlayer Mobile for the iPhone and iPod touch, version 1.1, has been approved by Apple.  That means users of the place-shifting TV streamers can now watch footage in true widescreen, as well having native DISH Network control with a new on-device navigation app.  The new version also improves response times, so the whole experience should be snappier.
Unfortunately there's still no 3G support, so you're limited to using a WiFi connection to get your remote viewing fix.  Sling did submit a version of the SlingPlayer Mobile app to Apple which supports 3G connections, albeit intended only for international markets rather than in the US, but there's no word on whether that too has been approved or is still mired in the bowels of Cupertino.
SlingPlayer Mobile 1.1 for iPhone and iPod touch is a free upgrade for v1.0 users, while costing $29.99 for new buyers, and is available in the App Store now.  However you'll also need a SlingBox to take advantage of it; more details at the company's official site, here.