The Xbox One and PlayStation 4 accessory markets are in full swing, with groups like SlickWraps bringing their device-covering designs to the market in all shapes and sizes. Today what we're having a peek at is a couple of "wraps" made for the Xbox One wireless controller and the PlayStation 4 DualShock 4 controller. In addition to the wrap, the SlickWraps also bring the heat to the DS4's Light Bar, mustache style.
Xbox One Controller Wrap
The Xbox One controller wrap is part of a larger system of wraps which cover the entire Xbox One console. In a future review we'll be having a peek at the console – for now we're just concentrating on this little oddity.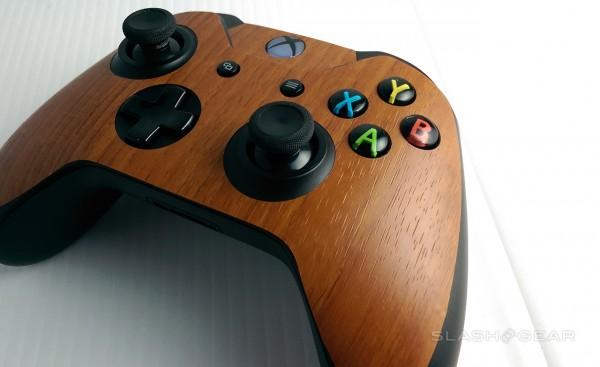 What you're seeing here is two separate stick-on wraps. The Xbox One wireless controller is fairly simple in its physical layout, so SlickWraps was able to bring this wrap in just two pieces – this isn't the case for the DS4, as you'll soon find out.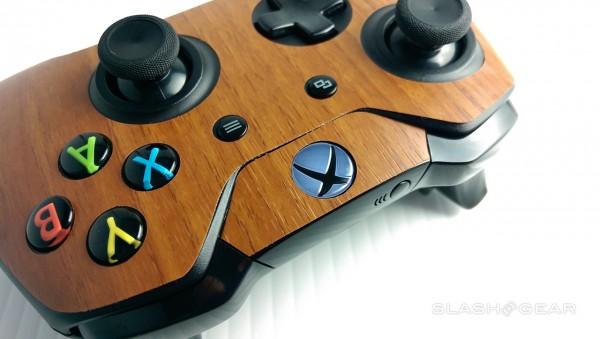 Because the Xbox One wireless controller is far from flat, you're going to have to be extremely precise when you apply this wrap. The good news is, because SlickWraps work with a strong-yet-re-stickable 3M backing, you'll have more than one shot at getting it right.
In the end we're still left wishing more of the controller was covered – the wood grain looks perfect on its own, but we're not completely convinced that this is the best way to go about changing the look of your controller. For the Xbox One – if you're going with a "wrap" – we'd recommend sticking with a black base – which SlickWraps also have.
DualShock 4 Wrap
With the PlayStation 4's main controller, the DualShock 4, we're working with the Carbon Fiber Black Wrap. Like the wood selection above, this is one of a variety of odd wraps offered by SlickWraps – wood, metal, and patterns included.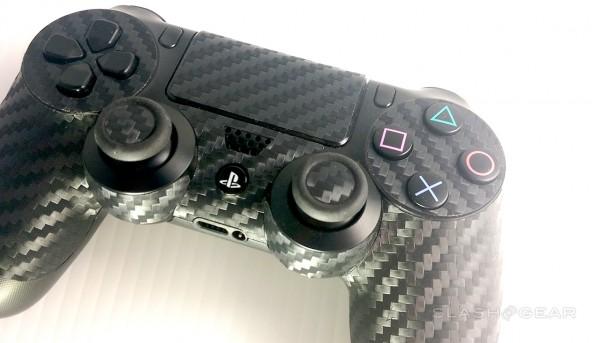 We're enjoying this wrap a lot better than the "wood" model above, not just because of the pattern. The DualShock 4 controller offers a far more interesting set of surfaces to cover, first of all.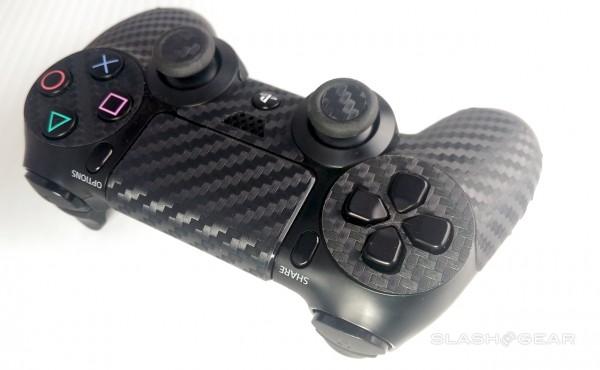 Here you get a selection of wrap pieces which all seem to fit on the DualShock 4 impeccably. The Carbon Fiber patterning here also helps to hide any tiny imperfections that might have popped up due to my inability to be robotically accurate.
If you're going to wrap your DualShock 4, also go black – or at least dark gray. SlickWraps also offer a Gunmetal Carbon Fiber wrap that's nice to behold. This Carbon Fiber texture also feels nice to use – though we might end up taking out the joystick covers since rubbery is best.
DualShock 4 Light Bar Wrap
Supposing you're not in the mood to use your PlayStation 4 Camera's abilities, SlickWraps have a number of Light Bar wraps as well. Don't expect functionality for your PlayStation 4 Camera to work unabated – but you will have something to giggle about when you look at the back of your controller.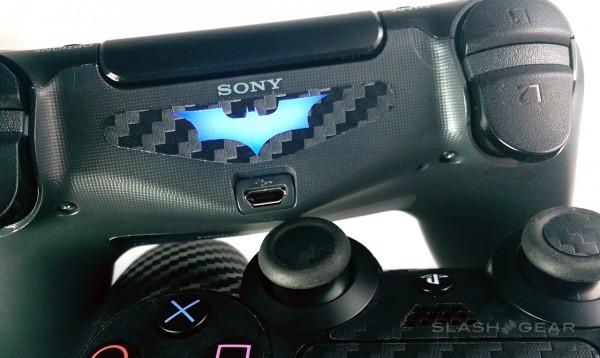 ABOVE: Lights on. BELOW: Lights off.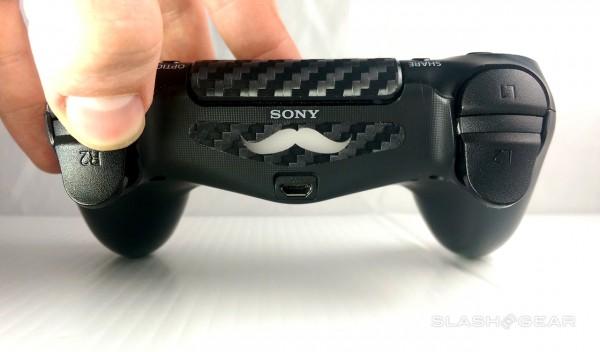 As you'll see here, we've got the black Carbon Fiber design once again, this time with a Batman logo and a lovely mustache. You must apply these Light Bar Wraps precisely or you will get light leak around their edges – but application is simple.
Wrap-up
Stick around as we continue to review a few more bits and pieces from SlickWraps in the near future. They've got high-quality covers from the iPhone 5s to the Pebble smartwatch and back to the HTC One (M8). They're not half bad in the value department, either. Have at em!