SlashGear TV Week in review episode 2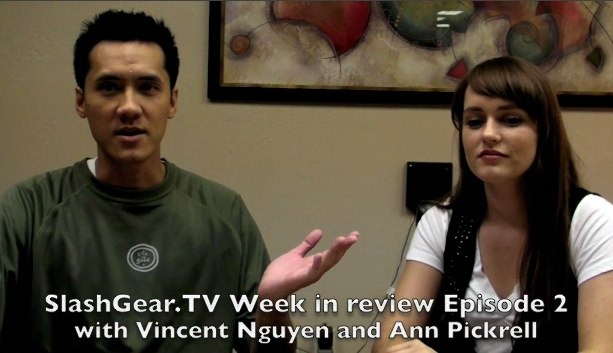 Welcome to our second episode of SlashGear TV week in review. Ashley and Bree are no longer with Aradius, being replaced with Ann Pickrell. We got the LG Dare, iPAQ 910 Business Messenger, Sony Ericsson MBS-100 Bluetooth Speaker, Guitar Hero On Tour, and i2i Stream in to review this week.
It's a darn shame that a lot of Playstation 3 consoles got bricked thanks to the firmware 2.40. XBOX 360 is rumored to get a price cut ahead of the 60GB model supposedly being announced at E3 and Rock Band 2 was made official. On the phone/mobile front, Ann and I talked about OpenMoko's Neo FreeRunner going on sale this past July 4th. German supermarkets are starting to use software for cellphones to allow customers to scan directly from cell and check out. It's also worth mentioning that the MSI Wind is also available for purchase on Amazon, but you might have to wait 3-5 weeks for delivery. And due to the battery issue, MSI is shipping a 3-cell battery instead of the 6-cell. ASUS is expected to release the Eee Monitor. This name is misleading because it's not simply a monitor but instead an entire PC – think iMac and you get the concept of the Eee Monitor.
SlashGear TV Week in review episode 2 (click through to watch high-definition version of the video)
Lastly, AT&T announced that the iPhone3G would go on sale at 8AM EST on July 11. The iPhone 3G will cost $199 or $299 for the 8GB or 16GB respectively (for new line activation or qualified existing AT&T customers). AT&T also announced the rates for individual as well as family and business plans. Existing AT&T customers who are not currently eligible for an upgrade discount can buy the iPhone 3G for $399 for the 8GB model or $499 for the 16GB model. Again, you'll be required to sign a new two-year service agreement. Make sure to check out our interview with AT&T regarding the iPhone 3G launch.
I really feel for our friends up north in Canada. They've got it rough because Rogers is literally tearing subscribers a new @SS HOLE with their data plans.
$60 – 150 daytime minutes, 75 sent text messages, 400MB of data
$75 – 300 daytime minutes, 100 sent text messages, 750MB of data
$100 – 600 daytime minutes, 200 sent text messages, 1GB of data
$115 – 800 daytime minutes, 300 sent test messages, 2GB of data
As it stands right now, there is no unlimited data plan, which while some people may never go over that 2GB cap on the $115 plan, it's still a shame.