SlashGear Science Week in Review - Robot Edition! May 14th 2011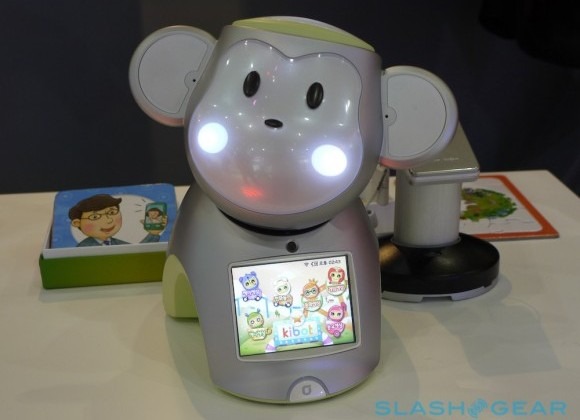 This week's SlashGear Science Week in Review is all robot. We always try to include at least one robot story in each edition, but this week, there were so many robot stories to choose from, we decided to feature all of them. These robots range from robotic arms engaging in an epic lightsaber duel, a cute and cuddly robot toy, a jumping robot (kind of) named after a famous frog, and one robot that seems to be channeling Rosie from the Jetsons. Then, those crazy German engineers who brought us the Rollin' Justin robot are back and this time, they're coming out swinging, as in gleefully whacking a robot with a baseball bat. Also, a couple of robot concepts that we encountered at Google I/O this week. And last, a rolling trash can that isn't a robot, but plays one on TV. Of course, there are lots of videos included as well. Read on for all the robot goodness.
Robot Lightsaber Duel
At this year's International Conference on Robotics and Automation in Shanghai, China, Yaksawa Industrial demonstrated the dexterity of the robots from their industrial line by having them duel with lightsabers. Unfortunately, no sparks flew, and it wasn't really death-defying excitement, but it's pretty cool to watch the robot arms spinning the lightsabers around. Check out the video:
Kibot Cute and Cuddly Monkey Robot - Hands On
Our own Chris Davies travelled to South Korea this week, and had the opportunity to do a hands-on of the Kibot robot, which is intended as a toy for kids. The robot features NFC, video calling, and WiFi, and can be controlled by a cell phone. Chris has speculated on a darker purpose, though: "Kibot is carrier KT Telecom's attempt to condition children to the inevitable AI takeover." Our commenters think he wouldn't last five minutes in the hands of American kids, though. Check out the video. He's so cute!
[vms 7c623fbd095b4a565b5b]
KURMET Jumping Robot
The KURMET (get it, Kermit, KURMET...ha ha) robot was designed by researchers at Ohio State University and the University of Notre Dame to do demonstrate controllable, repeatable jumping. KURMET can move himself by jumping, and also clear obstacles. The bot learns to jump using a fuzzy control system. They hope to eventually teach the robot to do flips and even play hopscotch (which would include jumping on alternate feet). The eventual purpose could be for military purposes, as a jumping robot would be useful travelling over rough terrain. Video:
A Robot Ultra Marathon Walker
The Ranger robot had accomplished a 14.3 mile walk in 2010, and we were impressed then, since it accomplished it on a single charge. But now, the Ranger has increased that distance to 40.5 miles. This is a distance record, but certainly not a speed record. It took the Ranger 30 hours, 49 minutes, and 2 seconds to walk those miles. It started at 2 p.m. May 1 and then stopped walking when the battery went dead at 9 p.m. May 2, walking at 1.3 mph. But the impressive thing here is that the Ranger did this on a single charge once again. There were faculty and staff taking turns guiding the robot on its journey as well. I'm still aspiring to 26.2, so good going to the Ranger!
Luna Robot Personal Assistant, is Rosie Finally Here?
You remember Rosie from the Jetsons, right? Of course you do. Who wouldn't want a robot assistant that can do all your household chores for you. Luna isn't exactly that but it is described as the "world's first personal robot". It has three important features, it is expandable via expansion ports, it's fully programmable with open standards, and it is affordable (but we don't know the price yet). There are still a lot of details to come on this robot, and it is as yet just a concept. Here is what Fred Nikgohar, the CEO of Robodyanmics said, ""We conducted an exhaustive search for a design studio who could deliver exceptional design within the context of a technical and engineering challenge that is inherently entailed in bringing world's first personal robot to market. With SchultzeWORKS, we found a partner who has enabled our company to articulate an exceptional visual and artistic design, while simultaneously helping us mitigate the stringent technical and quality standards contained within Luna. This ability to work both within an artistic and technical framework is indeed a rare gift that Dave and his team brought to the table for us."
Ok, so not terribly informative, but we'll keep watching for details.
Hasbro Android Robot Toys get I/O video playtime,
Our new favorite monkey robot, Kibot, may be stuck in Korea, but Hasbro has wider ambitions for its Nexus S powered Robot Toys. On show at Google I/O this week, the Android-bots are basically self-powered motorized cradles into which the Samsung smartphone docks, hooking up via Bluetooth. You can then hold races and use object recognition, just as you will see in the video. My favorite part is where one of the robots falls over and actually loses a screw. Definitely still in development. Vincent Nguyen was disappointed that the robots couldn't make out, since there is a boy and a girl. Maybe they can work that in. But you can shake them and, thanks to the accelerometer, they get dizzy; rub the touchscreen and they'll cheer up. Awww.
While it would be easy to slap some wheels onto a dock and call it a day, Hasbro has gone further than that. Each robot has feet rather than wheels, and they use object-recognition via the Nexus S' front-facing camera, as well as other sensors in the phone, to react to their environment. Shots are sent to Google's cloud servers where they're processed in real-time; the robot then knows whether to get curious or to run (slowly) away.
More details in the video:
[vms e6acdc73414517203f5f]
More Google I/O Robotics: Sphero Robotic Ball Debuts Developer Program
Since the PlayStation Network is down, have you considered other forms of game play? Well, how about a robotic ball that can be controlled directly from your smartphone to do all kinds of crazy maneuvers in the real physical world? No? But Orbotix has. The company created a robotic ball called Sphero, the first of its kind. Now, they're opening up the API behind what controls this amazing sphere by unveiling their Sphero developer program at Google I/O.
Orbotix is touting an open and absolute killer of an API and they are seeking the smartest developers to help reinvent the concept of play with Sphero. Developers who register for the program will have access to the full SDK for both Android and iOS platforms, sample apps, developer guides access to developer forums and an idea portal, exclusive hack-a-thons, bounties, contests, and educational discounts. Developers that register now can get a Sphero at a special discounted rate with early delivery, early access to software features, access to new prototypes, and may even have a chance to win a free Sphero.
Orbotix will be hosting various Hack-a-thons for their developers to code and test with the robotic ball present. If you want to register for the Sphero developer program go to www.goshero.com/developer
Watch the Sphero robotic balls in action:
German Researchers Take Out After a Robot With Baseball Bat
No, they aren't trying to defend themselves from an alien robot invasion, they are testing the toughness of the DLR Hand Arm System, an ultra-tough system with 52 motors and joints that absorbs energy the way human hands and arms can. These crazy guys at DLR, the German Aerospace Agency, have all the fun. We saw the Rollin' Justin Robot last week, and then they have also have smashed robot's hands with a hammmer, and have given a robot a knife and let themselves be stabbed. Really!
So they want their robots to be tough in order to prevent breakdowns in industrial settings. The arm worked just as well as before after being whacked with a bat, more than we could say for a human arm. That's because the arm has newly designed floating spring joints, which help dissipate energy better than a rigid structure could. The arms also have two motors, one to control the joint and another small one to adjust its stiffness. The hand also has 38 tendons which are tougher than Kevlar, according to IEEE Spectrum. The tendons are attached to a spring-based elastic mechanism, which also allows the fingers to release and store energy.
You can see the human having way too much fun taking a what at the robot in the video:
DIY R2-D2 rolling trash can, not a robot, but still pretty cool
Those trash cans we put out on our curbs are pretty boring, kind of gross, and not really something you want to think about too much. But this one is different. It's been improved to look like R2-D2, probably with masking tape and paint, and a lot of time. To whoever made this, though, keep it away from our writer Shane McGlaun. He's got his eye on it.
That's a wrap for this week's SlashGear Science Week in Review. We hope you enjoyed all the Robot action. See you next week!