Kibot robot hands-on [Video]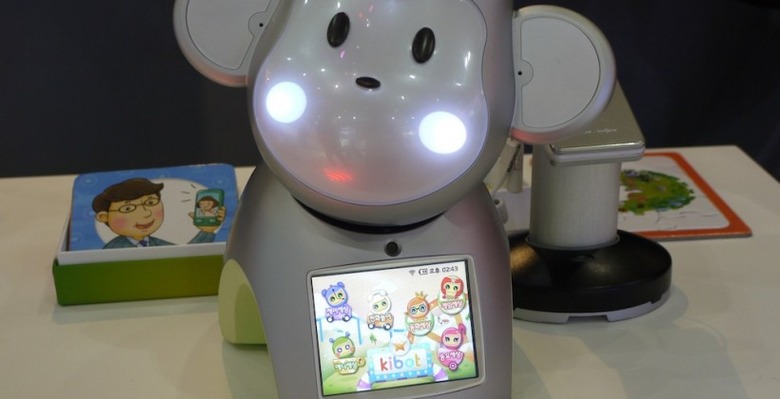 South Korea's big companies Samsung and LG may be battling it out on serious playing fields like 3D TV and who can make the skinniest smartphone, but everybody knows that the most excitement is in pastel-colored monkey robots. Kibot is carrier KT Telecom's attempt to condition children to the inevitable AI takeover, a trundling, warbling robot that uses NFC, two way video calling and WiFi to remotely monitor, entertain and generally play with them.
Made by iriver, the Kibot hardware is cutesy and eye-catching. A simple hoop design, this is no Sony AIBO: it can basically turn its head and flash lights in its cheeks, eyes, ears and elsewhere, while movement is a slow, child-friendly crawl. The oddly tonsured top is in fact a button: tapping it brings the 'bot to life, as well as making it talk to you (in Korean, naturally; phrases supposedly include "that feels good" rather than "prepare to bow to your silicon simian overlords") A 1.3-megapixel webcam sits above a 3.5-inch touchscreen, while an NFC reader is hidden in the nose.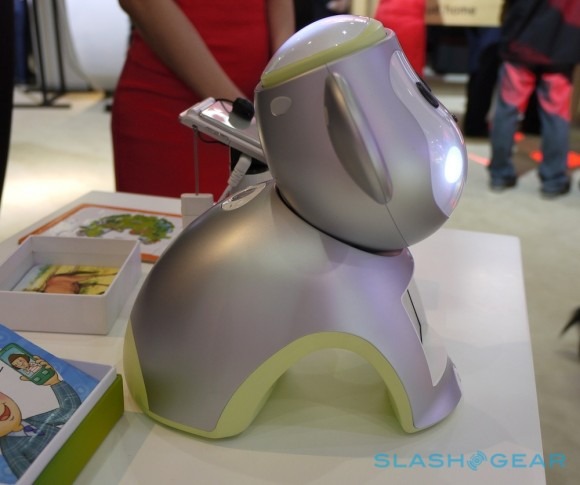 That NFC chip uses specially-tagged books and cards to load different features and trigger differen functionality. Hold up a story book to Kibot, for instance, and it pulls up an animated read-through shown on-screen and played through the robot's speakers. Cards showing parents' faces initiate video calls with their cellphones.
[vms 7c623fbd095b4a565b5b]
Alternatively, parents can remotely access Kibot and control its movements using their cellphone, watching streaming video of what's happening around the plastic monkey. KT Telecom is offering various apps, content and games for download, with new content added each month.
Kibot is priced at 480,000 KRW ($450) with a 7,000 KRW ($6.52) monthly service fee; alternatively KT Telecom offer the robot on a subsidized plan. No word on whether it might be coming to the US or Europe, unfortunately.