SlashGear Science Week in Review - April 16 2011

This week in science: A celebration of space travel, and a questionable way to commemorate an anniversary; some DIY geek projects, including designer duct tape (because who doesn't love duct tape, especially zebra-striped duct tape); high tech glasses that would make Superman, and maybe even Sydney Bristow jealous; and robots, no science week in review is complete without some robot action. Read on for more!
Space Travel: Celebrations, New Beginnings, and Endings
Tuesday was the 50th anniversary of the first man in space, Yuri Garagin. Garagin took off aboard the Soviet Vostok 3KA-3, lifting off from the Baikonur Cosmodrome in Kazakhstan, on April 12, 1961. His flight lasted 148 minutes, giving him time to orbit the earth once. He then reentered the earth's atmosphere and at an altitude of about 117 km Gagarin ejected from the Vostok capsule and parachuted to safety. He landed in a field and asked a local farmer if he could borrow the phone to call Moscow.
There were several notable commemorations of this event. Since 2001, Yuri's Night throws a worldwide party for the anniversary, connecting space enthusiasts around the world to celebrate the historic occasion. Did you miss it this year? No problem, you can go to Yurisnight.net and start planning for next year.
You can also celebrate the event by acquiring a commemorative watch by designer Bernhard Lederer, complete with an orbiting 60 second Tourbillion that rotates counterclockwise around the watch in 108 minutes, recalling the time Gagarin spent orbiting the earth.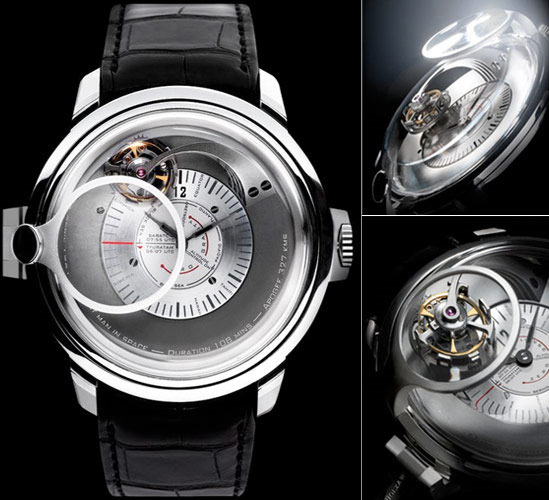 But if you wanted it in platinum, good luck. Only 50 of them were made, and they are being auctioned off at Sothebys.
New Beginnings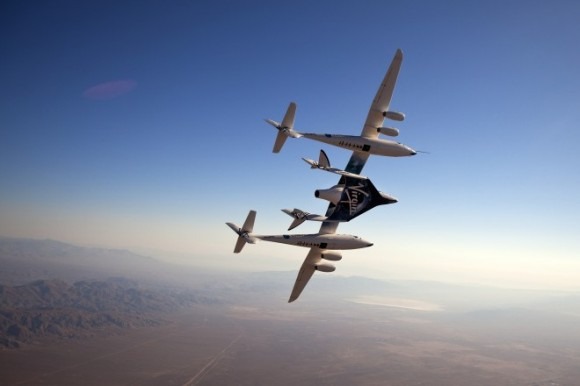 If you really want to go all out in celebrating space flight, why not head into space yourself? Virgin Galactic can help you do it, for the bargain price of $200,000. You will experience zero gravity and get to see the earth from above. If you think you're qualified, you can also apply to pilot the Virgin ship.
Endings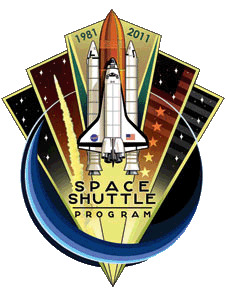 The Space Shuttle era, from 1981 to 2011 is now over. The shuttle program is being shuttered, and the shuttles will be cleaned up, gutted and relegated to museums, and the tiles are being sold off for only $23.40. You can even get one for your school, by going here. Until NASA comes up with a new space flight vehicle (if they do), US astronauts will have to hitch a ride with the Russians to get to the International Space Station. Kind of sad how far we haven't come in 50 years.
Build your own Gieger counter at home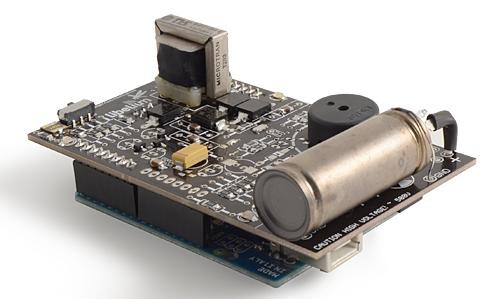 Cookinghacks.com has developed an Arduino-based geiger counter. It uses a piezo so that you hear a chirp when it detects radioactivity. The Arduino microcontroller counts the pulses per minute. Using this measurement the microcontroller calculates Sieverts per hour. This is the standard measurement for the energy that the body absorbs from radiation sources. The site offers a kit for €95.00, or about $137. It is also open source, so you can build your own from scratch.Designer duct tape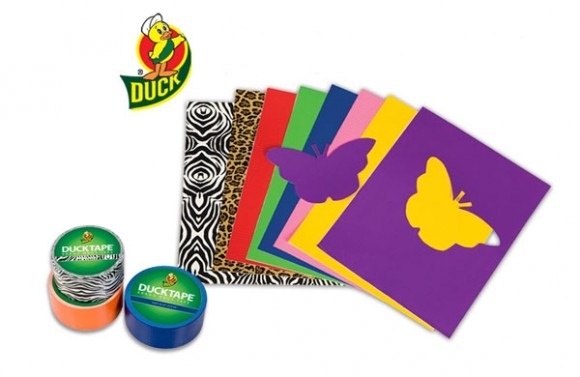 In the process of building your own Geiger counter, you may find that you need some duct tape. And now, you can tape in style because duct tape, the perfect geek tool, has gone designer. You can get sheets of the stuff in all sorts of happening colors and patterns. Need a case to protect your iPhone? Just use some zebra-stripe duct tape. Niiice.
High-Tech glasses for secret agents
Face-matching glasses
Since I am a fan of the show Alias, that is the first thing I thought of when I saw these glasses. They look like something Marshall would whip out for Sydney on one of her missions. Anyway, these glasses, planned to be used by Brazilian police, let the officer scan the faces of people, checking them against a database to see if they are wanted criminals.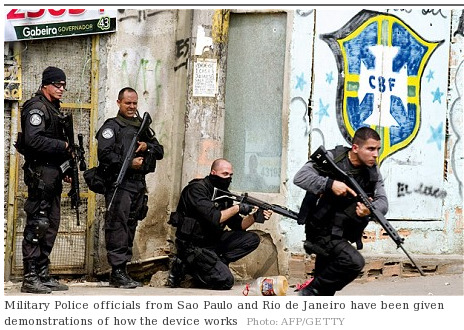 The glasses have a camera fitted to them which can grab 400 faces per second and send them to the database. If there is a match, a notification pops up on the screen. The standard iteration lets police check faces from 50 meters away, but the glasses have the capability to check faces as much as 12 miles away. Plus, they're super swank.
Holographic tactical goggles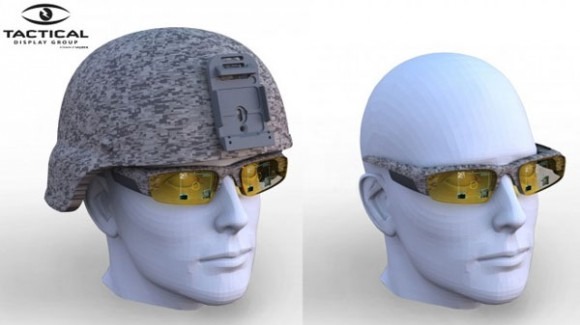 In other optical news, DARPA has developed another very cool gadget. Called goggles, but looking more like sunglasses, this eyewear lets soldiers to interface with drones flying overhead, giving the soldiers details on what the drone is seeing and firing at. This way, the soldier can get intelligence immediately instead of having the time lag of waiting for a report. The glasses can also tell the soldier if the jet or helicopter they see is a friend or foe. They were developed in cooperation with Vuzix, the same company that makes video glasses for consumers. The glasses use a head tracker to tell where the wearer is looking, and could detect whether a jet is friendly from 30 miles out.
And now for the robots
We have two robots to share with you, courtesy of Kevin Fubar. Both of these robots are around two feet tall, but there the similarity ends.
The Omnibot (the one with the glowing blue eyes), is a hack of an old Tomy Omnibot from the 1980s. DJ Sures took apart one of these twenty year old robots and rebuilt it from the inside, making it stronger by adding servos to the arms, making it smarter by loading in all kinds of programming he swiped from his other 'bot projects, adding a camera to give it vision, a microphone for voice response capability and it has an ultrasonic sensor for navigation. In the video below, you can see the robot chilling and watching some tube, then getting bored and walking away.
The next robot, called DONA by designer Min Su Kim, is designed to do a task usually taken by volunteers. It solicits donations. There aren't many details of the specifics on how DONA works, but it seems to respond well to the people. It looks down whenever someone throws in a donation and blinks cutely. In the video, there is a line forming to give the little guy cash. Maybe they could add to the programming so he could do a little dance? Pretty cool!
That's a wrap for SlashGear Science Week in Review. Thanks for reading, and see you next week!