SlashGear Review: Samsung's Bluetooth-enabled YP-T9 PMP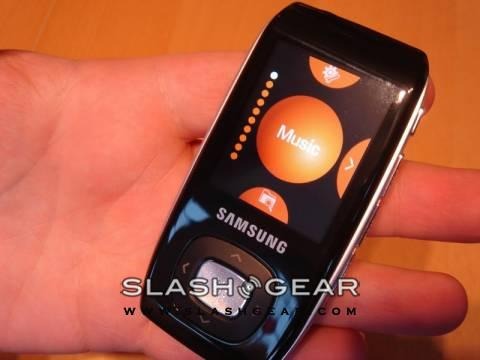 With the comment fires raging at Microsoft's claim to have sold a million Zunes in less than six months, perhaps it's a good time to look at another of Apple's competitors, and one which provokes a little less bile. Samsung has already shown itself to be capable of taking on the iPod Nano in features and style, lacking only the brand recognition in the portable media space to make full impact, with their K-3 player; now they're back with feature overload, packing solid-state flash memory into a box with music, video and FM radio playback as well as Bluetooth. The player is the YP-T9, but can it really best the iPod?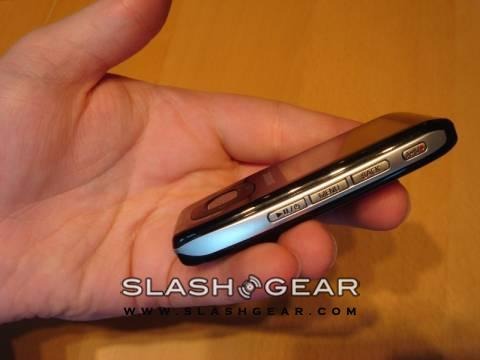 On storage, no... assuming you compare it against a full-sized, video-capable iPod. The use of flash memory means so far Samsung are offering 1GB, 2GB and 4GB models, rather than the many GB Apple's flagship player carries. Compare it to the Nano, however, and that device's lack of video support, of radio and of Bluetooth leave it looking the poor relation.
Style is one of those achingly subjective topics that usually gets me shot in the comments. Personally, I like the T9's design: in the hand it feels smooth, light and pleasingly rounded, leaving you to get on with the big, thumb-friendly control pad while your fingers dally across volume and menu buttons on the side. Key-presses are firm, if a little clicky, and you're neither in any doubt that you've pressed nor too concerned that they'll trigger accidentally in the pocket. A hold switch is there for the particularly paranoid.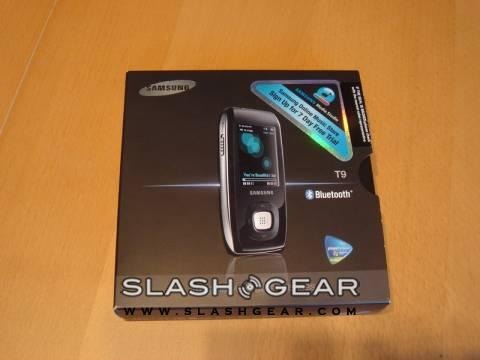 In the box, as well as the T9 itself there's a USB cable (with a wretched proprietary connection – poor show, Samsung!), printed manual, software CD and wired headphones. Of this final inclusion I'm disappointed; not so much with the quality, which like most bundled headphones are mediocre, but the fact that Samsung bottled out of adding Bluetooth enabled 'phones to the package. Yes, the cost would have inevitably increased, but I would've thought people would pay that little bit more to be cable free from the off. Samsung even have Bluetooth headphones in their range already, the SBH-170, and perhaps there's a market for a "premium" bundle pairing these and the T9 in one box.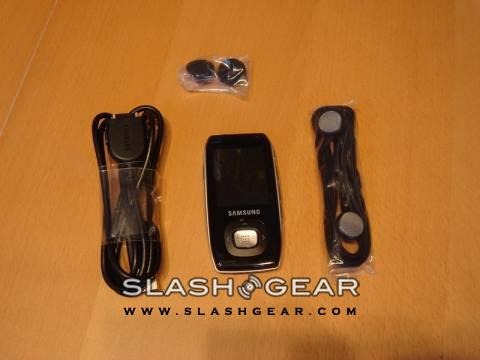 Power on, and the 1.8-inch 176 x 144 screen comes richly to life. It might not be the highest resolution but brightness and detail are still good. There are five different theme colours, as well as a completely different semi-animated 'rose' theme which wasn't really to my taste and requires a restart to select. Menu structure is straightforward, with large, clear icons and an obvious indicator of how far through the list you've scrolled. Curious are the 'Menu' and 'Back' keys, found on the right side of the player; it took some time for me to get used to the fact that the former opens a context-specific menu, rather than taking you back to the main display.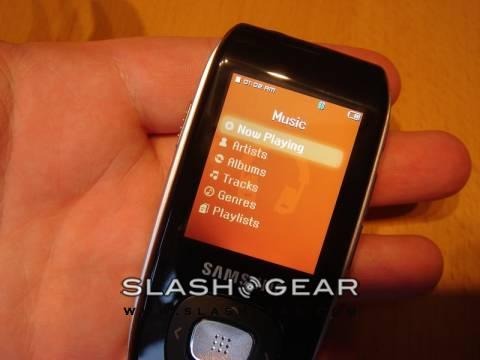 Press the side-mounted play/pause key and the T9's audio performance doesn't disappoint. Bass – even with the supplied headphones – is reassuringly thumpy, top-end piping and the mid-range managing to hold its own. Swap for your own headphones and it gets even better, but when has that ever not been the case? There's a variety of EQ twiddling possible, including twelve presets for the lazy and a nine-band customisable array for the determined.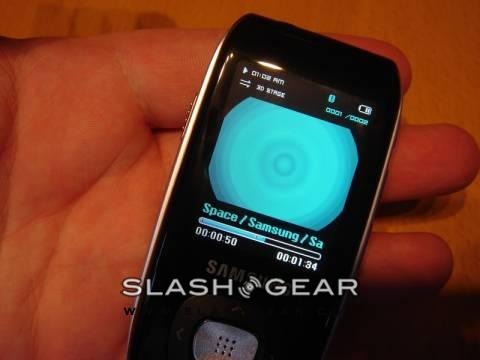 Audio file types supported are MP3 and WMA (including DRM-protected); a short list, perhaps, with the obvious omission being AAC. Video needs to be MPEG4, and the software Samsung provide will convert anything else as it transfers; files are renamed to SVI format. Maximum video resolution is 208 x 176 (with a 15fps frame rate) – not fantastic, but given the relatively small screen you're unlikely to be using the T9 to watch a full film.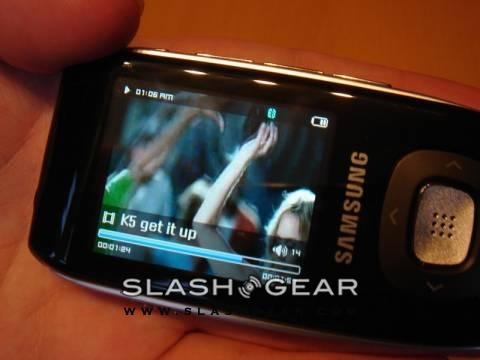 That screen does pretty well with video, but photos aren't so successful. The low resolution makes itself known, and colours – in other areas rich and vibrant – seemed washed out when viewing photo slideshows. Only JPEG files are supported, although these can be set to cycle through during audio playback.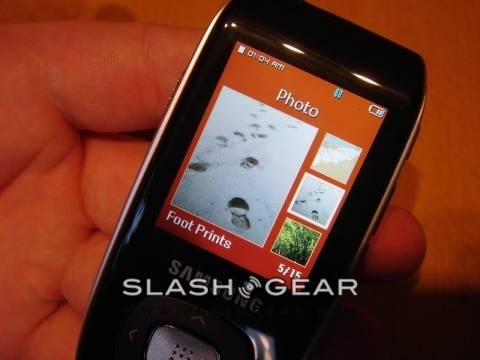 FM radio is a nice addition, catering for up to 30 presets and with autoscan making finding them easy. Recording radio to MP3 is also catered for. The built-in voice recorder might find some fans too, triggered by a button on the side, although the lack of microphone input means it's for casual use only. Since the T9's interface is Flash based it comes with a number of games, none especially gripping, but you can download and install more as long as you've got the memory for them. There's also a text viewer, although using the T9 as an ebook is likely to provoke psychotic episodes as you grow increasingly tormented by the screen size.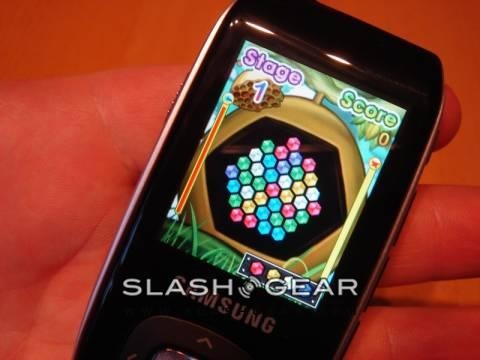 Samsung claim an impressive 30 hours of audio playback and six of video; while I couldn't match that, the T9 finally expired after around a full day of playing music. Bluetooth obviously impacts that negatively.
If anything, the T9 shows that a knee-jerk iPod purchase doesn't necessarily get you the best device. Price-wise the Samsung undercuts the Nano – for the 4GB model £120 versus £130, or $180 versus $200 in the US – getting you a device with more features though perhaps less public cachet. There'll be some for whom portable music still equals Apple; everyone else owes it to their wallet to at least consider the alternatives.
Thanks to Samsung UK for the loan of the YP-K9; check out our full T9 gallery here
[rating: 4]