SlashGear Review: LG Prada phone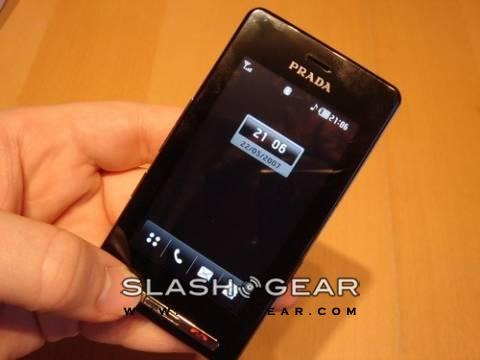 LG's Prada phone rather upset the Apple-cart. Until the slender fashion-handset stepped into the limelight, analysts were happily joining up the dots between Synaptic's Onyx concept and Apple's iPhone, and fully expecting to see the capacitive ClearPad technology appear in Cupertino's long-awaited handset. Then out struts the LG, and all of a sudden the catwalk is decidedly more crowded than perhaps Apple expected it to be.
Of course, in time each was slotted neatly into its niche: Apple as smartphone, Prada as over-designed fluff, and yet the promise of those initial Onyx concepts kept teasing us with just what might lurk inside the 12mm thin handset.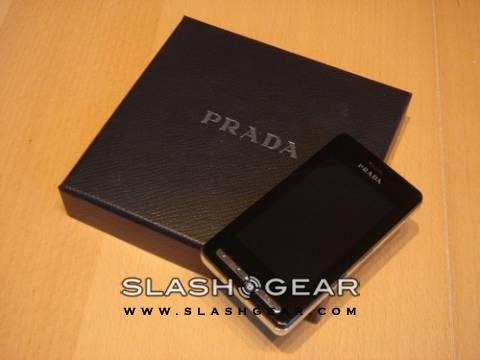 You might have already seen my unboxing of the Prada on Monday; if you watched it, you'll have seen the effort LG have gone to, trying to preserve the aura of luxury surrounding a fashion house almost a century old. It's a partial success: the box and the top layer is nicely designed and does a good job of offering up the handset as if some expensive piece of jewellery. Underneath, though, it's less poised, with charger, hands-free and other cabling individually wrapped in basic plastic bags; par for the course in the mobile market, perhaps, but you can guarantee that Apple will go to great lengths to make the iPhone unboxing as special as possible.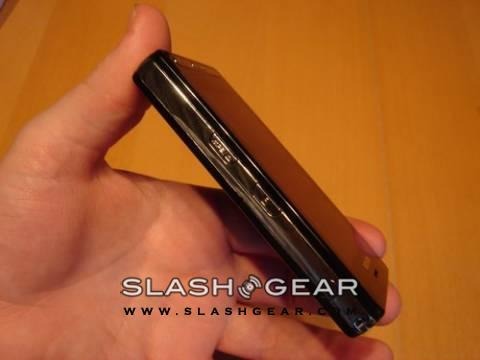 First impressions are of the Prada's lightness – just 85g with battery – and the high-gloss body which is, sadly, plastic. I'm still in two minds about the plastic: part of me wishes the phone was hewn from metal, and part of me is happy with the light, slickness of the handset as it is. Buttons are well hidden, mainly in the chrome edge strip (where there are volume, profile, keylock and mp3/camera shortcut keys) with a three-button bar on the front panel for send/end and back. Each is firm and reassuring. The rear of the phone is blank apart from an LG logo and the Schneider Kreuznach 2-megapixel lens, which sits next to an LED light and tiny portrait mirror.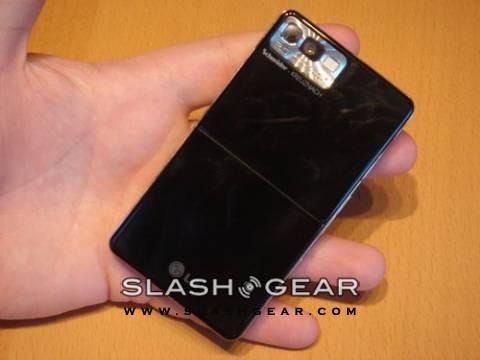 There's something of the ceremonial about turning the Prada on, with the fashion label's logo appearing in the centre of the 3-inch, 240 x 400 screen before being eclipsed by a white glow. You're left with a pleasantly minimalist UI entirely in black & white, with a row of four shortcut buttons (main menu, calls, messaging and contacts) along the bottom, a clock (analogue or digital) in the centre and the usual signal strength, Bluetooth, profile status, battery and time along the very top.
Your first impulse is to press things, and here the difference between a traditional passive touchscreen – as found, say, on a Treo – and the Prada's capacitive touch-panel becomes obvious. Gone is the sponginess and flex, replaced by an almost magical feeling of buttons responding to the lightest of caress. It takes a little getting used to, but having carried it for a few days I'm reluctant to go back to an old-fashioned touch-sensitive display.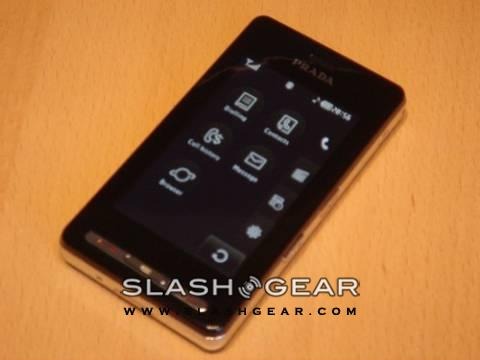 Tapping the menu shortcut brings up a simple two-column grid of monochrome circular icons, organised into four categories by tabs down the right side. Legends are easy to read and the buttons themselves are comfortably finger-sized; page changes are quick and have just enough animation to feel well-designed without going overboard. In addition to voice calls the Prada can send SMS and MMS messages (the latter containing images, sounds and video), take photos and record video clips (storing them either to the phone itself or to the included 256mb MicroSD card), play MP3, AAC and WMA audio files, MP4 and 3GP video files, tune in to FM radio, and act as a dictaphone. There's also a basic calendar, memo store, unit converter, world clock and calculator; LG make no claims for it being a smartphone, but by using the supplied data cable and software you can transfer information and media between the handset and your PC.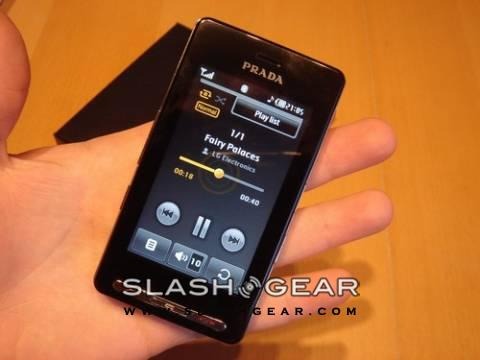 Photos are clear and colour balance is good even under fluorescent light, although the LED light is no replacement for a flash. They're easily transferred by MMS, Bluetooth or cable connection. Videos can be recorded in up to 400 x 240 resolution, with negative, grey or sepia effects added in real-time. The Java support means most downloadable games should run, though there's no guarantee that they'll work with the touchscreen in lieu of a directional or numeric pad.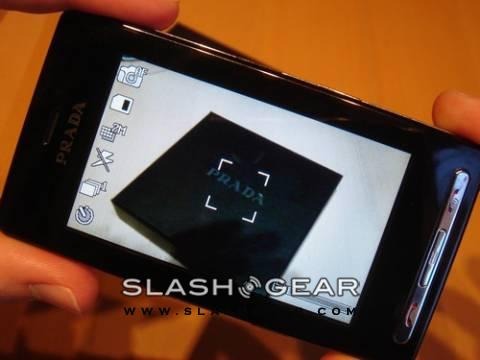 American readers will be disappointed to hear that, since the Prada lacks the 800MHz band (it's tri-band 900/1800/1900MHz only) it won't be sold in the US. To be honest, I can't see LG's logic in this; I've no doubt that the phone would go down a storm, especially given the premium price it would likely sell at (as opposed to, say, the UK, where the cut-throat mobile industry has already seen the Prada offered free with a new 12-18 month contract). Voice calls are generally clear and have pleasing depth, with the Prada clinging tenaciously to a signal. Another notable absence, however, is any form of 3G, with data limited to GPRS and EDGE connections that, given the array of music-centric phones on the market who flaunt their on-the-go downloads, begins to negate any attempt by LG to position the Prada as a 21st century music-phone.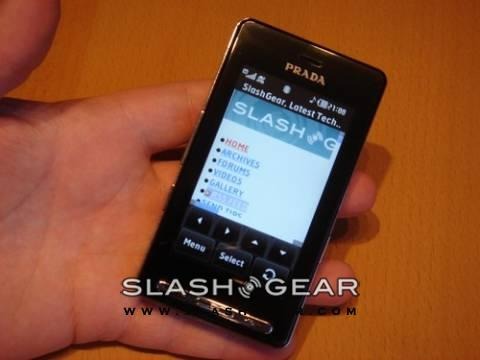 The lack of 3G won't bother you too much after a couple of fumbles with the phone's browser, however. Hopelessly outdated in comparison to, say, the Nokia browser on the S60 platform, it's hard to say whether site rendering is slow because of the connection speed or the software; either way, navigation and display options are very poor. Particularly confusing is the almost entire lack of touchscreen utilisation; to select a link you must scroll through them all by tapping a down-arrow, whereas the obvious method of simply tapping the link itself doesn't work. What should, then, be a glorious surfing experience, with that colourful and high-resolution display shown off to its best, ends up losing out on screen estate with two rows of buttons at the bottom.
It's here that the Prada problem rears its ugly head: a simple lack of consideration for how the UI should evolve to match the interface. You should be able to drag a photo around with your fingertip, just as you should be able to scroll through a webpage in the same way; neither is possible. What happened to the Onyx's floating volume dials and intuitive graphic controls? There's a pervading sense that, beneath the classy skin, LG's engineers have merely recoded a more traditional phone's OS for use with onscreen buttons; coincidentally, the same can be said for the manual, which at times refers to "opening the flip" and is obviously intended for some other handset.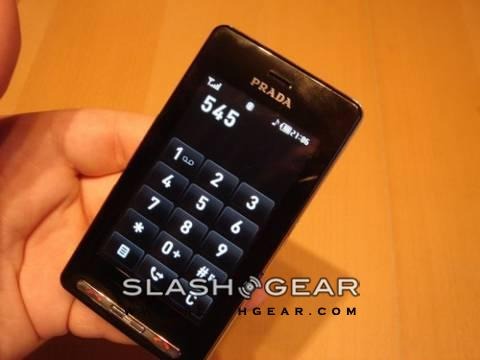 What's frustrating, then, is that while the Prada is undoubtedly a good phone – and trust me, it'll take a long time to tire of that gorgeous capacitive touchscreen – there's the potential for it to be a bloody fantastic one. A little more thought to the software as to how best to take advantage of the new interface would be a good start, as would squeezing in HSDPA and upgrading the browser. Then you'd have a phone that worked as well as its hardware deserves.
The LG Prada (also known as the LG KE850) is available now; many thanks to O2 UK for the loan of the review unit. You can see our full Prada gallery here.
[rating: 4]