Synaptics Onyx Concept: Live Demo Captured on Video!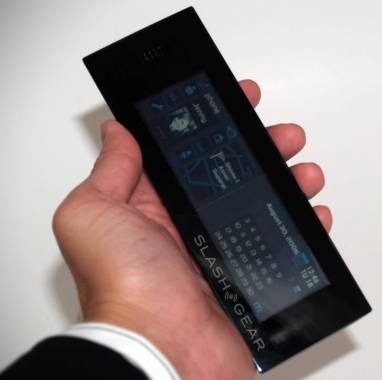 Twiddling your memory knobs back to August this year you might remember SlashGear's coverage of the Onyx concept phone, designed and crafted by bespoke hardware and interface designers Synaptics and Pilotfish. With no physical controls such as the keypad, joystick or scroll wheels found on traditional phones, Onyx instead relies on a system of touch, proximity and gesture.
Built around a high-resolution LCD screen and Synaptics' ClearPad touchscreen technology, a transparent touch-sensitive capacitive sensor, Onyx can discriminate between one and two finger use and can even tell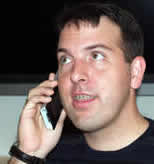 when it is being held against a cheek. This opens up whole new avenues of interface design: pop-up onscreen scrollwheels for volume and moving through contact and media lists, "flicking away" text messages to send them, dragging photos and files from screen to screen.
SlashGear has been lucky enough to visit Synaptics and get a live demonstration of Onyx, from none other than their Human Interface Architect, John M. Feland. Under the ever watchful eye of Clark Foy, the company's marketing VP, we filmed some exclusive footage of the prototype in action. The ethos of Onyx is "All About Fun", about using technology in a humanistic way; hopefully you'll have fun looking at what might just be the phone of the future.

John walked us through a scenario where the Onyx comes into its own as a true social handset. Equipped with GPS, the cellphone can communicate its position with other Onyx units; as you'll see, this can come in very handy on an organisational level. The dynamic menu means that multiple functions can be combined at any one time: here, a simple call (that can be answered by holding the phone to the cheek) leads to GPS mapping, which is then overlayed with the locations of a group of friends as defined in a calendar entry. Note the incredibly straightforward way that two single calls are combined into a conference call, by dragging one contact onto the other, and contrast that against the convoluted menus and keypresses needed on traditional cellphones.
https://www.youtube.com/watch?v=pkQNwQtQvRU
Befitting its role as "remote control for your life", all the more appropriate given the prototype phone's remote-like appearance, the example here demonstrates not only how a single Onyx becomes the hub for an individual, but how a number of them create true social networking.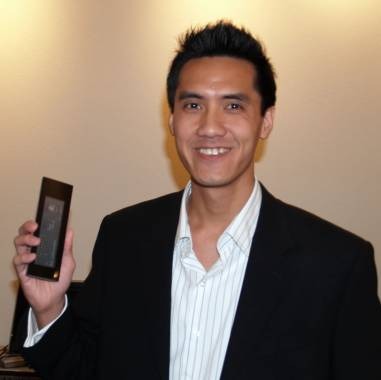 In this clip you can see the audio player and the intuitive drag & drop playlist creation. It's a clean and simple layout with album art and resizable panes, with everything managed by a fingertip rather than a fiddly stylus. At the moment the prototype is running a Flash interface layer on top of a Windows CE core, but future itirations of the phone will be using a far more powerful Flash engine; Synaptics predict a vast speed increase in loading and gesture response, many times faster than the few-days-old unit in the video.
https://www.youtube.com/watch?v=eknN8ezr3b4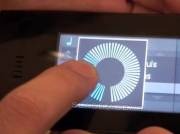 Personally, this is one of my favorite aspects of the interface – the onscreen scrollwheel. Here's its simply changing volume, but no matter the function the naturalistic gesture is the same. It's yet another example of the fantastic industrial design; something as primitively recognisable as a rotary controller and yet with a digital twist.
https://www.youtube.com/watch?v=wjLExsgH3uU
The eagle-eyed may have noticed that this current prototype appears to be made of two LCDs joined together; in fact, it's the display from a Nokia Communicator with two ClearPad touch sensors. Synaptics have purposefully made this demo unit with a bigger screen for ease of visibility and testing; a commercial cellphone based on the Onyx concept would likely have a 2.5" to 3" display. As for physical design, don't necessarily expect to see Onyx hit the stores in this form; contracted by individual companies to fulfill a wish-list design brief, Synaptics is generally responsible for the human interface hardware and associated software. The final package is up to whichever company is footing the bill.
Coming very soon, SlashGear looks at the concept behind Onyx, with more videos and further information from the designers.