Siri Returns But Apple Silent On Assistant Outage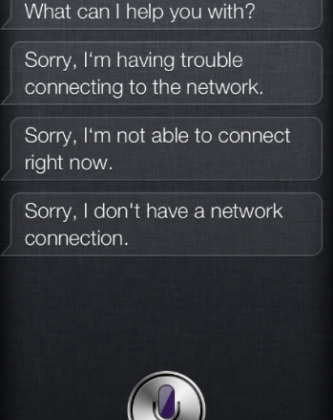 Apple's Siri personal assistant service for the iPhone 4S is back online, with users having experienced network outages of the voice-controlled system yesterday reporting that it is now functional again. Yesterday, users across the US found that Siri was unable to answer their requests, citing a network connection problem, although their iPhone 4S did indeed have a data connection.
While Siri's interface is on the iPhone 4S, and the service can interact with some of the apps, data and multimedia stored on the smartphone, the heavy work processing spoken commands and figuring out what to do with them actually takes place in Apple's remote servers. Because of that, Siri demands a network connection to those servers, even if the commands relate to solely local content.
Apple is yet to comment on the outage, though customers services representatives at the company were supposedly confirming issues with overloaded servers. Apple was keen to stress that Siri is being seen as a "beta" release, an unusual step for a company known for pushing out products and services only when they've achieved a high degree of polish. So far, the extent of the service depends on where it is being used: in the US, users get access to local business and mapping information, something international users won't see until 2012.