Siri is down, iPhone 4S users lament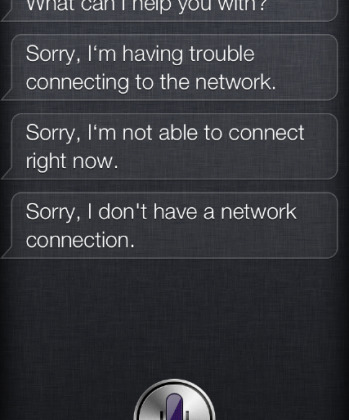 Apple's much touted voice-controlled intelligent assistant feature called Siri is apparently experiencing a major outage, affecting users across the country. The feature was introduced with the recent launch of iOS 5 and is currently exclusive to the iPhone 4S. But today, several iPhone 4S users tweeted basically the same question: Is Siri down?iSmashPhone first noted the series of tweets with most folks getting the message that Siri cannot connect to the network. The problem seems to have affected some users for a good part of the day and continues to be spotty. Apple hasn't confirmed any issues with the service and it's not clear if only iPhone 4S users in certain regions are experiencing the problem.
Since Siri requires communication with Apple servers to complete all its tasks, even simple voice transcription tasks are failing to work for some users. This also doesn't seem to be the first time the service has been down, as one user tweeted "Siri is down again," but it may be the most extended outage thus far. Siri is still in beta. Have you had any issues with Siri today?
[via VentureBeat]